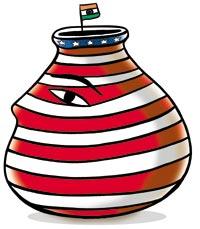 American-born, Indian-bred Anshuman Prasad fears he will once again swap identities and lose his acquired Indian-ness.
I have always had to ask myself certain questions about identity and origins. I left New York City to return to India in 1997 when I was four after my parents' separation and have lived in New Delhi since then. When I arrived, if anyone had asked me whether I was American, my prompt response would have been, 'Yes!' but that was then; now that I have lived in India for over a decade and adopted the Indian way as my own, I cannot answer that question as easily as I once did. Simply stated, I am an Indian, indistinguishable from the other 1.3 billion people of India. Yet, I continue hold an American passport.
India in the late 1990s was far removed from its current image of an emerging world power. I remember landing in Delhi and entering my grandparents' house in the middle of a power outage. Before leaving New York, I had gone through an arduous admission process and was accepted into a school for gifted students in New York City. Yet, neither this achievement, nor the potential it reflected, meant anything to the Delhi schools.
In my early school years I was forced to attend a rather nondescript school, where I was far from happy. Fortunately, after a couple of years, I moved on to a better one. The new school, dominated by children of government servants from every corner of the country, gave me access to an India far removed from Delhi -- from friends who had studied in the villages of the remote North East, to those who learned to play the mridangam in the backwaters of Kerala and one from the hills of Himachal Pradesh who almost daily had to clear his bed of snakes.
As time passed, I stopped bringing up memories of my life in New York, quit asking my mother why I had no father, went from almost failing Hindi class to actually doing well in it, and switched from relishing candy to devouring rasagullas. In other words, I was growing up, shaped by all possible Indian influences.
Even in India, I have two different identities: Bengali (from my mother's side) and Telugu (from my father's side). The colony I live is an enclave for Bengalis, something that has contributed significantly to my upbringing. While being fluent in Bengali, I have picked up a smattering of Telugu acquired over meetings with my Telugu cousins.
In the past decade, India too has undergone a transformation. The excitement about India's potential is palpable. I suppose this is what has recently beckoned large numbers of Indians who had gone to the United States and other countries back to India, including some members of my extended family. The opening up of India has brought India closer to the rest of the world. Now the gulf between India and West does not seem insurmountable: television, movies, music and books have brought us all a little closer. I would say that the Obama presidential campaign moved Indian youth as much as it did the youth in America. I remember on the day of the US elections, there were raging debates among the students at my school about Obama's policies and how they would affect India and indeed, the rest of the world. The enthusiasm among my school friends reminded me that I would be eligible to vote in the next US presidential elections, thus exercising one of my basic rights as an American citizen.
After a decade of being shaped on an Indian potter's wheel, I am a blend of American clay and Indian handiwork. While being an avid fan of American bands, authors and movies, I am a proud lover of Indian cuisine and my Hindi street vocabulary is extravagantly large. From once being teased for my American accent, I am now being accused of having an excessively Indian one. 
My uncertainty about my many identities notwithstanding, entering Junior High has forced me to start contemplating my next move. I suppose I could continue my education in India but I have recently started exploring colleges in the US. When I contrast the restricted and syllabus-bound education of the Indian college system with the flexibility of the US one, I know the US system is the one in which I will have maximum opportunity to explore my interests. Moreover, my wish to have a taste of what could have been had I had stayed in New York, compels me to look westwards.
So here I am, rediscovering the country of my birth. Helped by history texts and hours of browsing through college websites, my knowledge of the country has rapidly expanded and curiosity regarding life in the US has grown. My view of America, however, remains somewhat ambiguous: A developed country that on one hand throws its weight around, but also one that has fulfilled the dreams of so many people.
As I write this, I am struck by a curious phenomenon: The closer I come to my American identity, the tighter I hold on to my Indian one. I have lately found myself unconsciously expanding my Hindi vocabulary (something I never did while studying the language) and find inexplicable joy in watching terrible Bollywood films. As I slowly turn my gaze to the US, I imagine life back in the country of my childhood and foresee a possible repeat of what transpired when I arrived in India. I fear I will once again swap identities and lose my acquired Indian-ness. This fear coupled with the thought that I might decide to stay on in America lends a shade of insecurity to my plans for college. It is not the American identity itself that I fear; it is more to do with the instability caused by the possible changeover between the two identities.
Deciding whether I am Indian or American is not a very easy choice to make, but more importantly, it is not a very pressing decision. Only time can tell which way I will sway. However, if there is a middle way -- an equilibrium where both my American and Indian identities can exist in harmony -- that is where I want to be. 
Anshuman is 16, and moved from New York City to New Delhi when he was four.
Illustration: Uttam Ghosh