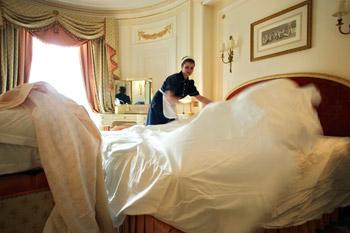 What are the precautions a woman should take when occupying a hotel room all by herself? Here are a few suggestions to ensure your safety and wellbeing. Photograph: Catherine Benson/Reuters
Last week, actress Bipasha Basu got embroiled in a controversy at a Delhi-based luxury hotel, which hosted the launch of her just-released fitness DVD.
It is believed that the actress irked the hotel owner by refusing to put in an appearance at his birthday party after he had sponsored her launch. Bips' camp released a statement to the media, alleging that as a result, the owner had her bouncers thrown out of the hotel and his armed security surrounded her room, forcing her to lock it.
Her representatives further asserted that the hotelier shouted drunken slurs at the actress and had goons brought up to the door of her room. It was only when the senior management from Shemaroo, partners in her DVD venture, intervened and paid the amount sponsored by the hotel that the actress was able to beat a hasty retreat. In the meantime, the hotel lost no time in summoning the media to allege that Bipasha had not fulfilled her contractual obligations in exchange for their hospitality.
While the facts of this incident cannot be thoroughly established, the truth is that a single woman in a hotel room, even if she's a celebrity, can end up in an untoward situation. So ladies, it's prudent to take precautions when you're staying alone at any such establishment. Most of us look forward to travelling at the first opportunity, even when it's work-related, but you need to take care of yourself.
Says Jashodha Madhavji, 25, a Mumbai-based publicist, "My profession requires me to travel quite often for business ventures out of Mumbai to other lesser-known cities. Luckily, being a publicist works in my favour, as I receive premium treatment and A-Class facilities thanks to my clients. However, being a woman does work to your disadvantage at times, since it's a male dominated world out there where you can't really take your chances."
She continues, "I had a terrible experience in Goa when I was travelling for the Indian Film Festival, as the accommodation provided was not up to the mark at all, in spite of Sir Ben Kingsley being put up in the same hotel, very close to my room. The rooms were sea-facing and on-lookers had easy access to them via the public beach. Room service was never available on time and their electronic master room keys seemed to lose their functionality most of the times. At night the alleys were deserted and scary."

"I ensured I stuck around with my client all the time and made it a point to fire the help desk staff once in a day for poor facilities. I ensured my balcony door was never opened, even though the view was lovely. I ate at the restaurants instead of calling for room service. Eating at the restaurants was just a way of avoiding calling the housekeepingboys to the room."
So what are the precautions one should take? "I ensure I only have a lady to attend to all my room service and
housekeeping requirements in my presence," explains Madhavji. "I never leave my contact details at the help desk, I ensure that my room is securely bolted, I always keep the foyer light switched on at night and make it a habit to call my mom before I go to bed and when I awake."
Tanuja Chandra, a filmmaker in her late 30s, is also required to travel frequently in her line of work. "Shooting in smalltown India can be quite a challenge," she says. "There is always a mob waiting to get into star rooms. Female stars especially find it difficult to adjust to these circumstances. However, thankfully, nothing untoward has happened to me as yet."

"My work takes me to the most rundown as well as the best hotels in the country. But besides locking the door behind me, I have never really taken any precautions per se. Then again, that is also probably because whenever I travel for work I travel with the entire crew. I stay in the same hotel as they do and that offers a sense of security."

But that sense of security can only be so reassuring. "Since I have never really been fussy about where I stay, any kind of hotel is good for me as long as it is clean," remarks Chandra. "But one in particular that I stayed in at Kamshet while shooting a film did have an air of sleaze around it. One look and you knew that there were nefarious activities going on. I have always felt that there is little else you can do besides ensuring that the door is locked to keep you safe, which I do. But the key to handling situations while staying in a hotel alone is to never show your fear. Maintain an air of confidence and a no-nonsense attitude while travelling. Don't take things lying down and I guess you should be fine. It's held me in good stead so far."
Ladies, here are a few other things you need to keep in mind if you're scheduled to occupy a hotel room all by yourself:
If you're travelling with a colleague/ companion, ensure that the establishment gives you adjacent rooms -- it's always safer to have someone you know and are comfortable with close at hand. If you're completely alone, request the hotel management to book you into a room which is easily accessible to their security. In case of an emergency, it shouldn't take them too long to reach you.
Once you've checked in, inspect the room thoroughly. Check for two-sided mirrors and all possible nooks where a spy-cam could be placed. Yes, reputed hotels have been known to be bugged too and it's not the management's doing, it's mischief-makers'. You don't want to end up as an unwitting clip on the Internet.
Keep a copy of all the emergency numbers within the city as well as a copy of the hotel's fire exit layout in the room -- usually, upscale hotels will provide these as standard procedure.
Always keep your cellphone fully charged so you have access to it at all times. Also keep your family/friends posted as to where you are through the day, so they know to call if there's no communication from you in a while.
When you unpack, be sure not to leave anything of value lying around. Remember that your room is cleaned when you're not around and the sight of valuables may increase the chance of your room being broken into -- the fact that it has a sole woman occupant is added incentive.
Leave a light or the radio on when you leave the room, if possible. Anyone who is keeping tabs or listens at the door will think you're either in or heading back soon.
If you're heading back to your room late at night, request one of the hotel personnel to accompany you to your room. You don't want to run into unwelcome attention from anyone in those long corridors, nor do you want to be followed.
Once you reach your room, have the security wait at the threshold until you've gone in and inspected the room. You don't want to face an unwelcome intruder once you're inside and have shut the door. You can laugh that it sounds a little out of a movie, but it's been known to happen. So give your room a quick walk-through and only then dismiss the security guard.
It goes without saying that you should lock your door securely behind you each night once you're inside. Post the 'do not disturb' sign on the knob outside your door so that if someone comes knocking, you'll know it's not the hotel staff.
If anyone does come knocking, the first thing you need to do is dial the reception and check whether they've sent a staffer upstairs for any reason. If they haven't, call out and ask who it is and what they want. Unless it's urgent, request them to leave you a message at the front desk -- it may sound impolite, but unless it's a very valid reason, nobody has any business calling on a woman alone in her hotel room at night.
Avoid calling for room service late at night.
Have you ever had anything untoward happen to you while staying alone at a hotel? How did you deal with the situation? What were the repercussions? Share your stories with us -- write in to getahead@rediff.co.in (subject line: 'My hotel stay') and we'll feature the best entries right here.