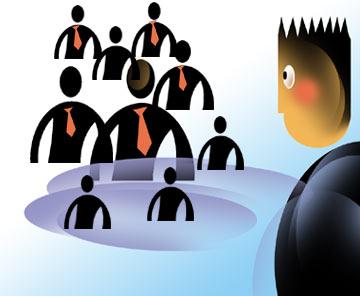 So the entrance tests are done with, and the preparation for the group discussion-personal interview phase has begun. Most candidates wonder why a group discussion/interview is even necessary after they have managed to pass the gruelling exams. The common sentiment is that after clearing the hurdles of a tough examination like the CAT or XAT, the interview sessions and group discussions simply add to the burden. But the fact remains that a written examination can only test the academic capabilities of a candidate. The group discussions and interviews on the other hand are more like assessment tools that help the interviewers find the qualities that they are searching for in an ideal candidate.
Personal interviews can help candidates too however. They present a platform where the candidate can elaborate on his / her candidature. S/he can put forward various points that he or she might have missed in the application.
Remember, the interviewers look forward to meeting some of the best minds in the country; so make sure you are one of them. Here are some tips to help you ace your B-school interview:
Make a positive first impression
The first impression has to be good -- so make sure you dress well. One should go for conservative business attire. Flashy dresses, dirty nails or unkempt hair are to be avoided. If you happen to be wearing a party outfit, the board might think that you lack focus about your career. A casual attitude can ruin everything.
Be punctual
Punctuality is a virtue that is never wasted. If you are not on time, you cannot expect the interview panel to believe that you can manage all the work timings, deadlines and meetings that MBA students and professionals have to handle. In case there is a genuine cause, you should be apologetic. People on the board are not unfair and they will understand. But the reasons should be valid. Silly reasons like the betrayal of alarm clock or traffic jams are to be avoided if you want to make a positive impression on the board.
Stay focused, be confident
Different interviewers look for different things is a prospective student but one thing that is common to all is the search for emotional maturity. The candidate is standing on the threshold of a career that will need him or her to take firm decisions. Taking these decisions will not be easy, but a good manager should rarely lose his or her cool. Likewise, a good candidate should not lose his focus or his cool during the interview even though he is under a lot of pressure. The interviewers will mark you on different points and one of them is the way you handle stress.
Do your homework
During the selection procedure, the admission committee is sure to why the candidate has chosen to study in that particular school. So make sure you read about the school and its programme so you are prepared for this question and will be able to give a well thought out answer.
Communication is key
An ideal candidate must have clarity of thought when they are communicating something to the interview board.
Unfocused candidates often lose track of their argument and end up irritating the interviewer(s). The interviewer will look for confidence and alertness in a prospective student. They also assess candidates on the way they present their arguments. If you can articulate your thoughts in a concise and crisp manner, the interview board will appreciate it.
Like yoru verbal communication, positive body language will be appreciated. Things that should be avoided include bad eye contact, bone crushing handshakes or playing with finger rings. These are distractions that the interview board will not like.
When you prepare for the interview, you should also prepare to learn from unusual sources. No knowledge can go wasted. Before you say anything, take a second or two to reflect on your words. This will help.
Murtuza Rohawala is a an MBA from NMIMS and a ex-Investment Banker. He is currently associated with Bengal Institute of Business Studies, Kolkata.
Illustration: Dominic Xavier