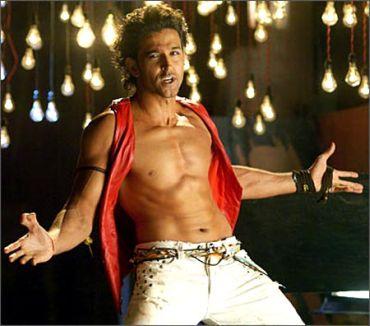 Hrithik Roshan is sharing his fitness mantras online -- take a look.
Bollywood heartthrob Hrithik Roshan's been tweeting a few fitness tips from his Twitter account today and we thought you might be interested.
What does it take to score a hot bod like that? Well, according to Hrithik's tweets, we were able to come up with some real sound advice:
Consistency is paramount! Keep changing ur workout everyday. Do something different, anything! Every time you get tired, do one more last set!
My fave supplements -- Vitamin C, multivitamins, antioxidants, L-glutamine, omega 3 (never 6), creatine(only to bulk for short periods).
Don't forget legs -- large muscle -- promotes testosterone, which helps increase overall muscle mass. RUN/walk when u can for cardio! More later...
Run/ walk (flat and incline) for 1 minute each, alternating, totally for maximum 15 minutes is good enough! My target -- 700cals per workout (cardio+weights).
Workout tip: Days when you just can't get yourself to work out, you're free not to. BUT GET YOURSELF TO THE GYM FIRST and decide THERE! :) Works for me everytme.
Tip: Body doesn't grow in the GYM, it grows while you rest! Whether to lose weight or gain muscle -- get good sleep!
Protein supplements are great if used right. Don't overdo anything. Also remember TO DRINK WATER -- probably the only alkaline food in our diet!
There is nothing such as spot reduction, genetically we are predisposed to accumulate fat cells in certain areas.
Tone your thigh muscles. High reps, low weight. Cardio, diet, and you should see results. If not -- TRY HARDER!
Want to check out more of Hrithik's tweets? Log onto his Twitter page: http://twitter.com/iHrithik