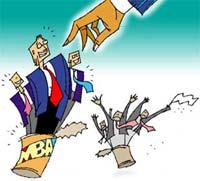 JBIMS (Mumbai) is my favourite B-school. In the last five years it has been consistently ranked in the Top 15 schools. But it just has five core faculty members in place, out of the 14 sanctioned. Inquiries tell us Mumbai University is the culprit, because JBIMS is a university department. If it were to undergo an AICTE approval inspection, it would be kept in the 'no admission' category. So, either the AICTE processes are out of sync with realty or JBIMS is abusing its position as a government school.
If one jogs the memory a little bit, you will remember that of the 50 schools Dharani P Sinha ranked in the first ever B-school survey in India -- the 1998 BT-Cosmode survey -- 28 of them were state-owned. Most of them don't even exist in our consciousness. But look at the condition of those that do. JBIMS, Sydenham, Bharathidasan Institute of Management (BIM) Trichy, SOM Cochin University, DoMS, Anna University, UBS Chandigarh, they appear repeatedly in many rankings. Do they deserve their position? And now we are on to opening new IIMs, new IITs with departments of management?
Where are we going to get faculty for them?

Take BIM for example; of the 11 faculty members listed, excluding the director, only four of them have the mandatory PhDs. The website has no information whatsoever on faculty publications. Yet, BIM is a top ranking institution. The answer lies in another colourful report on the web site: placements. The average salary at BIM is still Rs 7.2 lakhs and the lowest is Rs 4.75 lakhs. BIM at least gives this information. Some others have none. Safer that way right?
One thing is clear. Some of them are still amazing brands. They continue to get exceptional students, alumni networks which are well entrenched and an enviable visiting faculty team makes the course delivery one of very high quality. And placements happen because they have great students, anyway. The reputation and placements do contribute to a very high quality student intake, thereby creating a virtuous cycle. Is it okay?

When it comes to the other two critical responsibilities of a good institution, namely knowledge creation and intellectual leadership, some of these colleges almost draw a blank. The reasons could be many, from a non-responsive university to an indifferent government to an inept director. But the biggest factor is -- they are not accountable in any way whatsoever.

They have no mandatory disclosure. There was a minimum disclosure norm by the Ministry of HRD, but these colleges have not even heard of it. The return on investment made on these colleges is never calculated. A faculty here has no incentive to perform. Their output can never be measured because there is no information available in the public domain. And since they belong to the state, the regulator turns a blind eye. But still the placements are rocking.
Why rock the boat? But then these are brands. They once had depth, however inadequate they may be by today's standards. They were set up by fine individuals. And they continue to attract wonderful minds. They must be restored to their original glory.
And we must know where they stand now.
Illustration: Rediff Archives