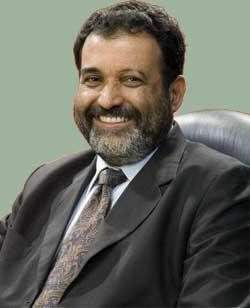 T V Mohandas Pai, director, Human Resources and member of the Infosys board, is upfront and brutal -- whether it's taking potshots at hallowed institutions like the IITs or IIMs or rubbishing the unrealistic aspirations of today's generation.
In an interview with Nandita Datta, he talks about changing trends in the career market and what that means for students searching for their dream job.
Is the IT services industry losing its shiny appeal as a career option?
IT services is still an attractive career option, but it's true that today, students have a wider choice. From 1995-96 until 2003-04, IT services was the top career option for everybody, because no other industry was growing as fast. Since then, many other industries creating exciting job opportunities have come up. Today, a student does not have to restrict his career choice to IT services. And this is a good development. There must be a scenario where students have a variety of careers to choose from because it helps broad-base the job market.
But surely attracting top talent can't be easy with so many options around...
We now have to compete for the cream of talent, no question about it. Just because you're IT, talent won't flock to you anymore. You have to offer compelling reasons for people to come aboard. And, by this, I don't mean fat pay-packets like the kind offered by investment banking firms until last year, but by creating an environment that offers opportunities for growth and learning.
Branding apart, what makes Infosys a good career choice?
We offer a truly global career. We equip people with skills that enable them to work in any part of the world. At Infosys, you're working with the best-in-class people and in the best-in-class company. Plus, as an organisation we put a lot of emphasis on learning. In fact, the investments we make in our people are the highest compared to any company.
Have you noticed any change in the way students are short-listing companies for placement?
Over the last few years, the priority was all about salaries. Instead of taking a long-term view and opting for companies where they could make a career, students took a short-term opportunistic view and went for the best paymaster. While this hasn't changed completely, we see some amount of realism coming in now. We are hearing students talk about sustainability of a career rather than going after a job because the money is great. I think students are beginning to realise that fat paycheques come with a certain amount of risk.
Does the move into high-value work by Indian IT service firms necessitate a change in the profile of people being hired?
Definitely! Earlier, an engineering degree would have been enough to succeed in this industry, but today, it's imperative that you have some business-domain capabilities in addition to the engineering layer. Plain engineering skills can only take you up to a point. To go beyond that and move up the organisation ladder, you need to acquire business knowledge. As the industry moves from focussing purely on technology to business outcomes, we need to understand our clients' business, accurately analyse their pain-points and devise effective solutions for them. This cannot happen if our people do not have deep insights into their business.
How is a fresh graduate expected to acquire domain expertise?
He may not have domain expertise, but he should have problem-solving skills. Logic and pattern recognition capabilities by themselves aren't enough. Earlier, a fresh hire would be given a set of specifications based on which he would simply have to write lines of code. It wasn't necessary for him to understand why he was writing those lines of code, or suggest that the given specifications be changed to achieve a different outcome. Today, he has to know that. It's no longer about doing a piece of work, it's about understanding why you're doing that work and how that can help a client.
Does your selection process reflect this change as well?
We are in the process of tightening our selection criteria. We may add a couple of new filters and raise the minimum percentage required to qualify. Currently, our selection process looks at learnability and analytical thinking. Students are given some puzzles or problems that they need to solve. Verbal ability is also tested. Post-selection, we match the skill sets of trainees against some attributes we believe a 'star Infoscion' should have (like technical ability, good learnability, good communication skills, etc), identify the gaps and address that through a series of training sessions. Unless they catch up, they are not assigned to any project delivery. We have also revamped our training programme to include case studies and real-time problems. Trainee test-scores have also been tightened -- a cumulative grade point average (CGPA) of 4 out of 5 is a must. Those who fail to achieve this are given one more opportunity, after which they are told to go. On an average, about 6 per cent of the people get filtered out post-selection, at the training level.
Are you looking to expand the number of engineering colleges you visit annually?
Earlier we used to visit 200 colleges based on an internal ranking mechanism that took into account the scholastic achievement of students and a couple of external indicators. Two years ago, we decided to visit more campuses (we went to 1,000 colleges), to assess the quality of talent available beyond the metros. We found that while the yield in the relatively bigger and better-known colleges was more than the yield in the smaller and lesser-known colleges -- the former scored on the average quality of students -- the toppers in smaller colleges were as good, and sometimes better, than the bigger colleges. We now visit about 400-500 engineering colleges. We also do lateral hiring of freshers, through our job portal, if the campus numbers fall short of what we need.
Have you ever de-listed a college?
Yes! This typically happens when students from a particular institute have a high failure rate in the training programme. These students may have passed our selection test because they were trained to do so by rote, but faltered when their problem-solving skills were put to test. Sometime ago, there was a girl, a rank-holder in her college, who mugged up how to write a programme. She was flummoxed when we changed some of the parameters and failed to write the new programme!
What kind of profiles do you look for while hiring management graduates?
They should be able to think for themselves and, at the same time, be eager to learn. We also look at how articulate they are and whether they will be able to interact with clients. Unfortunately, there are too many 'me-too' MBAs floating around who have little or no capabilities. I think it's time students stop thinking of an MBA degree as a passport to success in life.
So, do you restrict your MBA-hiring to the IIMs alone?
No! Over the last 3-4 years, the main criteria for placements at IIMs were salaries. They forgot that the most important test for an MBA is the value he adds to the organisation and not the salary he earns. The huge salaries being offered had nothing to do with the capabilities of their students or market demand. It was a distortion created by the financial bubble. The bubble burst and they felt the heat. This distortion forced companies like us to go beyond the six IIMs. We visited the next 10 or 15 B-schools and found the quality of students to be just as good. And they weren't arrogant.
This is exactly what happened at the IITs a few years ago. These IITians thought they could dictate terms to us (like where they would work and what kind of projects they would do) but we widened our net to the next 50 or 100 engineering institutes and hired people who were just as good, but came with no baggage. While we haven't stopped recruiting from IIMs and IITs, we don't blindly pick people because they have the tag. If we don't find the profile we need, we prefer to come back empty-handed rather than hire any riff-raff.
Of the tens of thousands who apply each year to Infosys, how many get in and move up the ladder?
Every year 1.5 million people apply to Infosys. We test nearly 3,00,000 of those and make job offers to 40,000, of whom around 35,000 accept and come for training. About 6 per cent get weeded out at the training stage and another 15-17 per cent quit within a year of probation, mostly to pursue a management degree, or sometimes for monetary reasons. After five years, about 50 per cent remain in the organisation. That's an impressive number given the tight job market we've seen in the last few years.
What are some of the hot jobs in IT right now?
The most sought-after job today is that of a software architect. The position calls for a very sound grounding in technology -- you have to be passionate about the subject. Then there's technology consulting (requires a good mix of technology and business expertise) and systems integration (requires technical and programme management skills). In terms of languages, Java was considered very hot until a few years ago, then came C++ and .Net. I don't think focusing on any one language is a good career move, because these are fads and tend to go out of fashion very fast. I would rather ask students to focus on the fundamentals of software systems, database management or software architecture etc. Language is an add-on skill.
What would you advise students at this point in time, given all the uncertainties in the external environment?
They need to take a long-term view. This is an excellent time to add to their basic skills through a Masters' or a PhD programme. My advice is if you can afford it, go for a post-graduate degree. Think about where you want to be over a period of time and arm yourself with those skills. And, this is not just short-gap advice because of the downturn. The fact is that the IT industry is moving away from basic skills to knowledge-centric hiring. The demand-supply gap at the entry level is closing and increasingly, firms are on the look-out for specialised talent. This is where your Master's or a PhD programme will come in handy.