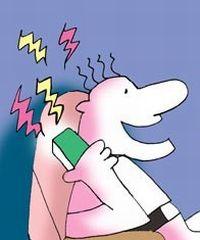 Everyone loves to hate their mobile service providers. Here, A Ganesh Nadar shares his recent experience of having a cellphone connection go from bad to worse while travelling. Illustration: Uttam Ghosh
I am a BSNL (Bharat Sanchar Nigam Ltd) mobile user from Tamil Nadu. Recently, I took a trip to Mumbai and Bihar and that is precisely when mobile woes began plaguing me. In Mumbai, my GPRS stopped working. I couldn't access the Internet from my mobile phone. Moreover, nobody could reach my number either. My phone was flooded with 'cannot get through' text messages from people who could not reach me. Some of these messages themselves were delivered 24 hours late.
When I tried to reach out to BSNL, I got messages that ranged from 'connection error' to 'network busy' to 'out of range'. The last one was the oddest, because sometimes it was a landline I was trying to get through to!
I then took a train to Bihar from Mumbai.There my connection went from bad to worse! The Internet was still not available. I was receiving calls, but couldn't hear any sound when I answered. I had to call back... every single time. Needless to say, I was being billed for this! As if this wasn't enough, each call I made would get disconnected within five minutes and the whole painful process would start over.
I never face these issues in Tamil Nadu. When I called up the BSNL in Tamil Nadu, they admitted to having differences with the MTNL (Mahanagar Telephone Nigam Ltd), which operates in the city of Mumbai. Now both these organisations -- MTNL and BSNL -- belong to the Government. Instead of working as sister organisations, they seem to be at loggerheads and in the bargain are likely destroying customer confidence.
Sometimes I wonder if the BSNL is doing this at the behest of private companies, so that customers are driven to them. Will I shift my allegiance? Certainly not! Because there are some employees in my home district Tuticorin, who I know personally -- like my friend Titus -- who are really hardworking and sincere. And I think I owe it to them. They are doing their best even though the rest of the hierarchy doesn't seem too interested in offering satisfactory service.
Have you had a nasty cellphone service experience? Share your mobile woes with us. Write in to us at getahead@rediff.co.in (subject line: 'Mobile woes') and we'll feature your story, right here on rediff.com