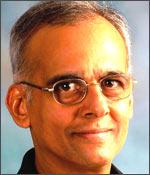 Andrologist and microsurgeon Dr Sudhakar Krishnamurti will be responding to rediff readers' sexual queries on a regular basis.
We invited Get Ahead readers to mail in their questions. Here is the next set of responses:
---
Dear Sir,
I am a 25-year-old male. I am facing nightfall from the age of 15. It was 3-4 times per week. Now it has reduced to twice.
After nightfall I feel so tired and sleepy in the daytime. I want to know whether excess nightfall or hand practice affects one's future sexual and married life? Does it affect fertility in future? How to avoid nightfall?
Kind regards,
Anand
I have already stated this many times before, and I am stating it yet again: Loss of semen from the body, in any quantity or any frequency, DOES NOT CAUSE any weakness. Any 'weakness' experienced is entirely imaginary. I draw your attention once again to chapters 9, 11 and 39 in my book Sexx is Not a Four-Letter Word (www.sinaflw.com).
---
Hi Dr,
I eat lots of Pan Parag gutkha everyday. Is this going to cause problems in my sex life? One thing I've noticed, previously I used to have sex everyday but now I don't feel like having it -- maybe once in a week. Is eating gutkha bad for sex life? Please help me know.
Thanks,
Amit
Any tobacco-containing product is likely to affect your sex life. Tobacco contains nicotine, which is a potent vasoconstrictor. A vasoconstrictor is a chemical that causes narrowing of the arteries and blood vessels and reduces blood flow to the body parts, including the penis.
But that is not the only problem that gutkha can cause you. It is also incriminated in the causation of several other serious diseases, including oropharyngeal and other cancers and many other oro-dental diseases. Having said that, it must be pointed out that your reduced sexual frequency may not be related to the gutkha and may be due to other factors such as relationship factors etc. It could also be due to some other diseases which reduce libido (sexual desire). These will have to be separately investigated with an andrology checkup. These are listed on www.andrology.com
---
Hello Doctor,
I am 33 years old and my wife is 31; we have one child, who is now 4 years old. After the first child, since we both didn't want another one for awhile, I tried using condoms, but we were not able to enjoy with them. So I used to control my sperms or stop sex when I felt I was about to ejaculate in her vagina.
Now we both want a second child, but she is unable to concieve -- has my sperm count decreased? I am regularly riding a bike for a total of 30 kms every day, does this effect the sperm? We tried a few positions but she still cannot concieve. Can you please advise us? Awaiting feedback.
Thanks,
Prashant*
Neither the practice of coitus interruptus (withdrawal of penis from vagina before ejaculation) nor bike-riding will reduce your sperm count or affect your fertility. Therefore, there must be another reason. If you have been unable to achieve a pregnancy in spite of 12-18 months of unprotected intercourse, this must be fully investigated (visit www.indiamaleinfertility.com).
---
Respected Krishnamurti Sir,
I am Mr Ramakrishnan Santosh, age 32 years, and recently married (15.01.2009). My problems are as follows:
(a) Right from my childhood, I have not talked freely to the opposite sex as I am a very shy person still and have not matured yet. I am the lone child of my parents and I have been brought up very caringly and lovingly by my parents. I have been spoonfed, you can say. As a result, I do not talk to my wife also freely and she feels disappointed about the same.
(b) My knowledge about sex is very minimal and I still masturbate imagining some other external scenes rather than enjoying the pleasure given by my wife. I am unable to enjoy sex with my wife as I do not know what a girl wants during sex, the position factor etc.
(c) I get upset, irritated at petty things and feel that the whole world is teasing me. In short, I am too self-centered, have an inferiority complex and at the same time I have a large ego and am selfish too. When I go out with my wife or walk on the road and see people known to me, I feel that the whole world is looking at me and passing comments. I have a fear too, always at the back of my mind and wonder, what will happen if somebody dies or I die?
(d) My father too possesses all these characteristics and of late I have been blaming him for passing it on to me by heredity.
(e) My concentration factor is nil and I have not developed a mind of my own although I am already 32 years old.
(f) I get excited and anxious very quickly if someone praises me and I fail to maintain a level head.
(g) Last but not the least, I take all things to my head and not to my mind or heart as I feel I do not possess one. As a consequence of all the above, I have developed anger, hatred, jealousy towards all other human beings, I do not have any friends. I am lazy also and do not engage in any work.
To conclude, I have not understood the concept of life, I feel that I am not upto it, I take a lot of tension because of that, I feel like crying all the time, I know that I am destroying every minute of life through my foolish thinking, but I cannot find a solution for the same. I do not smile and associate smiling with teasing which I do not like and I remain gloomy most of the time, keeping on thinking about my past and future and never go by the present. I do not like people talking ill about others and I remember those comments when I see their faces at a later time. As a result, I keep myself aloof from the world and remain confined to the four walls of my house.
Sir, but the main reason for all this happening is that I look into the beauty of all the human beings I encounter and indulge in comparison whereby the way they like sex also. I do not know how to enjoy life at all, that is my main concern, Sir. As a result of all this, I feel that I do not have enough belief in Almighty God also, though I pray and visit temples occasionally.Sir, please help me to come out of this wrath. Thanking you,
Yours faithfully,
Ramakrishnan Santosh
Your problem is not primarily an andrological or sexual one. You seem to have some deep-rooted psychological problems. See a good psychologist first.
---
Do you have a question for Dr Krishnamurti? Simply e-mail him at sexualqueries@rediffmail.com; responses will be published each week and names will be withheld upon request.
Dr Sudhakar Krishnamurti is an international award-winning andrologist and microsurgeon. He is the only Indian on the world's first-ever batch of sexual medicine fellows (Oxford, 2007). Best known for the Krishnamurti Operation for Peyronie's Disease, he is also the founder of Andromeda, India's first andrology center, and author of the book Sexx is Not a Four-Letter Word. Click here to purchase the book from rediff Shopping.
Disclaimer: Please note that Dr Krishnamurti will be answering the most relevant queries at his discretion each week. His advice may not necessarily reflect the opinions of rediff.com and while it is in the capacity of professional medical counselling, it in no way should be considered an alternative to visiting a medical specialist for sex-related ailments.
Illustration: Uttam Ghosh