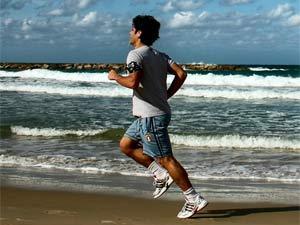 If there's a marathon in your near future, you probably have been following a strict training programme for the last several months. But have you thought about what you're going to do in the minutes, hours and days following the marathon? Does your schedule include marathon recovery?
An official marathon spans a distance of more than 42 kilometers (26 miles). While runners generally spend about four months preparing mentally and physically for this exertion, they may not always pay a lot of attention to the post-marathon phase of the accomplishment. Running a marathon takes its toll on you, both physically and mentally. How well you recover depends on how hard your race was, and your activity level and attitude during the weeks following the race. So what can you do to speed up the recovery process and get back to your regular running routine?
Well here are some tips to start with:
Immediately after the marathon
After finishing, it is important to cool down. It may be difficult to do this depending on the finish area. Try to walk for at least another 10 minutes or so. You can walk slowly around the finish area as you snack and drink up.
Avoid stretching. Your muscles are exhausted and vigorous stretching may lead to cramping or injury. If offered, gentle massage is good.
Drink lots of fluids, especially ones rich in electrolytes such as sports drinks, electrol, juices of orange or tomato. Avoid alcohol and caffeine as they can dehydrate you further.
Eat something as soon as you can. Take advantage of the "goodie" bags or meals provided by many marathons for the finishers. Eat some high carbohydrate and salty snacks. You can also have banana as it is good source of potassium.
In the early stages of recovery you will be better off by cooling your legs off by soaking them in cold water which will reduce any inflammation. Ask for ice to massage any sore areas.
After you get home, try to take another 10 to 15 minute walk to keep circulation going and repeat icing of any sore areas.
Take a nap. Sleep is the time the body best repairs itself.
Next seven days
Don't think about your next marathon. Give your body (and mind) time to recover before you start thinking about your next marathon.
Get a massage regularly. Make sure your massage therapist is skilled in sports massage and/or neuro-muscular massage and therapy. Eat a lot and sleep a lot. Your body is healing itself while you sleep, so try to get at least eight hours of sleep every night, more if you can.
Eat a balanced diet. Your body needs carbs, protein and nutrients to rebuild damaged muscles. Try to include 50-60 per cent complex carbohydrates in your meal to replenish the body's energy stores. If you have cravings for particular foods, indulge them moderately. This may be the body's way of telling you what it is missing.
If your muscles are still sore use ice first, then take the bath. Don't use water that's too hot. A lukewarm bath or shower is good. To help relieve pain and soreness, use a whole box of epsom salts in a lukewarm bath for a body soak.
Make sure that you stretch once your muscles are warmed-up: after you've taken a walk or a warm bath, for instance. Hold each stretch for at least 20 seconds. Stretch everyday, even twice a day.
Focus on exercise that won't stress your muscles, like walking, swimming, rowing or biking.
Elevate your legs whenever possible.
Experts say to give yourself four-six weeks of recovery after a marathon before resuming any intense training or racing. Limit yourself to short and light runs during the second week. During the third and fourth week after the marathon, do gentle tempo runs and strides. Increase distance of your runs gradually. Keep doing those easy runs.
A month after the marathon
You will be almost back to normal. But, don't try to set a 10K record just yet. That is an easy way to become injured. Expect to have some fatigue when you try to do hard or long runs. It will go away and eventually you will emerge stronger than ever. Start a gradual speed programme now. Plan for the next racing season.
Plan for your mental recovery
Consider that for the previous four months you have spent virtually every spare moment exercising and preparing for the big run. You most likely avoided foods you enjoy, simply to hone your edge. Now, that the marathon is over, you might experience post-marathon blues. This is a form of depression that is not necessarily born from chemical brain imbalances but is rather a temporary funk. Combat it by rewarding yourself with a little spending spree, begin planning for the next marathon, and reevaluate your nutritional intake.
Running the marathon does not take away your fitness. You are in excellent shape, have peaked and may find that you can run some great races. If you plan to race, cut down on your training mileage and recover fully from each one. If you have not fully recovered from the marathon and try to race, you may run excellent times, but you are courting serious injury. Keep setting goals and planning your training so that you can achieve those goals.