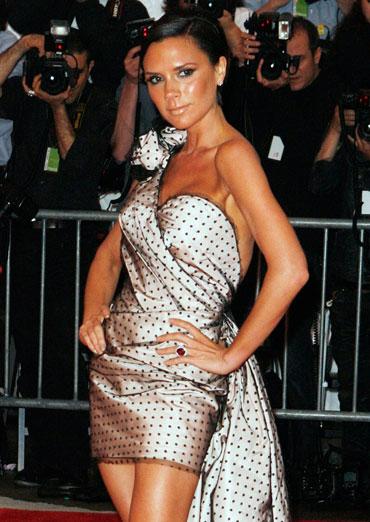 Victoria Beckham to help design Range Rover's special edition SUV Evoque in her capacity as the brand's creative design executive.
Victoria Beckham, it would seem, is a woman of many talents. From pop singer to fashion icon to fashion designer, the ex-Spice Girl has changed avatars with almost as much regularity as she changes her wardrobe. Her latest avatar is as a creative design executive at luxury car brand Range Rover.
According to a report by Telegraph.co.uk, the company made the announcement of its collaboration with Mrs David Beckham at its star-studded 40th anniversary celebrations at London's Kensington Palace on July 1. Looking gorgeous in a nude asymmetrical figure-hugging dress from her own label, she was quoted saying she was looking forward to "everything" about the collaboration, and added: "I don't know where to start. It's an incredible opportunity I've been given. I'm very excited."
The SUV will be priced between GBP 30,000 to 45,000 (approx Rs 21-31.5 lakh) and be launched sometime in the summer of 2011, says a Daily Mail report. The new Evoque is a smaller, sportier off-roader and is expected to be the 'greenest' Range Rover yet, says the report, designed to appeal to a new generation of customers who are looking for a sophisticated vehicle with the benefit of fuel-efficiency.
Photograph: Lucas Jackson / Reuters