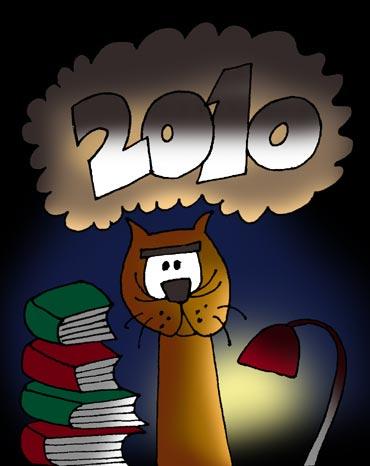 As preparation for CAT 2010 for admission to India's top B-schools gathers steam, we invited readers who have taken the CAT in previous years to share their experiences and advice with this year's test-takers. Here GA reader Adarsh Sharma, an IIM Indore student who scored in the 99 percentile in CAT 2008, shares his advice...
CAT is an exam of uncertainties and preparation is the only thing that can equip you to manage this uncertainty. But how you prepare varies from individual to individual. I know people who have got IIM calls studying half an hour a day and have seen people with equal capabilities failing at the same despite putting in several hours every day.
Talking about myself, I gave CAT in 2008 and managed 99.73 percentile to get a couple of IIM calls and now am studying in IIM Indore. I had not performed very well during my engineering entrance exams and the journey during engineering was also not turning out to be a fun ride. So for me, CAT was my last chance to prove to myself that I could do something big. Of course you can say that I could have sat for CAT the following year as well but I think if you don't challenge yourself and see this year as THE year, success is tough to come. So, my first tip would be --challenge yourself.
I believe regularity is more important than the number of hours you study ie studying one hour every day is better than studying 10 hours on one day or 5 hours on two days. The reason for this is simple -- you just can't maintain the same level of concentration for such long hours and regularly brushing up concepts is better than trying to gulp everything at one go. Hence, my second tip is -- be regular.
Whether to go for coaching classes or not totally depends on the individual. I did join an institute and my personal experience is that such classes don't add much to your knowledge but they do show you a path. In case you don't opt for coaching, you won't know how exactly to go about your preparation. Also, being in the company of other students vying for those sought-after calls helps you keep a check on your own performance and you know if you need to work harder or not. So, I suggest do give coaching classes a shot unless you just can't take out time.
I attribute a large part of my success to the peer group I had. We were a group of 5-6 friends who used to sit together and attempt mock CATs, help each other with any problems we had in any section and whatever else we could do. This was really an asset as all of us had our own strengths and weaknesses, and coming together aided us in improving the weaknesses. So if possible, a good peer group certainly helps.
I have always believed that there are no important or not-so-important topics in CAT. Yes, there are a few topics that will have more questions compared to other topics. But, on CAT day anything can happen and the questions from those important topics can end up being very difficult and the not-so-important topics can save the day. Hence, it is important to do each and every topic with sincerity so that you are prepared for all eventualities. This also helps you in picking questions selectively. In the end you are not supposed to answer all questions, you are supposed to answer the maximum number of questions in the least possible time.
Also, don't commit the mistake of ignoring any section. Sectional cut-offs are of utmost importance. Try to be good in a couple of sections and excellent in the third. Being excellent in two and poor in the other is of no use.
Last but not the least, do join a test series. No amount of practice at home or classes can match the experience of sitting in a seat for two and half hours (or whatever be the duration of the test) and attempting the same type of questions in a pressure situation. Test series equip you in handling that pressure. You can try different variations by starting with Quant in one test and maybe with Verbal in another. After a few trials, you can settle on the strategy that seems to be the most effective and use it on the day as well.
Also, test series act as a guide where in you can see for yourself which areas you are weak in and require more effort. This of course can happen only if you analyse your tests after coming home. With the online CAT coming in, test series have also become online which themselves give a detailed analysis. This makes your job easier.
Stay focussed, prepare yourself for all eventualities and success will follow you.
Did you crack the CAT recently? What was the experience like? How did you begin your preparation and how did you plan your CAT strategy? Which are the most important study topics? What are the common problem areas that test-takers face and how did you approach them?
Simply e-mail us your CAT tips and advice at getahead@rediff.co.in with the subject 'My CAT tips' and we will publish the best right here!
Illustration: Uttam Ghosh