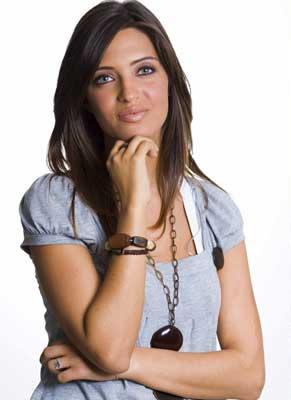 Here's why Spanish football fans want Sara Carbonero as far away from the on-field action as possible.
The most famous WAG of this year's FIFA World Cup is definitely Spanish goalkeeper Iker Casillas' girlfriend and television presenter Sara Carbonero.
The 25-year-old stunner, who has been reporting from the touchline in South Africa, left Spaniards furious after their team suffered a crushing defeat at the hands of Switzerland on June 16.
So what has that got to do with the match? Die-hard fans of the game blamed Casillas' poor performance during the match on his ladylove's presence on the field, deemed a distraction.
Who can blame him, though? Voted 'Sexiest Reporter in the World' last year by FHM USA, the brunette is quite a sight on the green, showing up in figure-hugging pants and knee-high boots for most of the games. And that's her work wardrobe!
On the red carpet, she shows off her long legs in strapless minis looking more like a model than a reporter. Add to that her green eyes and sultry pout and she could bring a whole team to their knees. No wonder she was nicknamed 'Tomb Raider' back in her college days -- she could give a certain Ms Jolie quite a run for her money in the looks department.
Ironically, it is in South Africa that that Casillas first wooed the hottie -- he is believed to have sent her a bouquet of flowers after being introduced to her at the Confederations Cup last year. She was dating a fellow sports journalist at the time, but they parted ways soon after.
As for the FIFA controversy, Carbonero has dismissed the ire surrounding her presence as 'nonsense'. Let's just hope that she manages to keep under the radar for the finals coming up this weekend, or she may have to migrate to the Netherlands!
Photograph: Wiki Commons