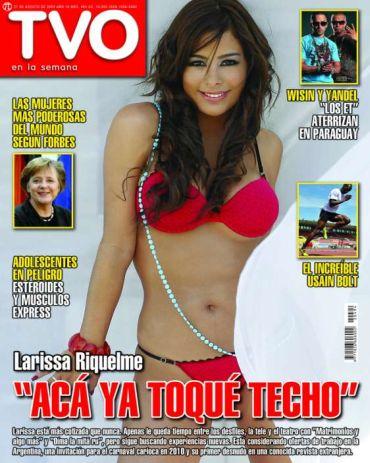 Meet the world's latest, hottest FIFA star, who is neither an octopus nor a footballer.
A psychic octopus, unexpected upsets, controversial umpiring decisions, beautiful women creating distractions -- this year's FIFA World Cup has certainly seen it's fair share of hype.
And while Spain emerged victorious for the first time in the history of the tournament yesterday, the footballers are not the only ones basking in the limelight and adulation.
For one, Paul the Octopus is probably a bigger star now than all of them put together, although all he probably concerns himself with is whether his next snack is going to be mussels or crabs.
And then there's the other, slightly more glamorous personality who has catapulted to superstardom with FIFA this year -- Paraguayan lingerie model Larissa Riquelme.
Yup, the very same one who promised to give hot-blooded males across the world a peek at her naughty bits if her country won the World Cup. And she made good on it even though Paraguay lost in the quarter finals to Spain.
In what can only be described as one helluva PR-savvy career move, the voluptuous brunette, 24, started creating waves when she began attending live public broadcasts of Paraguay's World Cup clashes in Paraguay's capital city of Asuncion last month. And all it took was one photograph.
Riquelme was captured cheering in a plunging but patriotic tank top, with her cellphone conveniently wedged between her ample cleavage as part of a promotion for a cellphone company. And as the press and fellow spectators ogled at her revealing outfit, she promptly declared to the cameras and everyone present her intention of streaking through the town wearing nothing but body paint in the national colours if Paraguay took home the World Cup.
Dubbed 'The World Cup's Girlfriend' by a Spanish newspaper, she kept up the antics at every game, sporting the word 'Axe' in a temporary tattoo on her chest as a form of advertisement for the deodorant and cheering so hard that photogs made sure to frequently zoom in on her during every broadcast.
With every added football victory came the added incentive of seeing Riquelme in the buff, so it was a double disappointment for the Paraguayans when their team exited from the quarters of the World Cup. Seizing the opportunity to raise her countrymen's flagging spirits (and cashing in further on her by-now global popularity), the hottie stated that she will still fulfill her promise as "a present to all of the players, and for all the people in Paraguay to enjoy" -- another shrewd move made just when it seemed as if her briefly shining star was about to fade into oblivion.
While she nixed the idea of her run, Riquelme did strip for soccer fans in a photoshoot with Paraguayan newspaper Diario Popular, posing seductively sprawled out against the country's national colours last week. She came through on her word, her fans were happy and the road to everlasting fame seems to have widened.
The World Cup may have drawn to a close, but her career is only just taking off. The sultry siren has become the country's highest-paid model as of this year and her name is among the most-searched on the Internet. She's gone from a nobody to a global pin-up overnight simply because she knew how to sell herself, something that sexy and savvy women across the world successfully pull off time and again (remember a certain Miss Sherawat and her endless antics? Anything for the spotlight). When it comes to the World Wide Web, that's all it takes for a single click to transform into a million.
While the best footballers in the world literally put their blood, sweat and tears into the game, Riquelme's become as famous as any of them, using just two things -- her sexual appeal and strategy.
Photograph: Cover of TVO Magazine