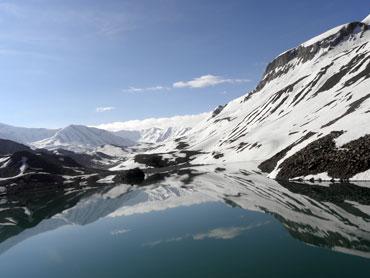 Holidaying in Ladakh -- known for its breathtaking natural beauty but seen as remote and inaccessible by many domestic tourists -- has become slightly easier from this season on.
A leading travel company introduced a new concept in May this year -- a special charter flights-cum-tour package to Leh-Ladakh touted as the first such initiative for the region, which has already been availed of by over 7,000 people.
Buoyed by the 'great response', as officials of the online travel agency, MakeMyTrip.com, termed it, the venture has now been extended for two more months, upto the end of August.
The remote and tranquil region in Jammu and Kashmir is blessed with nature's bounty -- rugged, snow-capped mountain ranges; the picturesque Nubra valley; the world's highest motorable pass, Khardungla, at 5602 metres; the confluence of the Indus and Zanskar rivers; the crystal blue Pangong Lake; the vibrant Leh Town; the colourful Buddhist monasteries -- a tour to Leh-Ladakh is a treat for the eyes and soul.
With more and more tourists eager to experience the 'hidden paradise', MakeMyTrip claims its new package has offered an easier and cheaper option -- especially for domestic travellers who want to keep it low-budget.
"Ladakh has been inaccessible for most Indians. By launching this package we have solved the problem and added extra capacity, so that more and more people can enjoy holidaying in Ladakh. We had weekly departures every Sunday starting May 9 and over 7,000 people have already availed of it," the agency's Chief Marketing Officer Mohit Gupta said.
He said at Rs 23,999 from Delhi -- inclusive of flight ticket, sightseeing, food and lodging -- the rates are cheap. "In our package, the flight component is as good as free."
Happy with the response, MakeMyTrip is also toying with the idea of launching similar charter flights to other destinations. "We are exploring a lot of options and want to add more destinations in the near future," Gupta said.
Other than the seven-day tour, a shorter four-day package is also available. The agency says it is being able to offer low rates due to large-scale contracting and networking with local hotels, taxi operators and travel agents in Leh.
The domestic holiday market in India is booming and newer and unexplored destinations are being opted for by travellers. Ladakh is emerging among the preferred destinations and last year, 38,000 domestic tourists travelled there.
A young couple from Bangalore working in the IT sector, who had availed of the package, says they had a "great experience" in Ladakh.
Aman Kansal, a businessman from Chandigarh travelling with his family, feels if the costs are competitive, more low-budget tourists will prefer a tour to the 'cold desert'.
Photograph: Chanduri Vishwa Manoj