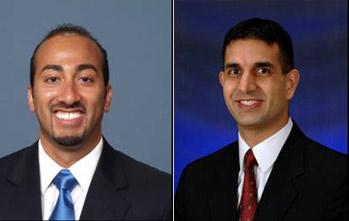 Two outstanding Indian-American doctors have been chosen for the presitigious White House Fellow programme this year. One of the most prestigious programmes in the United States, it recognises individual achievements in leadership and public service. As part of the programme, each year selected fellows are given the opportunity to experience first-hand the workings of the US federal government. Aziz Haniffa reports.
Dr Pat Basu of Naperville, Illinois, and Dr Sunny Ramchandani of Rowland Heights, California, USA are among the 2010-11 class of White House Fellows, announced June 22 after a highly competitive selection process.
The White House said the 13 fellows 'come from diverse backgrounds, varied professions' and that all of them 'have shown a strong commitment to public service and leadership'.

First Lady Michelle Obama said, "This year's White House Fellows comprise some of the best and brightest leaders in our country."

Basu and Ramchandani will spend a year working as full-time, paid special assistants to senior White House staff, cabinet secretaries and other top-ranking officials.

Basu is a radiologist at Stanford University and the Palo Alto Veteran Affairs. At Stanford, he is the course director of health policy, finance and economics, and lectures nationally and internationally. He was named consultant physician of the year at Stanford in 2009. He co-founded ExtendMD, a web portal designed to enhance outpatient care.

He is also the founder of STARS Luncheon, a non-profit organisation designed to support lower socioeconomic children for future college and career success. He attended the University of Illinois on a National Merit Scholarship and graduated with honours in mechanical engineering and served on the University Senate. He also served on admissions committees at the University of Chicago and Stanford University.

Ramchandani is a lieutenant commander and physician in the United States Navy. He is currently the integrated chief of general internal medicine at the Walter Reed National Military Medical Center, where he co-founded an innovative primary care delivery model that has enhanced quality, reduced overall costs and been adopted by the entire US Military Health System. 

In 2009, Ramchandani, deployed to Afghanistan as the senior medical mentor for the Afghan National Security Forces, guided the execution of a new healthcare reconstruction strategy, and received the Bronze Star Medal (awarded to meritorious individuals who have served with the US army).
As an assistant professor of medicine at the Uniformed Services University, Ramchandani teaches and mentors young physicians on how to address today's healthcare challenges and is also the vice chair of the Serve DC Commission and manages city-wide community service programmes in Washington, DC.

He earned his master's degree in public health (MPH) from the Harvard School of Public Health and his MD from the Yale School of Medicine, where he received the Norman Herzig Award for his dedication to humanitarian service in India. He earned his BS from the US Naval Academy, where he was a Truman Scholar and graduated first in his class academically.
The White House Fellows programme, created in 1964 by President Lyndon B Johnson, has fostered a legacy of leadership with nearly 600 alumni, including former secretary of state Colin Powell, former secretary of labour Elaine Chao, North Atlantic Treaty Organisation Commander General Wesley Clark, Senator Sam Brownback and former CNN chairman and CEO Tom Johnson.

The most famous Indian-American alumnus is CNN's chief medical correspondent Dr Sanjay Gupta, who as a White House Fellow worked as a special assistant to then First Lady Hillary Rodham Clinton on healthcare issues.
It was at an alumni dinner that Gupta broached Johnson with the idea of the 24-hour cable channel having a full-time medical correspondent; the rest is history.
Photograph: Dr Pat Basu (L) and Dr Sunny Ramchandani