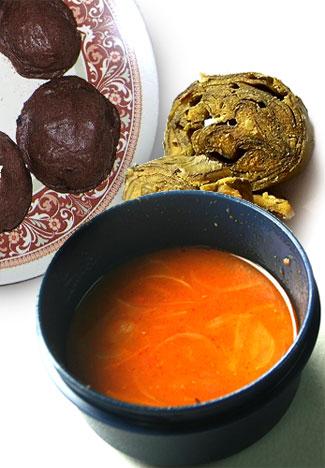 Got a recipe that is perfect for a cold, rainy afternoon? Share it with us!
It's a rainy Sunday afternoon. You're sitting by the window, gazing at the raindrops slipping off the leaves and breathing in the earthy smell so characteristic of the monsoons. It is intoxicating, to the least.
Yet, the picture seems incomplete without a mug of steaming hot chocolate or the North Indian favourite padoka chai. Down south however, the monsoon favourites are far too many, from hot drinks to fried snacks. Here's a sampling:
Rasam
This one is truly a 'hot' favourite! High on taste and designed to cure all ills, a cup of tangy, peppery Rasam is a great spend a rainy afternoon.
Heat some oil in a deep pan or
kadhai
, add mustard and cumin seeds. Once they begin to sputter, add two cups of tamarind juice with a chopped tomato. Next add ground garlic, salt and pepper to taste and boil for 5-7 minutes. Remove from the heat, add some freshly chopped coriander leaves and your piping hot
Rasam
is ready. Enjoy it with steamed rice, as an appetiser or just a hot health drink!
Ragi Mudde
This is Karnataka's very own health food -- the ragi (finger millet) cake. A no-frills recipe of water, ghee and ragi it's simple enough to put together, but will need a bit of patience when it comes to stirring in the ingredients. A good way to do it is mix to the flour with some a little bit of water to prevent lumps from forming and then drop in the mixture into boiling water. Stir until a thick paste is formed. When cool, roll into balss and enjoy this sticky ragi cake with a vegetable curry of your choice. A truly finger-licking meal!
Patravade
Kesuvu or colocasia leaves grow mostly during the monsoon and are used to make the delicious Patravade (a dish native to the Malnad region of Karnataka and the Konkan region of Maharashtra). This is a fairly simple dish to rustle up. Make a thick spice paste of ground rice (soaked in water for 3-4 hours), cumin, coriander, red chilli powder and turmeric. Apply the paste on the back of each leaf and then rolled each one up. The leaves are then steamed for about 20 minutes. Once cooked, the steamed leaves are cut and fried in a spot of oil. Delicious!
If you have a recipe that is perfect for a rainy day, share it with us! Simply fill the form below with details of your dish -- method, ingredients, cooking time -- and we'll publish it right here on rediff.com (note: email addresses will not be disclosed).
And hey, you can upload photographs and videos of the whole preparation process and outcome too, so channel your inner chef and submit your write-up right away!