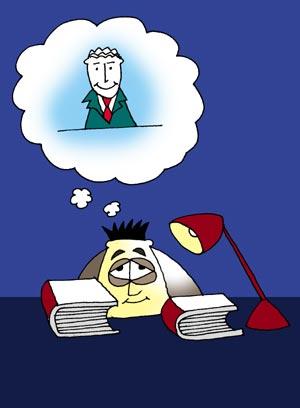 The exams are over and it is time for the results to be declared. Students across the country are wondering what the next step in their academic and professional career should be?
What scope do various fields offer? What is the next step after a BE in IT systems?
How can you go about planning a career in education?
What is the best subject to major in after class X?
Is an MBA a better option or a Master's in a specialised field?
How important is work experience when applying for an MBA overseas?
To answer these and many other education and career related questions, career counsellor Shivani Manchanda hosted a chat with readers on May 2. For those of you who missed the chat, here's the unedited transcript:
If you have a question that you would like addressed, whether it's about your current job profile, your future career plans or just about anything related to your professional career, log in to our career chats every Wednesday at 2 pm IST and get all your questions answered!
---
SHIVANI MANCHANDA says, Hi everybody I am logged in here and happy to answer any questions that you might have.

---
sagar asked, As Per u wht a student have to do after b.com

SHIVANI MANCHANDA answers, Thre are several options after Bcom - depending upon your preferences you could go further in accounts, finance or even move on to journalism or event management.
---
rajesh asked, iam 10th std fail....i want to make big in life..what to do next?

SHIVANI MANCHANDA answers, It may be a good idea to have an introspection as to why you failed 10th. If you did not study and failed then definitely give the exam again ASAP. However if you studied and still did not clear then you should take serious tuition help and reappear or move into vocational stream. But I defintiely advise clearing 10th Don't give up.
---
nikitha asked, i an here behalf of my friend, she will complete her BE next year and she wanted to do MS in NewZealand .. My qustion is how is NewZealand University , why because she pointing NewZealand is very very less crime there so.. if any other great university is ther please inform here. and his academic is very great !!!

SHIVANI MANCHANDA answers, There are several countries which have low crime rate. Newzealand and Uk are the two options that your friend can consider. She can look at courses in Comm Engg, braoadband, control systems etc.
---
pranav asked, Is CFA a good option??

SHIVANI MANCHANDA answers, Yes if you are quantitative person then CFA can be an excellent option. Others you can look at are portfolio mgmt, internet securities, real estae and finance or financial analysis.
---
lakhansinhg asked, what are different careers for any graduate? I am Arts graduate

SHIVANI MANCHANDA answers, If you are a social science graduate then you should consider various careers according to your strenths - tourism, international realtions, media, journalism.
---
hi asked, I am complted with HSC then which course will be gud for me

SHIVANI MANCHANDA answers, After HSC a lot will depend upon your strengths, weaknesses and course you have taken in 12th. Biotech is a great field if you have a science background. Apart from that you can also look at nanotechnology or physics or even you can go for a stream change and go with finance, marketing, brand mgmt etc.
---
hello asked, is doing an mba from a not so good college worth it? I am 27 yrs old

SHIVANI MANCHANDA answers, MBA is all about branding so sometimes not doing it from a well branded UNiv or college will not be such a great idea. You cna look at specialist masters courses or work for a little while and then retry for a better MBA.
---
abc asked, i m an iit grad (graduated a few days bak), have a job with L & T (mgt. trainee) and have an MS admit(civil engineering - construction management) from a top US uni... a bit confused as to what I should do... any suggestions?

SHIVANI MANCHANDA answers, Congratulations for your job. A lot will depend upon which UNiversity you have been admitted into and whether it is with a school or is it self financing. You could potentially work for a year before you go or do ocnstruction. Without knowing specifics it is hard to tell. It maybe best to come for a one on one session.
---
chintan asked,  i appeared for t.y.b.com i want to now about distance learning mba is good

SHIVANI MANCHANDA answers, Distance learning MBA has the disadvantage that you will not get face to face connect with your classmates. BUt some good DL courses like the one at IGNOU has contact hours as well and that can break the isolation of the DL MBA. If you are working and doing MBA on the side via DL then that can also work for you.
---
ben asked, I am Ben! I am a Diploma in Mech.Engg.and in Central Govt Service! I am working in the field of Mechanical Engg. for last 18 years. Now I have a newfound interest in psychology. I have been thinking to do a graduation in psycho and further studies in psycho for last 5years. Same time, my second option is to get a Mechanical engg graduation through AMIE which will enhance my profession. should I go for my passion (Psychology) or profession at this age of 38. I am married and settled. Please give advice!

SHIVANI MANCHANDA answers, This is a tough decision. Starting a career from scratch is difficult. I would encourage you to think about what aspect of Psychology interests you - If you are missing the human connect in your job then it maybe worth looking at HR training. Sometimes moving into HR training is easier at this age and stage.
---
nikitha asked, she is doing her BE in Biotechnology and wants Master in Bio itself. Thank you.

SHIVANI MANCHANDA answers, Biotechnology is a vast field - you could go into genetics, pharmacology, immunity, food biotech, environemnt is a good option with biotech background. Food processing industry and food tech courses can also be really useful as they are very job oriented.
---
viks asked, which engineering course have a good future?

SHIVANI MANCHANDA answers, Computer, Chemical, Mechanical, Robotics, Data Communications POlymers, materials is also great as alot is happening in the filed of differnt new materials and thier usage in human body for instance - ceramic hearts.
---
Deepayan asked, I am in 3rd year B.Tech..I want to work in top R&D labs like those of Intel , Apple etc..Is getting a Ph.D after B.Tech help me in my goal?

SHIVANI MANCHANDA answers, Yes if you would like to move into research then PHD is the way to go. Followed by post doc. Also if you work hard and with interest then try and publish some papers at masters level and also do some posters at conferences as that will help you evidence research experience and expertise.
---
jagan asked, Sir, I have completed B.com and Pursuing CWA final Stage. Currently I am Working in a Private Construction company. I always have an interst over science. I could not go for it since i had a average SSLC marks. But now i would to do Engineering once i complete my CWA. Is there any possibility to do Engineering in Distance. Of all, Would you advice me to do an Engineering?

SHIVANI MANCHANDA answers, No I would not suggest doing that. You have been out of science for too long. However with your interest in maths you can still do financial maths, actuarial sc etc that will be a good compromise.
---
kareem asked, BE in Biotechnology is good?

SHIVANI MANCHANDA answers, Yes it is
---
Geo asked, Sir, I have completed BSc Electronics. I plan to do a PG. But I cant finalise in what subject I should do a PG for a better job opening?

SHIVANI MANCHANDA answers, embedded systems, distributed systems are some options or straight electronics or IT
---
indra asked, Hi, howws this actuary course from Institute of Actuaries of India ??

SHIVANI MANCHANDA answers, It is very good Actuarial Science requires really solid hard work so dont take it lightly. You need to really be good in maths to succeed in that plus tons of hard work and then some more :-)
---
Niharika asked, HI.I have graduated in Statistics From DU with 60%.What career options are available for me?Kindly guide me to that.I wish to pursue further studies.

SHIVANI MANCHANDA answers, Finance, finance and maths, actuarial sc, even some it courses will be great.
---
Engineer asked, hello Sir.. I completed my B.E in Electronics and Communication in 2009..I have been looking for jobs since then but still not able to find the right area where i can work..Any Suggestions where there is great scope for my field and have great career ahead.

SHIVANI MANCHANDA answers, It is unfortunate that you are not able to get a job. Try a specialisation at masters level. Also look at entrepreneurship. Dont always look at getting a job, sometimes not getting a job and starting a small business can be the perfect solution to move ahead in life. Not all entrepreneurship is about huge investment.
---
mk asked, How to excel in teaching profession?

SHIVANI MANCHANDA answers, For a great teaching career a BED is a must if you are looking at school teaching. Being innovative and creative in your lesson planning. If looking to teach at college level then making learning a habit as at higher levels it is vital to teach from current research. Also instead of being stand-offish it will be great to be friendly and approachable to your students.
---
vdgarg asked, What is scope of science research in India?

SHIVANI MANCHANDA answers, In India, science in various fields offers a lot of potential. My suggestion would be to go for applied science research as that has more industry application & DST in india perfect to fund research in applied sciences. but before entering, do locate your specific subject & the kind of research goin on...
---
ochitya asked, hi mam i am pursuing my B.E degree from bangalore rgt now i am in 3rd year well i have question regarding what to do next? should i get into the job next or go for higher studies in finance as i keep interest over thr? if yes then from whr in abroad...or from india

SHIVANI MANCHANDA answers, going 4 higher studies aboard in Engg can be a vry gud option as Universties can offer various spectilst master's which are in demand overseas..e.g In uni of Bristol u can do communication network & signal processing or even optical communication & signal processing
---
meghavaibhav asked, Hi Sir I am B.E. computer and doing job in a s/w company from past 5 years. Now a days I am getting bored with s/w field and want to to do GMAT to get admission in a reputed B school. Do you think my decision is good?

SHIVANI MANCHANDA answers, Yes, science plus good work exp means doing an MBA at this stage will be a gr8 decision. In fact many UK uni we admit you on the basis of your accedimics and wrk exp. Many Unis like sheffield & Leicester or even Kent are AMBA accredited and dont need GMAT. another option is BIS or MIS.
---
naresh asked, Between the two courses please could you suggest one I should go for 1] Five Year Dual-Degree Program of B.Tech in Computer Science and MS by Research in Computational Natural Sciences at The International Institute of Information Technology, Hyderabad (IIIT-H) OR 2] B.E.(Hons.): Computer Science Program Offered at BITS, Pilani - Hyderabad Campus:
SHIVANI MANCHANDA answers, Congrats for gettin admission into good programs. BITS Pilani is a bigger brand name and if it allows you an exit at BE then you can chose what masters to do after course completion. Good luck.
---
Anand asked, Helo SIR..I hav completed a diploma course in electronics, but interested in joining IAS. could you please suggest,,what would be the procedure??
SHIVANI MANCHANDA answers, If you're doing a diploma in Electronics then plz complete your bachelors & study really hard for the IAS. If you complete BE then you will have the option of either pursuing Engg or IAS.
---
katrina asked, hello madam, i have completed my bachelors in microbiology. Can u please tell me will Phd be a better option after masters or MBA?

SHIVANI MANCHANDA answers, At master level it may be better to do Drug delivery, Genetics counselling, molecular Genetics, Bio infomatics. Some Uni's offer, like Abertay Dundee, MBA with Biotechnolgy also that can also be good opiton you could consider.
---
daniel asked, I have just given my TY BSC exams in Hospitality. Can I do my MBA right now or should I work for some years and then do it..
SHIVANI MANCHANDA answers, Maybe working for a few year is a good idea. It will gve you good Exp in industries & you can always do MBA later. If you want to study right away than consider doing masters in Hospitality or Tourism Management.
---
prasoon asked, hello i m doing my btech in comp. science. i m a final yr. student now what shall i do after this course MBA M-Tech Job.
SHIVANI MANCHANDA answers, you can do MBA in IT or MCA or MIS (management information system) for staying in computer field overseas are better and sometimes for the Indian market MBA is better.
---
rohit123 asked, I haven't secured good marks in MAT or CAT , I have done BBA and don't want to waste 1 year in preperation and therefore got enrolled in a pgdb from an average institute (neither good nor bad), wat is ur suggestion in this regard.

SHIVANI MANCHANDA answers, It is unforatunate you didnt get good marks in MAT or CAT. If your percentage is good then maybe do MBA from abroad or you can look at a specialist master's prog.
---
ranchordas shymaldas chanchad asked, I have done my BE in 2007.After that I worked with infosys upto june 2009.After that i quit infy bcos i wanted to do my mba. Now i have not got any calls in mba as well. What should i do look for job again or do mba from any institution.plzz suggest

SHIVANI MANCHANDA answers, continue to work as long as you dont get a good academic options. Then subsequently u can do your MBA.
---
manoj asked, hello Mam, i m manoj from mumbai. i done graduation in commerce in the year 2004. now i m working in pvt. co. as account exxctuive but not getting high packege. Can u plz suggest me some good diploma course in account which will give me good hike.

SHIVANI MANCHANDA answers, You can consider doind CFA as an option to improve ur salary package.
---
muneerakhan786 asked, hi madam my son is in SYBCom, what are the prospects of doing and MBA in Banking and finance. Please advise the institutions offering such courses.

SHIVANI MANCHANDA answers, If your son is in 2nd year then let him work for some time before pursuing masters. These days Masters in banking and finance is also an option.
---
roopesh asked, im pursuing MBA in Finance (2nd year), however i hv 5 years of experience in IT operations pls suggest proceedings if i want to switch to finance field, immediately..how wud i step ahead

SHIVANI MANCHANDA answers, Do a banking and finance or CFA or CIMA if you want move into finance.
---
RohanPatil asked, Hi madam, I have applied thru u to bristol and sheffield,i have not got admit from edinburgh.Sheffield has sent confirmation of acceptance.

SHIVANI MANCHANDA answers, HI Rohan great to see you online. I will send a reminder to Edinburgh and as you know Bristol university is coming to our office tomorrow so please try and make it in the morning Also accept the Sheffield offer for the moment
---
nidhi2 asked, hi , i have done my mba-tech from nmims university. (with specialization in telecom and mktg) and hav got a job in idbi bank thru campus.. Should i work in a bank or try for a job in a telecom co???

SHIVANI MANCHANDA answers, If you are getting a job in the telecom industry and are interested in it Then definitely opt for telecom as it is a growing industry and you can grow with it
---
Ravi asked,  have completed by BE. interested in Masters in NUS Singapore. how much it would cost ? when does the course start

SHIVANI MANCHANDA answers, NUs is a difficult UNiv to get into Courses begin in Aug/Sept What is your BE in - depending upon your area you could explore other univs abroad as well. What is your budget and youra area of specialization?
---
vikas_dubal asked, can u plz tell me smehing abt event mgt course..whc college offers tht course..

SHIVANI MANCHANDA answers, Event management is a growing field in India - though it is economy dependent I think it is a good filed as it allows you become an entrpreneur or work fora company. You could specialise in confernces, parties, music launches or even sports events - I personally might like the fun and excitement involved with events
---
AnandR asked, Hi,My name is Anand,done my Btech in Electrical and Electronics,worked as trainee in a refinery for 1 year,I would like to know about any specialisation courses ,also plz tell me what types of job i should be trying next,Also plz tell MBA in operations is good for an electrical engineer

SHIVANI MANCHANDA answers, Heriot Watt univ in Uk offers abrewing and a distillery course Brewing industry has applications not just in alchohal industry but also coffee and cheese
---
lucky asked, i have completed 8th what should i do next

SHIVANI MANCHANDA answers, HI Lucky - you have plenty of time if you are in 8th grade. Study hard, involve yourself in extra curricular, Duke edinburgh scheme, model united all are good options to build your profile aslo you could sit for maths and sc olympiad t is great to see you so focused early on - good going keep working hard and dont fear anyhitng and life will get you great rewards
---
sunnny asked, I have graduated in BSc[IT] through correspondence at the age of 26, after having dropped out of engineering. Have I lost the race as my academic record now is poor because of the big gap during my graduation. How should I proceed and what is the chance of me making it big in IT.

SHIVANI MANCHANDA answers, Nobody ever loses the race unless they decided that race is lost. Work hard and proove yourself in your job and you will be surprised how much hard work intitative can be rewarded in work place and somehow you can stil strike gold. Research proves that there are p[eople who are late bloomers and life brings them rewardsa little late but defintiely brings them. So keep the faith and the positive attitude
---
Aravind asked, Good afternoon ma'am! I have just finished 3rd year in B.tech IT. I am interested in data mining. Can you please suggest some related fields to DBMS for doing a masters?

SHIVANI MANCHANDA answers, Univ of East ANglia in UK offer s a data mining masters. I am unsure if it is available in India as a masters But the IITs will have faculty with research interest in that area and you could study at Phd level as well
---
nitawrk asked, hellow Maa'm, self is working in bsnl since 15yrs, am be (electr). Now I want to persue carrier in private industry/sector...what is the market like , and prospects etc.

SHIVANI MANCHANDA answers, If you have been working in govt sector for some time then make a list of all your skills taht you could use in your new job. The skills that are transferable ie can be used no matter where you go Improve your resume and then apply for mid mgmt positions in private sector it will be simpler if you wil apply in telecoms sector but can shift also
---
Cowseye asked, How important is post grad ? Is it something that i cant reach heights in my career if I am not a post grad ? Is post grad really required these day... ?

SHIVANI MANCHANDA answers, Yes post grad can be very useful as it helps you become more focussed and very often a lot of higher level skills are taught more at pg level But doing it in area of your interest is vital
---
anurag_bhagat asked, What are the options in mass communication at graduate level? What does the course include?

SHIVANI MANCHANDA answers, mass comm is a great field you could either go for journalism, film, direction, photography, or otehr technical skills, direction all are options. Media as you can see is a huge field now so compettion is tough but if you are creative it can really give you an opp to fly.
---
theprateeksharma asked, I want to become an entrepreneur in software and related services i have many ideas to work on during my btech in computer science i have acquired technical skills required for making my ideas work should i concentrate on cheapness of services or more rich features as my business model

SHIVANI MANCHANDA answers, TIE is an excellent forum to join as it nurtures entrpreneurs as well provides opps for mentoring www.tie.org/ Another good option for entrepreneurs is BNI - business networking international but that is for reasonably established people
---
Palani asked, I have completed XII now. Is it adviseable to take BIOTECH in engineering? I got different type of opinions abour bio. Is it a right choice or otherwise your advise please.

SHIVANI MANCHANDA answers, HI palani - yes biotech is a good option. You could either do it as an negg or as BSC. Anna Univ, JNU in Idia have great courses. In Uk East Anglia, Brsitol, Sheffield and Leicester are some excellent options. IIT bombay has bioengg and biotech at Masters level.
---
RohanPatil asked, RohanPatil says, i donno:( how long will the interview go on 2moro? do i need to prepare for it? wht ques are expected?

SHIVANI MANCHANDA answers, No need to prepare it will be opportunity more for you to ask your questions.
---
Krishn asked, What can be done after BMS? Only MBA or any other?

SHIVANI MANCHANDA answers, No MBA is the not the only option you can shift to tourism, media, events, or yes Comp science as well - in certain places.
---
Aravind asked, Thank you ma'am! I would also like to know what universities in US offer data mining masters. Also, what are the other related fields?

SHIVANI MANCHANDA answers, www.career-track.net is my site have a look and get back if serious
---
Eshaan asked, Hi! ive just passed my class 10 boards (ICSE) and im a science student now.. but i dont know what to do after my class 12 boards.. medical, enginering,computers?? how do i find which is best for me?? as far as i know i would not mind going for any of them..
SHIVANI MANCHANDA answers, After 10th a good career counseling session can focus you.
---
whattodo asked, Hi, I have graduated from a top tier National Law School and have got placed with a PSU as a legal officer. Should I do an LLM from US/UK/NUS or should I do an executive MBA after 3 years from India- from the purview of getting promotions in a PSU. Also suggest good institutes for the same!

SHIVANI MANCHANDA answers, LLM will be a great option. You could do it in Biotech, ethics, commercial business law, trade and international law, Leicester, Sheffield, Newcastle, kent, east anglia have some good LLM programmes
---
vikas_dubal asked, mam plz i got to study abroad..and have no idea abt universities their..plz mam ur email or something else so tht i ca ncontact u for this

SHIVANI MANCHANDA answers, My website is www.careertrackinternational.com for those of you want career counseling or study abroad please have a look.
---
RohanPatil asked, Last Ques::::Madam, i have admits from SMU,TX and RIT,NY from US.Now from SHEFFIELD via ur firm.And if successful from Bristol.What univ should I prefer for MS (in EE with Telcom)??Please assist me.

SHIVANI MANCHANDA answers, when we meet I will answer :-) good luck for exam day after and thanks for joining in Cheers
---
angelina asked, can u please tell me should i do masters in microbiology in india or abroad?

SHIVANI MANCHANDA answers, Do it abroad as options and opportunities are many
---
Rajesh0001 asked, Last year my daughter got 58% in HSC but failed one subject O.C. , despite of attempting twice she could not clear it. What are options for her.

SHIVANI MANCHANDA answers, definitely clear 12th - things are difficult without 12
---
nishithforu asked, Hello Ma'am, First of all, thanks for being online.... I am an undergraduate. I Could not appear for Final Exams of Third year commerce. It's almost 12 years I left my studies. Now I am looking forward to study further. Would you please suggest me which course / degree should I opt for? Awaiting your response

SHIVANI MANCHANDA answers, hard to say without seeing your profile. Best would be clear BCom and then proceed especially since only one year is remaining.
---
If you have a question that you would like addressed, whether it's about your current job profile, your future career plans or just about anything related to your professional career, log in to our career chats every Wednesday at 2 pm IST and get all your questions answered!