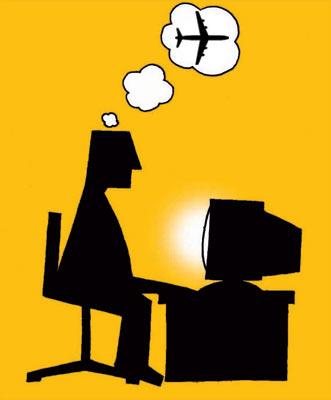 Now with stringent student visa laws in place for study in the United Kingdom after some education providers gave a 'No IELTS' call for admission to some colleges, conveniently flouting the country's immigration laws, UK's overseas education seems to be back on track for many Indian students hoping to study there.
On the other hand, some student visa consultants in India rue the fact that the UK Border Agency (UKBA), responsible for securing the country's borders, takes off its list some bogus colleges just 'all of a sudden'. Consequently, overseas students find themselves in a soup when they reach there.
"It's quite painful to see some colleges just off the UKBA list in the morning after we had completed all visa formalities for our students to the colleges the previous night," according to Jaspal Singh, a reputed student visa consultant and MD of Caan World Consultants. "We consultants, students and their parents are all suffering as a result of the UKBA's action," said .
We spoke to Sam Murray, the official spokesperson of the UKBA at the British High Commission in New Delhi, to address the various issues students and their much-maligned education consultants face. She assures that England, the land of Oxford and Cambridge, continues to welcome genuine students.
Excerpts from an interview with RMS Atwal:
How successful has the UK Border Agency been in curbing student visa frauds?
Unfortunately, the UKBA in India is seeing increasing numbers of forged documentation. If a student uses deception in his visa application, including submitting forged documents and fails to disclose previous visa application refusals, his application will be refused.
We have a very effective document verification process to detect forgery which enables us to bar the applicant from entering the UK for ten years. Cases of fraud are also referred to Indian law enforcement agencies.
Moreover, we have a robust licensing system which includes regular monitoring of sponsors to ensure that only genuine education providers are able to offer places to international students. Sponsors take responsibility for students during their period of study and report, for example, a student's failure to register at the institution or attend classes. This means if students do not abide by the terms of their visa, we can also take action against them.
In addition to these measures, only the highly trusted sponsor category introduced recently can provide higher risk courses at NQF level 3 and equivalent and work placement courses below degree level. Chances of fraudulently issued offers can be curbed now after the visa letter has been replaced by an electronic facility called the Certificate of Acceptance of Studies (CAS).
So, what is the scenario if a student applies to an education provider whose licence is suspended or withdrawn?
The UKBA works with UK education providers in India and the UK and bona fide agents, to tackle abuse of the student visa system. A student should make sure that his chosen provider is on the sponsors' register before he applies. He can still apply for a visa if his sponsor has been suspended, but no decision to issue a visa can be made on his application until the status of the sponsor is resolved.
He may withdraw his visa application and re-submit the application with a new sponsor and CAS. However, his visa fee will not be refunded. Please check the sponsors' register again before leaving for the UK.
How student-friendly are the recent Tier-4 rule changes?
These rule changes are to ensure that those who seek to use Tier-4 to circumvent the UK's immigration rules are prevented from doing so, while the interests of genuine students are protected.
To refresh students' memory, these changes are: If a student is following a course of six months or less, he is no longer permitted to bring his dependents with him; if a student is following a course below degree level he is now permitted to work 10 hours per week instead of 20 hours, with some exceptions; if a student is following a course below degree level, his dependents will not be permitted to work unless they qualify in their own right under Tiers 1 or 2 of the points based system; the minimum level for English language courses has been raised to a minimum of B2 CEFR from A2; and the introduction of the highly trusted sponsor category to supply a wider selection of courses.
What should a student do in case his visa is refused?
Visas can be refused, for example, if a student does not meet the maintenance requirements; does not provide supporting documents including originals; his documents are not in the correct format or not translated; and submits forged documents.
In the event that a student believes that the wrong decision has been made on the basis of the information he submitted, he may apply for a review of the decision. This is called an administrative review and information about this process will be included in the notice of refusal. Please note that a student cannot submit new information at this stage, so it is really important that a student follows the guidance carefully and provides all the specified documents in the correct format when he makes his visa application.
He may also make a fresh application, ensuring that he addresses the earlier reasons for refusal.
How can students get their tuition fees refunded if they are no longer able to apply for a visa or their visa has been refused?
If a student is refused a visa or no longer wishes to study at with the education provider, he needs to talk directly with the UK education provider about the refund. If a student has an agent, he may be able to assist.
Overseas students can also contact the UK Council for International Student Affairs (UKCISA) at www.ukcisa.org.uk for publicly funded institutions, and the British Accreditation Committee (BAC) at www.the-bac.org for those applying to higher education providers.
It is important that before a student hands over course fee to an education provider, he understands the terms and conditions attached to the transaction and when/how deposits are refundable.
Some Indian students are still confused about the English language requirement for the UK. Could you clarify?
If a student intends to study a course that is below NQF level 6 -- equivalent to a degree course (excluding foundation degrees), or an English language course, his education sponsor must also ensure that he is competent in English language to a minimum of level B1 CEFR (Common European Framework of Reference for Languages).
It is currently the responsibility of a student's sponsor to make the assessment and to decide how best to do this. If the sponsor used an English language test to assess a student's English language proficiency please remember to include this document with a visa application.
In the future, it will be mandatory for students studying at these levels to pass a UKBA-approved English language test. Further information about testing will be announced in due course.
Does the UK welcome Indian students' permanent settlement on completion of their studies?
Once a student has successfully completed his studies in the UK, it is open to him to apply for further permission to stay, for example to work under Tier 1 (highly skilled) or Tier 2 (skilled) of the points based system. Eligibility criteria are available on the UK Border Agency website: www.ukba.homeoffice.gov.uk.

(RMS Atwal can be reached at rajatwal55@yahoo.com)
Illustration: Rediff Archives