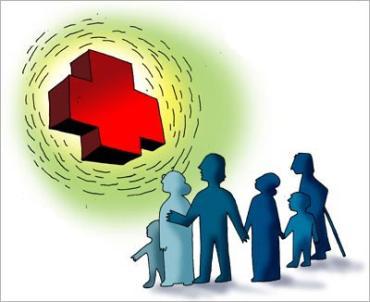 Have a query regarding health insurance or mediclaim policy? Maybe we can help.
Drop us a line and our expert, Harsh Roongta, CEO of Apnapaisa.com, will answer it.
Please write to us at getahead@rediff.co.in with the subject line as: Health insurance query.
---
I am a 32-year-old salaried man. My wife is 26 and 2 sons, one, aged 2 years and another just 2 months.

I am interested to take a floater mediclaim policy for sum insured approximately of Rs 1 to 2 lakh which can bear any sudden medical and hospitalisation expenses.
We strongly recommend an individual policy for the reasons mentioned in detail on the link:http://www.apnainsurance.com/health-insurance-india/indiviual-floater.html
Briefly it is because in most cases the so-called lower premium advantage of a family floater is negated once the age of the oldest member reaches 45 years or so. The other big reason is the lack of history for other members when the eldest member reaches the maximum age of renewability or the eldest member expires. Also, typically children can be covered only till they reach around 25 years of age after which they need to take fresh policies.
You can see the comparisons of all mediclaim policies on various parameters at http://www.apnainsurance.com/health-insurance-india/compare.html
Would like to know what can I do if my insurance claim is rejected? The insurance policy was taken on 15th May 2008 and hospitalsation was in January 2010.
The reason for the hospitalisation must have fallen under some clause of permanent exclusions. The insurance company must have given you a document while they rejected the claim. You can verify the reason stated in that particular document with your policy wording, which was provided to you while buying the policy.
In case, you are not satisfied with the claim, you can log a complaint on the official website of the insurance company. If you don't get a satisfactory response from the insurance company, you can log in a complain with the insurance ombudsman who will look in to the same.

I am 65 and under medication for diabetes mellitus & hypertension for the past 3 1/2 years. My blood sugar and BP has been normal and medication has been gradually reduced. My wife is 60 & is also under medication for BP which has been normal for long. My queries are:

1. Are we eligible to be covered under mediclaim policies?
2. Will there be any conditions?
3. Which insurance company will issue us a policy?
4. How should I go about getting us covered?

For yourself and your spouse you can go ahead and take National Insurance Varistha Mediclaim policy or Star Health Red Carpet. A brief comparison is presented in the table below.
| | | | | | |
| --- | --- | --- | --- | --- | --- |
| Company | Max age of entry | Max renewable age | Co-pay | Pre-existing disease coverage | Maximum coverage |
| Star Health | 69 | Lifetime | 30% for every claim, 50% if claim arises out of pre-existing diseases. | From inception of policy | Rs 1 lakh |
| National Insurance | 80 | 90 | 10% for every claim, 20% if claim arises out of pre-existing diseases. | Covered after one claim free policy year. Complications arising from diabetes and hypertension covered from inception on payment of extra premium | Rs 2 lakh |
I want to purchase medical insurance for my mother. Following are her details:
Age: 59.
Pre-existing diseases: Hypertension and diabetes
I have following queries.
What is the maximum amount, for which I can get a cover?
I am not interested in private insurance companies; do I have still some choice?
How can I cover her pre-existing diseases?
Can I cover critical illness also?

You can go for mediclaim policy offered by New India Assurance company. Under this policy, you can pay extra premium and diabetes and hypertension can be covered from the third policy year itself. You can get coverage up to Rs 5 lakh. This will cover hospitalisation expenses incurred on all covered illnesses (including critical illness).
For lump sum benefits on critical illness, you will have to take a separate plan. But looking at her health conditions, it may be tough for her to get a critical illness policy.
I along with my family member are having mediclaim policy from United India Insurance Co. Ltd. for almost 10 to 12 years without any claim yet. Recently my policy was renewed and the new policy's terms and conditions were changed from the previous one unilaterally, that is, ceiling of bed charges to 1% in room and 2% in ICU/CCU of the sum insured. Please let me know is it possible for me to get the policy wording and terms and conditions changed as of the earlier outgoing policy.
IRDA, vide its circular, provided that the policy wordings cannot be changed without prior approval of the regulator for any policy issued on or after June 1, 2009. In your case, the old policy was issued before that date. Therefore, the change in the policy wordings at least that time was not prohibited in the regulations. From now onwards, the insurance company cannot change the policy wordings without the prior approval of the regulator.
However, even without the regulators, these have been the some legal decisions on the points raised by you and of you so desire, you can consult a lawyer pursue legal options.

Apnapaisa is a price comparison engine that allows consumers in India the ability to compare the EMI, interest rates and other fees for home loans, car loans, personal loans, business loans, credit cards, compare online quotes and features of life insurance, health insurance, car insurance, travel insurance and other general insurance policies in India.