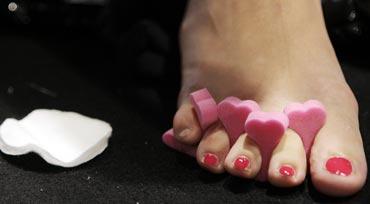 These do-it-yourself methods are sure to have them looking great.
Your feet need as much love and care as the rest of your body.
What's more, you can pamper them in style without blowing up your monthly budget at a spa -- your kitchen has all the items you will require. All you need to do is create a spa-like ambience with muted lights, some music in the background, and scented candles to complete the picture.
Ayurvedic treat
Prepare a large tub of hot water with 2 tablespoons of sea salt, and a mixture of fresh herbs like lavender and thyme in 250 ml water. Soak your feet in this solution for 15 minutes to disinfect and rejuvenate them
You can follow this up with an invigorating foot rub. Mix half teaspoons each of cider vinegar, lavender oil, powdered alum and three tablespoons of sunflower oil in a glass bottle. Warm this over a pan of hot water. After cooling, pour it onto a rough towel and scrub your feet to exfoliate the dead skin.
Round off the process by massaging the toes, instep, arches, heel and ankles with almond or olive oil. The improved circulation will make your feet feel relaxed and rejuvenated.
Paraffin wrap
Melt four bars of food grade paraffin wax in a bowl and mix along with 20 drops of lavender or chamomile oil and three ounces of any cooking oil. Pour this mix in a plastic tub and cool till a layer forms over the surface.
Wash your feet and apply olive oil over them. Check the temperature and dip each foot into the molten wax, then remove. Allow the wax to set before you dip in the other one. Repeat till you get a thick wax coat on both feet.
Wrap each foot in an individual plastic bag and cover with a blanket to keep them warm. After half an hour, peel the wax off your feet. Now massage your feet with olive oil to keep them soft, supple and smooth.
Vanilla milk treat
Try this vanilla treat for dry feet, especially during winter. Boil two litres of whole milk till it thickens, and pour it into a large tub. Cool to a comfortable temperature and add three drops of vanilla extract. Soak your feet in the tub containing milk for 15 minutes.
Now clean your feet with plain water and exfoliate the dead skin with a paste of coarse salt and cooking oil. Rinse them with warm water and dry with a clean towel.
Round off this treatment with a circular massage using milk cream and fresh turmeric pulp.
The honey-almond glow
Mix and blend seven cups of hot water, two cups of full cream and a cupful of honey in a big bowl. Soak your feet in this solution for 15 minutes. Rinse in warm water.
Rub a paste made of finely-chopped almonds and some milk cream on your feet in a circular motion.
Then massage with half a teaspoon of almond oil, making sure to press on all the pressure points.

The Vitamin E massage
Soak your feet for 15 minutes in a tub of hot water and a capful of baby shampoo. Scrub them with coarsely powdered sugar in a light circular motion and then wash with warm water. Mix half a tablespoon of either almond or olive oil, with cocoa butter and four Vitamin E capsules. Massage your feet using this moisturiser generously. Wear your socks and slide your feet into two plastic bags. Secure them with rubber bands.
Now put your feet, covered with the bags, into a tub of warm water for ten minutes. The moisturiser will get absorbed by the time you remove them from the water. Wipe off the excess with a tissue.
After every treatment, push back the cuticles on the toes with an orange stick and clean the nail beds. You may want to complete the spa experience with an application of your choice of the latest nail varnish.
Photograph: Alessandro Garofalo/Reuters