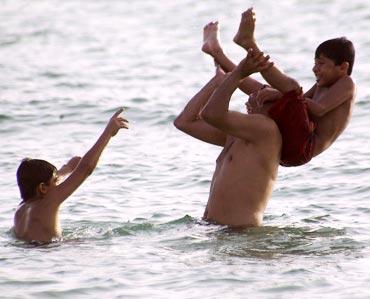 Harnoor Channi-Tiwary weighs in on some unusual ways to celebrate Father's Day on June 20.
Father's Day, Mother's Day, Sister's Day, Mother-in-Law's Day...so many days have popped out of nowhere that they all become predictable after a while. Give a gift or perhaps push the bar higher and go out for dinner? This Father's Day, don't tread down the beaten path. Here are 8 spanking new ideas on how to celebrate the day and make it special.
Bowling fun
Take your family out bowling, a sport that we all have forgotten can be so much fun. Make teams and challenge each other -- the winner buys dinner for all. If you have time on your hands, make a mini championship out of it, have semi-finals and then the grand final!
For your amusement
If you'd rather be outdoors, how about an entertainment park? With quite a few options in most cities like Entertainment City in Noida, Essel World in Mumbai etc, make your parents relive their childhood. You may notice that some of the rides which you still think twice about, your parents will love! If they are game for it, why not even give paintball a shot?
Sing the night away
If you're a musically inclined family, how about a karaoke night? You could either pick a restaurant which offers it or set up the whole thing at home. All you need to do is download the software for free from the Internet and then download the songs. Hear your dad sing romantic songs to your mom and see them both twist to golden oldies!
Picnic-time
Happen to live in the weather-blessed parts of India this time of the year, that don't have the sun or rain beating down? Plan a picnic day. Pack a hamper of chips, chilled drinks and sandwiches. Make some space for a frisbee, a pack of cards or even a chess board. Pick a lovely garden in your city, spread your sheet under a tree and relive the days when we weren't consumed with malls and TVs.
Assume the chef's mantle
Cook for him. This may seem like an obvious option, but make it special. Make all his favourite dishes; have each member of your family make him one dish. Get out your best cutlery and ask everyone to dress up for dinner. A fine dining experience inside your own home!
Have a good laugh
Book a table for dinner at a restaurant which has a comedy night scheduled. Many establishments in cities like Delhi and Mumbai have started comedy nights with stand-up comedians. The concept may be new to India, but is a fantastic idea to spend the night howling away with laughter.
Autographed tomes
Does he have a favourite author? Write a mail to him/her with a personal note, mentioning how your father loves his/her work and what it means to him. With the advent of the Internet, blogging, Twitter and social media, most authors are now accessible and even interactive. You never know, if s/he actually writes back, you could print out the reply, stick it on the first page of his favourite book and gift him a copy.
Write it all down
Write him a letter. An old-fashioned letter on a nice, handmade sheet of paper. Tell him what he means to you, and how special he is. Pick a photograph of both of you taken long ago and forgotten in some album. Put both the letter and the photo in an envelope and post the letter to him. It may seem like the smallest gesture, but in a day and age when no one bothers making the effort to physically write anymore, he will appreciate it.
Whatever you decide to do, let the feelings speak for themselves. Material gifts are often far overshadowed by gestures that show you care!
Do you have unusual ideas to celebrate Father's Day too? Share them on the messageboard below!
Photograph: Anwar Mirza