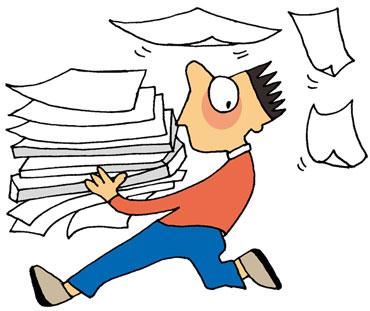 When it comes to college applications, students would be well advised to err on the side of caution. Incorrect information or being unprepared can make the process a nightmarish experience. Here some college students share how their college admission went all wrong and share the lessons they learned.
College admission season has begun. Lakhs of students are scrambling to learn college cut-offs, how to get their hands on application forms and deadlines for application. It is a nerve-wracking time for most college applicants and understandably so.
College applications can be quite a nightmare for the uninformed and unprepared. "You should ask around and find out all there is to know about what you need and what you need to do when applying to college," says Preeti Shroff, a student at one of Mumbai's suburban colleges.
TYBSc student Shrikant Pande agrees. "Friends of mine really suffered because they relied on friends and acquaintances for information instead of just calling the college and getting the information first-hand," says the final year science student. "Many students assume it's an easy procedure where they just need to hand over the form, but it can get nasty if they do not get into it well-prepared."
When you don't get information from reliable sources
Rumours can be dangerous. When you need information, whether it's about application deadlines or procedures, cut-offs or paperwork, make sure you go to the source instead of relying on friends and family.
Minal Jha, a third year psychology student at a reputed Delhi college, shares her story. "My friends and I were all applying to the same arts colleges. We filled in the forms, applied and two of us got into our first choice of college. The procedure after that was to attend the orientation and pay the fees. My family and I wanted to go out and celebrate and so after checking the orientation date with my friend we left for a short out-of-town trip. Just a day into the trip, my friend calls and says that she got the date wrong and the orientation was actually to happen that day itself. I panicked but there was no way for me to get back in time. We returned the next day and I rushed to the college to ask them if I could still take admission. They refused.
"I then had to write a special application requesting the college to make an exception. I met the principal to explain my case. After repeated requests and days of worrying whether it would happen, they finally let me pay my fees and take admission.
"From bitter experience I learned that the best thing to do is call the college or visit the college or go to the college website and find out all the information you need. That way at least you can be 100-per cent sure," she says.
"I applied to college last year. A few days before colleges began the sale of application forms, I heard that the cut-off for my first choice was much higher so didn't even bother to apply. Instead I went in for my second choice of college, which I knew I would get into," says Tarun Mehta, an SYJC student in Pune. "When the cut-offs were announced I realised I would have gotten in but by then it was too late and the first list had already been declared. I was really disappointed when I found out, specially since I could easily have made the cut," he says.
When you put all your eggs in one basket
You may have scored well in your class X board exams and are positive of getting in to your first choice of college. "But just to make sure, apply to at least two colleges if not more," counsels Raoul Rodrigues, who is in his final year of science.
"I made the mistake of applying to only one college based on the previous year's cut-offs. But when the first list was declared I didn't make it and it looked like I would not make the second list either. I had to rush at the last minute to three other colleges to ask if I could still apply since their lists had not yet been declared. It was hell," he shares. "Luckily the colleges allowed me to apply even though the deadline for application was over, and I got in. I could have easily missed a year if they had not considered my case."
When you are not prepared
Many colleges can be quite sticky when it comes to their application procedure. Most are particular about the condition of the application form, the condition of the additional paperwork, the passport photograph that you submit and even the colour of ink you use to fill up the form.
"I applied to college in 2008," says Pradyumna Ghosh, a science student in Mumbai. "Application season was during the rains and I had folded the form under my windcheater to keep it dry. When I handed it over, the person behind the desk said that they would not accept it because it was a computerised form and could not be fed into the machine because it was crumpled. I then had to rush to the college admin office to get a new form.
"I filled it up and went to submit it but this time he rejected it too. He said it had to be filled only in black ink and blue ink would not do. By that time I was ready to scream. But he did not budge and just asked me to go get another form. I impatiently filled in the thrid form, by then there were just minutes to go before they stopped accepting applications. I handed over my third form and after a minute of scrutinising it he said that in many places the handwriting was illegible and might create a problem. Before he could suggest I get another form, I began pleading with him to take the form and let me go. Thankfully, after a few minutes of me begging, he agreed.
"By the end of the day, I had made multiple trips to the admin office, had to interact with not too friendly college staff and was also out Rs 400 or so for the new forms I had to buy," says Pradyumna.
Application gyaan
So how can you make sure your admission goes smoothly? "Read all the instructions on the form carefully before you begin filling it in," says Pradyumna, "It'll save you a lot of effort and money as well."
"Get your information straight from the college(s), and do not rely on friends or even newpaper reports," says Preeti. "Colleges can change dates or procedures at the last minute and you could get stuck because you did not take the time to make enquiries."
"Always apply to 2-3 colleges to be safe," shares Raoul. "It is better sepnd a little more and be sure of getting admission rather than miss a whole year."
Was your college admission a nightmare? Did everything go wrong at the last minute? Did you have to scramble around for forms, paperwork, attestations? Share your experiences with us by simply writing in to getahead@rediff.co.in with the subject "My college admissions nightmare" and we'll publish your story right here on rediff.com.