Have a query regarding health insurance or mediclaim policy? Maybe we can help.
Drop us a line and our expert, Harsh Roongta, CEO of Apnapaisa.com, will answer it.
Please write to us at getahead@rediff.co.in with the subject line as: Health insurance query.
---
I have certain queries regarding health insurance.

1. I want my entire family including wife, children and two dependent parents to be covered. (My father's age is 60+ years and all other is below 60 yrs).

2. Is it better to take a floater policy for entire family (including parents), as wife, daughter and myself are covered by a floater policy of (Dedicated health insurance company) provided by our company? If not, can I take individual policies for parents as they crossed 60 yrs and my family (wife and daughter) is covered by company floater policy?

3. Please suggest some good health insurance policies which will suit my requirement.


We would also recommend you to buy individual plans for all you family members. Below are some special plans for you father. These plans are specially meant for senior citizens.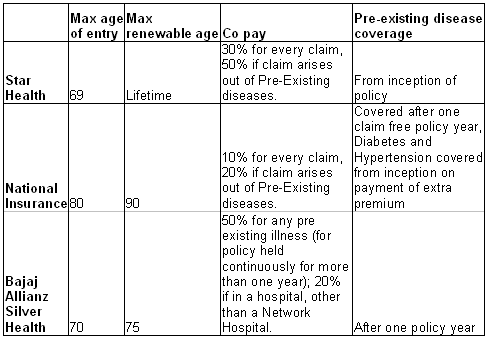 I wanted mediclaim for my father (62 yrs) and aunt (67 yrs). Can you suggest some health insurance companies who:
(1) Can give coverage of Rs 3 lakh p.a.
(2) Has user friendly, reliable and hassle history of claim settlement
(3) Can give coverage up to the age of 75-80 years
Also wanted to know how good are policies by the public sector companies? Their websites are highly user-unfriendly and do not give any adequate info (unlike ICICI Lombard etc)
Below are some policies, which will offer you policy for your father and aunt. The premium  is the total premium for your father and your aunt together.
You can take a decision based on the parameters below. Unlike life insurance, no objective data is available regarding claims accepted and rejected or partially accepted by various health insurance companies. Similarly it is not possible to provide any objective criteria for service standards of an insurance company.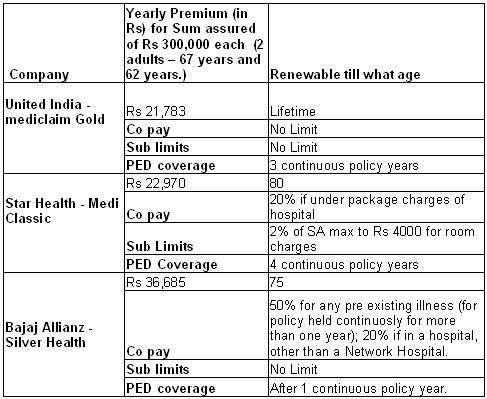 My husband took mediclaim Policy (United India) 5 years ago. We do not remember whether pre-existing disease i.e. cardiac problem of my husband is shown in the original application form when the policy we took.  Last year the insured amount has been increased.  We have not claimed any amount for all these years.  Now we want to know whether the insurance company will accept our claim if something went wrong (hospitalisation) and we prefer claim on the same.  My husband is now 55 years.  This original policy was taken 5 years back.  Can you advise us about the eligibility of my husband for claim in case of hospitalisation?
Based on the information available to us all pre-existing diseases would be covered under your policy after 4 continuous claim free years of your policy. So in case of hospitalisation you can claim your bills to a limit of the entire sum assured.
However, if the pre-existing disease has not been disclosed to the insurance company than it has the right to cancel the policy on ground of omission of material fact. So it is important for you to find out whether the cardiac condition was disclosed or not.
I am a 41-year-old businessman. In my family my wife is 36, and my daughter's 14, and son is 8. I am interested to take a floater mediclaim policy for sum insured approx. Rs 2-3 lakh which can bear any sudden medical and hospitalisation expenses.
My preference is for National Insurance Co. Ltd. We would also recommend you to buy individual plans for all you family members.
However as per your request you can find premium details for floater plans for your family (2 adults and 2 child) for a sum assured for Rs 3 lakh.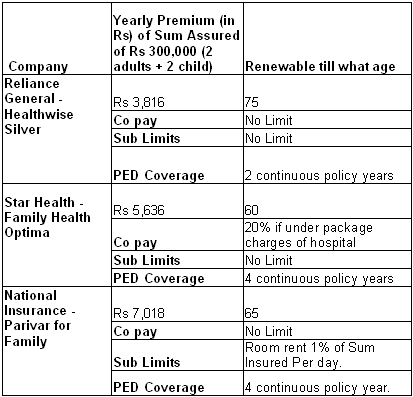 You can choose an appropriate health insurance plan for your family on the following link: http://www.apnainsurance.com/health-insurance-india/compare.html
I am 52 and want health insurance. New India Insurance wants a health check report after 45. All new policies have high amount installments! Also I knew that these new comers have lots of hidden rules. I get to know from a person who fell ill and was hospitalised. They don't pay back, they only show rules. Please advice.
The health insurance industry could not have grown to be Rs 8,000 crore industry if all of what you have heard was totally true. Surely these are issues but with IRDA (Insurance Regulatory Authority of India) having full regulations and a grievance redressal mechanism it is in your own interest to make sure that you are adequately covered by mediclaim.
At your age most of the insurance company would ask for a health check up. So we would suggest you to go for the health check up and buy the policy. Please make sure you disclose full facts including any existing diseases that you have to avoid any future hassles.
Kindly reply to the above questions:
Which insurance company to choose?
How much amount is enough to cover my entire family?
What are family floater policies? How can they help me?
What will determine my health insurance premium?
What factors should I be aware of before selecting mediclaim?
What can I do if my health insurance claim is denied? 
In term of criteria the following are the things you should look at:
Staying with the same insurance company is very important since once you are hospitalised with a disease it will continue to be covered in later years only if you buy the policy from the same insurer. If you shift to another insurance company then at that stage that particular disease will be treated as a pre-existing disease by that company and will not be covered for a few years.
Policy renewable up to: It is a known fact that it becomes difficult to get a fresh policy as your age increases just when your need is the highest. Hence the maximum age up to which the policy is renewable, is very important.
Premium increases in later years. Insurance companies have different pricing strategies and depending on your age the premium is different. So it is advisable to look at not just current premiums but also future premiums.
Permanent and temporary exclusions: Most policies exclude hospitalisation expenses temporarily or permanently for a whole lot of diseases or treatments. This is different for different companies. You should look at the policy workings to get a sense of what is permanently or temporarily excluded.
Co-pay and sub-limits: Some companies have sub-limits for different heads (say doctors fees is limited to 25% of the sum assured) which can have an impact of your claim. Some companies require you to partially meet the cost of every treatment (co-pay). Both restrict your claim amount and hence should have an impact on your decision.
Coverage of pre-existing disease: Different companies cover pre-existing disease in separate ways. Some will cover it after 2, 3, 4, or 5 years. Also, some put in an additional condition that during these 2, 3, 4, or 5 years there should have been no claim on the policy. Some others also put in a condition during these 2, 3, 4, or 5 years no case or treatment should have been done for the pre-existing condition for it to be covered. This is relevant if you have any pre-existing disease at the time of taking the policy.
Individual policies for family members versus family floater we strongly recommend an individual policy for the reasons mentioned in detail on the link http://www.apnainsurance.com/health-insurance-india/indiviual-floater.html
Briefly it is because in most cases the so-called lower premium advantage of a family floater is negated once the age of the oldest member reaches 45 years or so. The other big reason is the lack of history for other members when the eldest member reaches the maximum age of renewability or the eldest member expires.
In case your claims are denied and you think that the denial is not appropriate, then you can lodge a complaint with the insurance company. In case they don't revert back, you can approach the insurance ombudsman and they will look in to the same.
We normally recommend individual policies of at least Rs 3 lakh per family member.

I would like to know few things:

1. Which mediclaim is best suggested?
2. What are the different types of mediclaim covers and what is difference between them (Like for example: Critical illness, organ donor/transplants etc)?
3. How do we go about senior citizens and what about their pre-existing illness?
4. How much cover is reasonable/ideal for healthy family incl. senior citizens?
5. Is there any possibility of having no limit or capping in mediclaim but rather the actual cost of treatment? And is the next year's premium determined by last year's expenses?
6. What if the nearby hospital to my residence doesn't accept the cashless facility for a given mediclaim company? Can it be swapped with any other mediclaim company?
7. I have the mediclaim policy from my company for my immediate family members up to Rs 3 lakh, would you still suggest me to take another policy for all of us?

Please guide me through this procedure and give me your best advice to go ahead with the mediclaim for family and me. 
1. The answer to the first question is of general nature which has already been answered and hence not addressed separately here.
2. Critical illness policies typically pay you a lump sum amount on your contracting a covered critical illness such as a stroke, cancer, organ failure, etc. Typically a policy covers hospitalisation expenses incurred on your illness/disease. Some policies also cover hospitalisation expenses incurred on a person donating an organ (like say Kidney) to you.
3. Senior citizens: In most of the policies available in the market, the pre existing diseases would be excluded for certain number of years (maximum of 4 years). But there are certain plans available which are specially meant for senior citizens. These policies cover the pre-existing from the first year or the second year. But they have co-pay attached to it. Co-pay means the bill is shared between the insured and the insurance company.
Below are some special plans for your father. These plans are specially meant for senior citizens.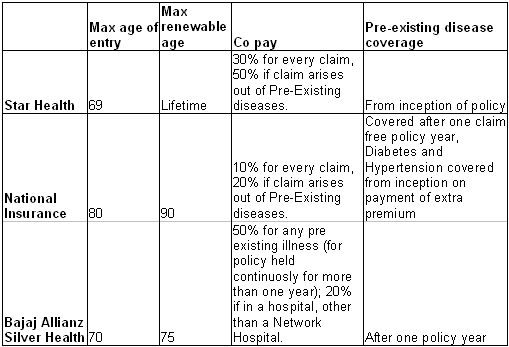 1. We normally recommend individual policies of at least Rs3 lakh per family member
2. We are not aware of any such medical policies
3. No. You will have to pay for the treatment and seek reimbursement later from the concerned company
4. We recommend individual policies of at lease Rs 3 lakh per family member.
Just guide me about the policy that covers consultation as well as medicine cost for minor ailments like asthama, bone problems, and also helps in getting reimbursement of all hidden costs which reflect during consultation like X- rays, sonography & MRI Scan.
My basic requirement is to get policy cover, which reimburses consultation, checkups, X-rays, sonography and medical costs.
You need a policy, which will cover you for OPD expenses also. To the best of our knowledge there are two policies, which cover OPD expenses along with hospitalisation expenses. They are:
ICICI Lombard -- Health Advantage Plan
Apollo Munich – Maxima
You can consider these plans, which can cover you for OPD expenses and, which don't require hospitalisation.
I have a query regarding health insurance. I have my father, 60, mother, 51 and my wife, 28, in my family.
My parents are already covered for health insurance (Provided by New India Assurance Company) from last 5 years with sum assured of Rs 1,00,000 each but I would like to increase the sum assured for my parents. So far we have not claimed anything under this policy.
I would like to increase the sum assured to at least Rs 3,00,000 to Rs 5,00,000. The company already covers my wife and me for Rs 3,00,000.
Kindly suggest whether I should continue same policy for my parents or I should go for new policy?
Which should be best company to get insured? I am interested in family floater also where I can cover my parents too? Kindly suggest best option.
We would recommend you to buy individual plans for all you family members. Continue with the existing mediclaim plan, which your parents already have. Also you can ask the same company to increase the sum assured. As your parents already have a history with the company, it should relatively be easier for them to get insurance from the same as they hold a no claim record with the company. Please note that the increased amount will be excluded for the next 4 policy years for any illness/disease contracted by them during the last 5 years also.
For yourself and your wife, you are covered under the mediclaim policy offered by your company. But once you leave the company, you won't be covered any longer. So we would recommend you to buy mediclaim policies for both yourself and your wife as soon as possible.
Apnapaisa
is a price comparison engine that allows consumers in India the ability to compare the EMI, , interest rates and other fees for home loans , car loans , personal loans , business loans , credit cards , compare online quotes and features of life insurance , health insurance , car insurance , travel insurance and other general insurance policies in India.