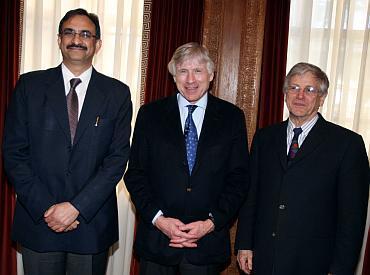 The Columbia University Monday announced the launch of the latest Columbia Global Center for South Asia in Mumbai in order 'to deepen its global perspective and expand knowledge' particularly about the country and also about the region.
The centre that would be headed in Mumbai by Nirupam Bajpai, senior development advisor at Columbia's Earth Institute and director of the South Asia programme, would be officially launched in Mumbai later this month.
'In this new world (of globalisation) which is being transformed significantly by economic activities, we are far less knowledgeable than we should be. We have many experts but we probably do not have expertise to focus on this new reality of globalisation. The point of such centres goes beyond trying to enhance our regional expertise. We think we start from the position of less knowledge, Columbia president Lee Bollinger, told journalists during a press conference, announcing the launch of the centre.
The Ivy League School launched the first two centres in Beijing and in Amman last year. Along with Mumbai, it is also set to open a Europe global centre in Paris this month. The officials said that the ultimately there will be at least six to eight such centres when the programme is in full strength.
'Clearly India has been one of the most dynamic societies on the planet and therefore it is a place that we feel we need to know more about. We have things to contribute. But we start primarily from a position that we need to learn more about the country,' Bollinger said.
The centre in Mumbai, which the president said 'is a physical place with real people as members of staff' will provide a base for schools and departments of the university that are keen to expand current academic programmes or inaugurate new ones in South Asia, a region with which the university has a deep history of scholarship and engagement in research and policy.
The officials clarified that unlike many other American schools that are keen these days on setting up branches in India, Columbia is taking a somewhat different route in the sense that the centre is not going to award undergraduate or graduate degrees to students in India. The Columbia centre in Mumbai like those in Beijing and Amman will provide a flexible regional hub for a wide range of activities and resources to enhance the quality of research and learning at the university and around the world.
'The focus is on establishing a new, interactive network of partnerships abroad and collaborations across traditional academic disciplines to address complex global challenges by bringing together scholars, students, public officials, private enterprise and innovators from many fields,' said Kenneth Prewitt, vice president for Columbia Global Center and Carnegie Professor of Public Affairs.
Bollinger said that Columbia's multi-disciplinary Earth Institute will play an early leading role at the Mumbai centre by launching an initiative to create network of top scientists, economists and thought leaders who can provide policy recommendations and address the region's urgent development challenges.
Bajpai, who left Harvard to join Columbia's Earth Institute, said that with more than 15 years of work in India advising political leadership and other senior-policy makers, the institute is well placed to help scale up strategies that have demonstrated success.
Bajpai, a member of the United Nations Millennium Project on the Millennium Development Goals, the internationally agreed goals to reduce extreme poverty, disease, and hunger by the year 2015, said that two of the areas where the centre would focus attention initially are rural development, later embracing issues such as public health and public education, especially at the primary school level.
Bollinger said that the centre will help Columbia to work with other countries, institutions, universities and governments around the world so Columbia can make contributions. "We are not going to be there just to show our expertise but what is equally important fort us is to be able to learn. We think our research agendas will change as people begin to see the world differently and ask questions and our students will also find out about different things that they should know and different opportunities that they can make use of," he said.
Asked about the cost of the project, the officials said the initial expense would not be very huge and indicated that part of the expenses might be met by way of contributions from the private sector and other institutions as well as from alumni. Columbia's Graduate School of Architecture, Planning and Preservation will launch Studio-X Mumbai in conjunction with the university's opening of the global centre.
Studio X is the architecture school's global network of leadership laboratories for collaborative exhibitions and public dialogue about the future of the built environment.
'Studio-X Mumbai will occupy a loft-like space in a heritage building near Victoria Terminal and will join the growing network of Columbia architecture labs in Beijing, Amman, Rio-de Janeiro, Moscow and other dynamic world cities,' the officials said.
Image: From left: Professor of public affairs Nirupam Bajpai, Columbia University President Lee C. Bollinger and Kenneth Prewitt Vice president, Columbia Global Center
Photograph: Mohammed Jaffer-SnapsIndia