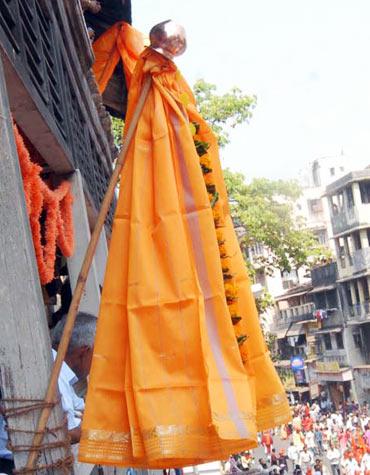 The festival of Ugadi -- the New Year according to the Hindu lunar calendar -- is coming up tomorrow and several states across the country will be celebrating with great enthusiasm. Shwetal Rai takes you through the tradition -- and the feast! Photograph: Sahil Salvi
The rustle of fine silk, fragrance of flowers, sacred chants and lots of neem and jaggery...that's Ugadi for you!
Be it Bean Town in Bangalore or the City of Pearls in Hyderabad, everyone wakes up to clang of temple bells ushering in the New Year. Ugadi, the Hindu New Year according to the lunar calendar, heralds an extravagant display of colour and freshness by nature and signifies the onset of spring. It is believed that Lord Bhrama created the earth on this very day. Thus, the title 'Ugadi' derived from Yugadi (Yuga and Aadi) meaning 'Beginning of a New Age'.
Welcoming the New Year with spring, the first season of the year, is an age-old custom first practiced in ancient Babylon about 4,000 years ago. Many communities in India continue to follow this tradition and thus, Ugadi (in Andhra Pradesh and Karnataka), Gudi Padwa (in Maharashtra), Vishu (in Kerala) or Cheti Chand (in Sindh), is celebrated with much gusto and fervour.
The rituals associated with Ugadi are many and varied. Yet, some similarities exist -- for starters, the cleaning of the house, which begins almost a week before the festival itself. On Ugadi day, people wake up before dawn and take a customary oil bath, after which they decorate the entrance of their houses with fresh mango leaves. The significance of the mango leaves is tied to a legend. Lore has it that Lord Kartik (the son of Lord Shiva) encouraged people to tie green mango leaves to their doorways to ensure a good crop and general well-being.
The splashing of courtyards with cow dung and water and drawing beautiful and colourful rangolis is another must-do. People then visit temples with offerings of fragrant jasmine flowers (which are now in full bloom) and pray. Ugadi is also believed to be an auspicious time to start new ventures. The Ugadi puja done, it is now time for the very special prasadam.
Known as Yugadi Pachadi in Andhra Pradesh, the preparation is a specific mixture of:
Neem buds/flowers for their bitterness
Raw mango for a tangy flavour
Tamarind juice for its sour taste
Green chillies/peppers for heat
Jaggery and ripe banana pieces for sweetness
A pinch of salt
Yugadi Pachadi is thus a mixture of all six tastes. The parallel in Karnataka is known as Bevu-Bella -- neem and jaggery! And eating this strange combination is probably the most famous ritual associated with the Kannada New Year. And oh, in case you're wondering just why anyone would want to eat this, the partaking of this mixture symbolises that life is a mixture of different experiences (sadness, happiness, anger, fear, disgust, surprise), which should be accepted together and with equanimity.
Before the great Ugadi feast can begin, families prepare for the religious almanac of the New Year to be read and predictions to be made. Panchanga Shravanam (reading the almanac that details the astrological predictions and horoscopes of zodiac signs of the particular Telugu or Kannada year) is one of the most important rituals and traditions that are performed on Ugadi. Each New Year has a specific name and predictions related to it. The year that has just gone by was called 'Virodhinama Samvatsaram' and this Ugadi marks the beginning of the Hindu year Vikrutinama Samvatsaram.
All rituals over with, it is now time for the feast. The Ugadi meal is a much-anticipated one, more so because extended family and friends are part of this celebration. A fleeting glance at the platter and you'll know that the festivities have only just begun!
In both Andhra Pradesh and Karnataka, a special sweet flat roti is prepared. Known as Obbattu/Holigey in Karnataka and Bhakshalu/Bobbatlu in Andhra Pradesh, it is something like the famous Puran Poli prepared in Maharashtra. It consists of a filling (Bengal gram and jaggery/sugar boiled and made into a paste) stuffed into a flat, roti-like bread. It can be eaten hot or cold, with ghee or milk topping. A particular type of rice preparation, known as Pulihora in Andhra Pradesh and Puliogure in Karnataka, with a distinct tangy flavour of tamarind is also cooked. Additionally, many side dishes made with raw mangoes are a huge hit.
In addition to ushering the New Year, Ugadi is also a community festival. In furtherance of this, literary discussions, poetry recitations and recitals of classical Carnatic music and dance are held in the evenings. Awards and cultural programmes to recognise those who have contributed to the fields of art and music are also organised.
Even as the colours of Holi fade away and the flame of the forest paints the skyline red, people revel in the mango season, in the vibrant colours of the flowers and the feeling of abundance. Everyone is part of the celebrations -- foodies, the religious-minded, the fun-loving -- Ugadi is a festival for all, accepting the bitter and sweet alike.