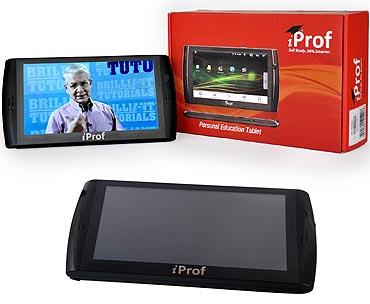 iProf Learning Solutions India launched iProf, India's first personal education tablet, that comes loaded with Google's Android operating system.
Powered with a 7-inch touch screen tablet, iProf comes bundled with content from education institutes and has been launched at a price of Rs 14,900, exclusive of taxes.
High performance servers are being deployed at various iStudy zones with high speed broadband and wi-fi capabilities, so that content can be downloaded on iProf quickly in a secure environment. Besides, the iStudy Zones can hold video conference for doubt clearing sessions between faculty and students, to make sure that the learning circle is complete.
iProf is starting with IIT-JEE preparation and has tied-up with Brilliant Tutorials. iProf would foray into MBA test preparation by end of May 2010, followed by PMT, CPT, CA among others.
In April 2010 the company will launch iStudy Zones in 30 cities including Delhi, Mumbai, Kota, Pune, Nagpur, Jaipur, Baroda, Ahmedabad, Patiala, Nashik and Kolkata among others.
Reader invite:
Did you take the IIT JEE? Are you a student or ex-student of an IIT?
Share your tips on how to ace the IIT JEE! Just write in to us at getahead@rediff.co.in with the subject 'My IIT JEE tips' with your experiences, advice and suggestions and we'll feature them right here on rediff.com.