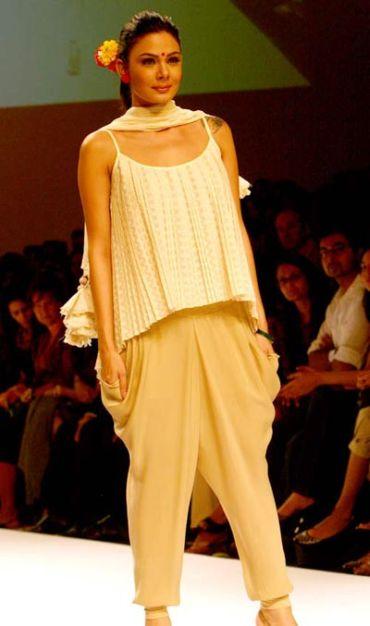 Who is Yuvi's hot new girlfriend? In case you didn't know, here's a brief bio on Anchal Kumar. Photograph: Dominic Xavier
She may be Yuvraj Singh's latest arm candy, but Anchal Kumar is a top Indian model too. At 31, she's spent 11 years as one of the most sought-after catwalk queens in the Indian fashion industry and her popularity shows no signs of slowing down.
This Chandigarh girl grew up in Mumbai. The youngest of four daughters from an upper middle class background, Anchal won the Gladrags Megamodel Contest back in 1999 at the age of 21 and has not looked back since.
Standing at 5'8", with doe eyes and a stunning figure, she's a natural beauty and has been the face of several big brands like Sunsilk and Bombay Dyeing. In 2007, she won the Best Female Model of the Year Award at the Bollywood Fashion & Music Awards held in Atlantic City, New Jersey. And besides being a regular fixture on the Indian catwalk, Anchal's also featured in a few music videos and dabbled in movies, playing a model in Madhur Bhandarkar's Fashion and dancing with Abhishek Bachchan in Bluffmaster.
If it were not for modelling, this leggy lass would have made it big in some other line of work -- she aspired to be an IAS officer and was a topper at St Stephen's School in Chandigarh. By her own admission, she is a voracious reader and if you need proof of her intelligence, back in 2002 she won the celebrity segment of quiz show Baazi Kiski hosted by B-town actor Ashutosh Rana on Zee TV, beating out fellow model Dipannita Sharma and cricketers Yuvraj Singh and Waheed Akram.
Hmmm -- wonder if their friendship goes all the way back to then? If so, it's likely Yuvi is serious about his latest ladylove!