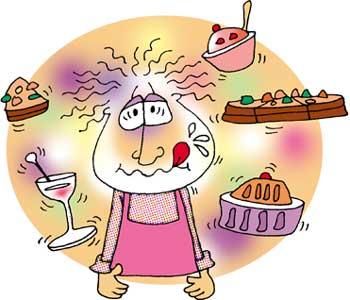 Share your mother's tastiest preparations with other readers! Illustration: Uttam Ghosh
Practically everyone boasts at some time or other about their 'Ma ke haathon ka khana' and claims that the food their mothers make is better than anything else edible in the world.
So, with Mother's Day coming up soon (May 9) we invite you to share your mother's recipes with us!
Which is your favourite? Whether it's fish curry rice, sarson ka saag or dum aloo, we want the recipe!
Send in your mom's best preparations to getahead@rediff.co.in, and we'll publish them right here on rediff.com; be sure to mention her name and yours.
If you would like to share a photograph of your mother and you, send it in with your recipe so we can publish it alongside.
And don't forget to write a few lines to her telling her why you love her cooking!