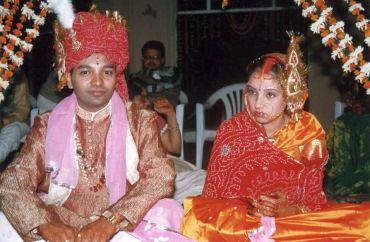 Yesterday, we invited readers to share stories of their most unforgettable Karva Chauth with us. Here is the first response, from Nupur Yeshwanth Raj of Bangalore:

My most memorable Karva Chauth by far was the first, after my engagement. It was extremely intimidating, since I was fasting for the first time, for the Love of My Life.

My day started early in the morning, before sunrise when I woke up to have my sargi (a festive meal). I ate it, drank lots of water and went back to sleep. I was very conscious that I should not eat anything or drink water that day. It was not easy for me, since I had this habit of sipping water every hour and sometimes more frequent also. But my love for my would-be hubby Yeshwanth kept me going.

After 2 pm, my mom and I, along with a few other married women heard the Karva Chauth Katha and then waited desperately for the chaand (moon) in the evening. Yeshwanth came over and secretly asked if I could go on a drive with him. I took my mom's permission and we went for the drive -- that's when he presented me with my first romantic gift ever -- a heart-shaped diamond pendant. It was very romantic and emotional for me at the same time.

Then we came back home and performed the puja -- my hubby, who is born and brought up in the South, found it very sweet. He enjoyed the puja and I enjoyed lots of attention from my family ad friends. The only thing I missed was the participation of my in-laws, since they don't know what the festival is all about and its importance. But maybe these differences are a few of the perks that come from intercast marriages

On this Karva Chauth, I want to tell my hubby Yeshwanth that I love him more than my life and pray to God that I leave this world in his arms.

I am proud to be Mrs Nupur Yeshwanth Raj...thanks for being mine.

"Chehre pe haseen chha jati hai
Aankhon main suroor aaa jata hai
Jab tum mujhe apna kahte ho
Apne pe guroor aa jata hai"

Love you, Dallu...

We're asking you to tell us all about a particular Karva Chauth experience you'll never forget.

It could be sentimental, it could be funny, it could be disastrous!

We want your stories, so do send them in, with a photograph if possible, to getahead@rediff.co.in (subject line: 'My unforgettable Karva Chauth') -- we'll publish the most interesting entries right here!