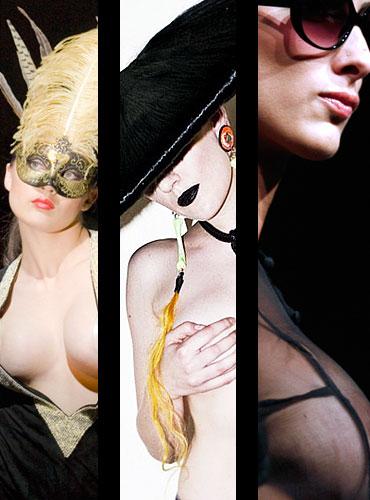 As Indian designers continue to show their latest creations at the Lakme Fashion Week in Mumbai, elsewhere the fashion world is being turned on its head.

Charlie Le Mindu, the favourite wigmaker of popstar Lady Gaga, broke the last taboo in the fashion world by sending stark naked models down the catwalk at the ongoing London Fashion Week.

The 24-year-old caused a stir with his show featuring models clad in hot pink high-heeled boots, hats, bags, wigs and nothing else, reported Daily Mail online.

French-born Le Mindu, launched his label just a year ago but has managed to grab plenty of headlines, and not just for his outlandish headgear which has included wigs in the shape of the Eiffel Tower.

At last year's Fashion Week, he unveiled a full face headdress made of real mice and rat carcasses, outraging animal rights activists.

But the designer's off-the-wall creations have made him a favourite of avante-garde popstar Lady Gaga. His latest creations are not the most practical, including a bizarre leopard-print teddy bear headdress, covering the model's entire face.
What do you think of the designer's idea to showcase his creations on nude models?
Does anything go in the name of fashion? Does creativity need no censorship?
Or is it time we drew the line?
Share your opinions on the messageboard below...