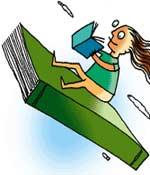 In a bid to further speed up student visas and offload Indian students' fiscal worries while studying in New Zealand, the country's High Commission in New Delhi has come up with the Funds Transfer Scheme (FTS) which will allow Indian parents have control over the amount of money that their children have access to as they pursue their education there.

"This scheme will make it a lot easier than the current available alternatives where a range of documentation is required and a bank loan must be taken out," according to the information made available by Nicole Topfer, the acting manager of Immigration New Zealand in India.

"Now it will be easy for the visa officer to determine the ability of parents to fund their children's tuition and living costs in New Zealand. Usually this is done by the parents having to provide a range of documentation to show their financial ability, which the visa officer then has to scrutinise and verify," she adds.

RMS Atwal spoke to Vinay Hari, the managing director of Jalandhar-based Angels Immigration & Education Consultants, who threw light on the current education scenario in New Zealand in the backdrop of the fresh rule change. Chances are some other countries may follow suit in the larger interest of students dreaming of studying abroad.
Could you elaborate on the Funds Transfer Scheme (FTS) and how is it going to benefit students heading to NZ?
As per the new visa rules, on visa approval a student has to transfer 10,000 NZ dollars to the bank which will lock the whole amount and transfer certain fixed amounts, on a monthly basis, into the student's account. This new arrangement will free the student of the financial burden; they need not worry about living expenses etc.
While earlier it was difficult for a student (his parents/sponsor) to show proof of funds over six months to the New Zealand High Commission, now parents will transfer funds to New Zealand on visa approval. This follows the mission's tie-up with the ANZ bank of that country.
It has been observed that when students go abroad, their parents expect them to make some money they can send home. So students start looking for jobs as soon as they land; ignoring their studies, which is their main objective. In some cases, they are found to be doing menial jobs, something very painful to see.
Another benefit is that it will increase the number of serious students going to NZ, reducing chances of student visa misuse.
How are the new financial regulations going to impact the number of students heading to NZ?
We don't expect any overflow of students. Rather, only quality students will apply for study in New Zealand. Students now going to that country don't have to worry about their living expenses. They can focus on their studies, leading to better grades and better job opportunities. We can expect to see this type of financial arrangement by other countries too soon.
Immigration New Zealand is known to be very strict while issuing student visas. How fair is it?
It so happens that a student visa file goes to the mission's branch manager who sends it to Bangkok if he finds it a case of positive profile. Their Bangkok office takes not more than 48 hours to clear the file. On the other hand, it takes about three-four months in normal course.
So, in order to speed up the process at the High Commission a student should make sure that s/he applies for a good study course, choosing a good ranking college or government institution. Obviously, chances of visa on a positive profile application are pretty good. So, visa officers at the mission ultimately decide whether an application falls under the positive profile category or not.
Some countries are famous for particular study courses. What about NZ?
New Zealand being one of the top tourist destinations of the world attracts students for its hospitality and tourism study courses. Others are nursing, a long-term skills shortage category there. Our students can easily get jobs on study completion in nursing and settle down permanently. Another course in demand there is animation.
A common complaint about NZ is students don't get permanent residency even after years of studying and living there? How far is it true?
It is not that easy to get permanent residency in New Zealand where the government allows a one-year job search visa on study completion. And, if a student gets a job during that period he gets a two-year work permit in his study field. For example, if a student gets a NZ dollar 40,000 package under the level five programme, he is eligible to apply for PR.
On the other hand, a student who has studied computers and applies for a job in the business field, he cannot get a PR that easily. So, we can say getting a PR in that country is not as easy as it is made out to be in India.
You have interacted with Indian students in NZ, how do they feel there?
Students' main concern is, what their fate will be on completion of studies and will they get jobs or not. Actually, our students, especially the city-bred, are not cut out to work on farms. So, there is always a fear in the back of their minds that they will be illegal in the country if they don't get jobs related to their study course. They work up to 30-40 hours a week illegally and sometimes get caught by immigration sleuths and deported back to India.
How would you compare education in NZ viz-a-viz other countries?
Everything is on assignment basis there. Students grow there in a multi-cultural environment with all sorts of communities existing in harmony. During my stay there I met a lot of Chinese, Japanese and Korean people and learnt a lot from them. The same happens with our students when they interact with people from other countries. It is a unique learning experience.
Tell us about your pathway programme with NZ education institutions.
Under the New Zealand pathway programme we have tied up with 10 of their government institutions (out of the total 20). We are promoting that country's government polytechnics rather than private colleges. While in private colleges the education level is on the lower side, in polytechnics the infrastructure is of very high standard.
A student will find very good courses like cookery, horticulture, aqua-culture and wine-making. On the other hand, private colleges just have business and IT courses. We have certain courses where a student and his/her spouse can even get full-time work permits.
(RMS Atwal can be reached at rajatwal55@yahoo.com)