In the land of the Pharoah and Sphinx
May 28, 2009 17:18 IST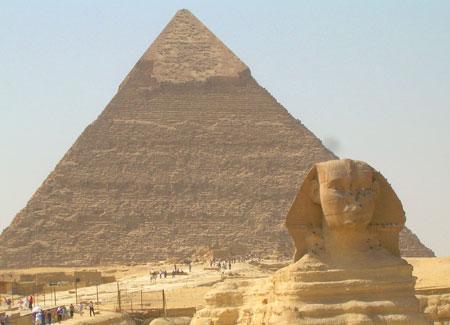 We went on a family trip to Egypt in early-October and the weather was typically hot in the mornings till around 4 pm and pleasant in the evenings. Our vacation kicked off with a visit to Cairo where we visited the awe-inspiring Pyramids of Giza.
This necropolis houses the pyramids of Khufu (Great Pyramid / Cheops), Khafre (Chepren) and Mykerinos with a sprinkling of much tinier "queens" pyramids. It's amazing to even think that these were constructed around 4,000 years ago and without any of the technological advances of the modern world. These are the only remaining monuments of the Seven Wonders of the Ancient World.
Most of the original limestone casing has been eroded, but we did catch a glimpse of it on the peak of Khafre's pyramid. While the first two pyramids are very close to each other, for a view of all three together we were taken to a "photo" spot. Tourists are also beckoned to go for camel rides.
Our next stop was the famous Sphinx, which as legend has it, guards the pyramids (the role has today however been passed on to policemen mounted on camels). The half-man, half-lion structure is supposedly the largest monolith statue in the world! Much of its original golden ornaments, including a crown, have been stolen. We managed to pick up some souvenirs here, albeit after a lot of bargaining.
A history lover's delight
May 28, 2009 17:18 IST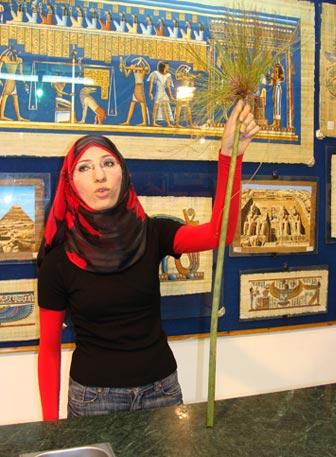 After a quick lunch stopover, we went off to a papyrus factory where we got a demo of how papyrus was made. You can also buy paintings made on papyrus here. We were then whisked off to a perfume factory, which produces what we know as attar. This was a huge building divided into multiple "welcome" zones where each group was welcomed with hibiscus juice or extra-strong and bitter coffee.
It's a well-organised business where you are handed over cards with perfume names written on it, someone assigned to your group takes you through smelling different categories of perfumes and you are asked to tick out which ones you want to purchase. We chose not to buy any because attar available in India is equally good. However, the colourful perfume bottles in myriad shapes were truly eye-catching.
We were quite disappointed with the visit though since we had been given to understand that we would be taken through the process of how they made perfumes which was not the case -- it was just kind of a well-organised sales pitch.
Our last stop for the day was the colossal Egyptian Museum. No cameras are allowed inside. This is a history lover's delight but would be no less exciting for one not so inclined towards history. The treasures of young King Tutankhamen's pyramids are kept in a separate room. The exotic gold mask, gold throne and King Tut's many toys and utilities made of gold, beads, ivory and so on were truly riveting.
The huge stone sarcophaguses were equally remarkable. We really regretted that we didn't have enough time to spend in the museum. Of course, there were lots of mummies on display and the dank smell and dim lighting conjured up images of The Mummy Returns.
It was dark by the time we finished our museum tour and we were rushed to Giza station. That reminds me, tea here is usually had without milk (much to the consternation of our parents) and communicating here is a big problem because, apart from the guides, very few people speak or understand English.
We patiently waited for the train that would take us to Aswan to arrive.
A cruise down the Nile
May 28, 2009 17:18 IST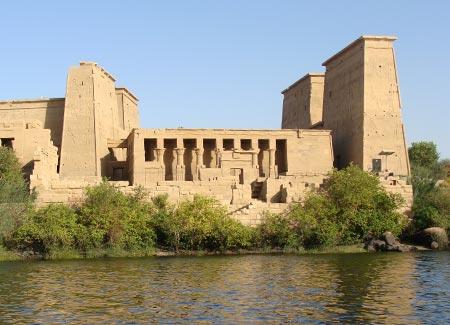 We were allotted separate cabins with two bunks each and fitted with a wash basin. A sumptuous dinner was served to the strains of Arabic music playing on the radio in each cabin. A pointer though, it will be tough for vegetarians since there is no "veg" food on board. For the meat-eaters there's chicken and beef. The bogey-in-charge not only serves food but also sets your bed. What was funny was the "power cut" for around 30 minutes just as we were served our food, surprisingly the train kept moving.
The next morning we took in the mostly brown landscape on one side and greenery on the other as we chugged along to Aswan. At Aswan that we boarded for our cruise down the Nile. The river was beautiful and blue, and dotted with pretty yachts and loads of cruise ships. As we waited at the lounge bar for our rooms to be allotted, we got the feeling of the wonderful time that lay in store for us.
The rooms were beautiful and it was a delight to look out of the window to see the landscape bordering the river. Lunch was a welcome spread. And after sufficiently refuelling, off we went for the tour.
We visited the enormous Lake Nasser that provides hydro-electricity to Egypt, we passed by the old and new dams and then took a boat ride to the Philae Temple. That was our first brush with a temple in Egypt and we were awed by its sheer size and the huge pillars and carvings that adorned it. This temple was previously located on another island and was restored by the government to its present location when the rising water levels (due to construction of the old dam) threatened to submerge it.
Of falcons and crocodiles
May 28, 2009 17:18 IST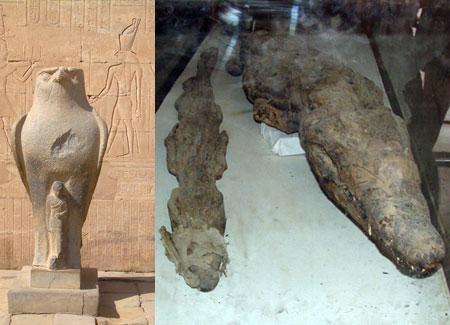 We then embarked on a felucca ride around Elephantine Island. A felucca is the local yacht and it was sheer joy gliding along the Nile watching the sunset and taking in the pleasant breeze. There was a moment when the felucca simply stalled as there was no wind -- it was quite eerie to actually be left to the will of nature.
To the evening prayers being called out and the cacophony of birds, we glided by the tomb of the viceroy of Aswan, the botanical gardens and Aga Khan's mausoleum.
It was nightfall when we returned to the ship. After dinner we were treated to a performance of Nubian dances. Nubians are originally from Sudan and the performers ensured that my husband and I were initiated into their art. While our family rolled with laughter, we danced to their beats and their calls. It was a fitting, lively end to a day full of activity.
In the morning as we headed for breakfast, our cruise ship ploughed though the waters, with our dining room being half below water level. What an experience! The ship docked at Kom Ombo and we went ashore to visit the temple that was (unusually) dedicated to two gods -- Sobek (the crocodile god) and Horus (the falcon god).
The temple has two entrances, and similar designs on both sides including sanctuaries, room, halls etc all in duplicate. Around 300 mummies of crocodiles were found in and around the area and a few of them are displayed in a separate chamber on the temple courtyard. There was also a very deep well in which crocodiles were supposedly bred and which linked to the river Nile.
Our ship then sailed from Kom Ombo and stopped at Edfu. Along the way the landscape was beautiful. We saw stretches of brown followed by fields of banana, date and so on, villages with camels and donkeys scattered here and there, we even passed by temple ruins; it was beautiful from the sundeck.
After lunch, the ship docked at Edfu. In the scorching heat we went by horse carriage to the Edfu temple. The carriages were neatly parked in "garages" meant for them. It was quite a long walk to the temple from there and unfortuantely we got quite a sunburn. This temple is also dedicated to Horus and has two huge statues of the Falcon God at the entrance.
The marvel of Esna Lock
May 28, 2009 17:18 IST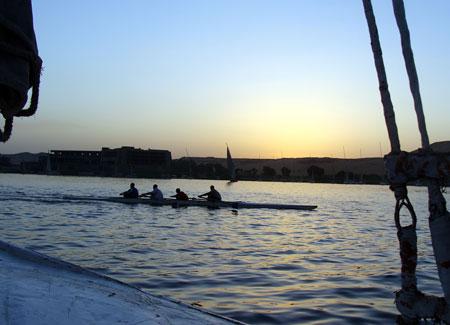 Back to the cruise, we enjoyed tea and cake as the ship set sail to the backdrop of a beautiful sunset. We saw Egyptians busy in soccer matches and generally idling along the banks as they took in the setting sun. Around dinnertime we crossed the Esna Lock -- an experience one should not miss. The first barrage bridge is a one-way opening and we had to wait in queue as we watched a column of cruise ships pass by in the opposite direction. Then it was our turn.
The next barrage bridge is a marvel. There are two ways here but one has to wait as the water levels are monitored. A huge gate blocks out the water of the Nile while side sluice gates regulate the water flow on either side. We saw the cruise ship ahead of us gradually lower with the falling water level (and later realised we are also gently moving down) as the cruise ships on the other side gradually moved up with the rising waters. Once the water levels are just right, the ships actually passed by.
That night we had a party on board -- where we hired Galabbias (traditional Arabic dresses) and danced to Arabic music.
Balloon with a view
May 28, 2009 17:18 IST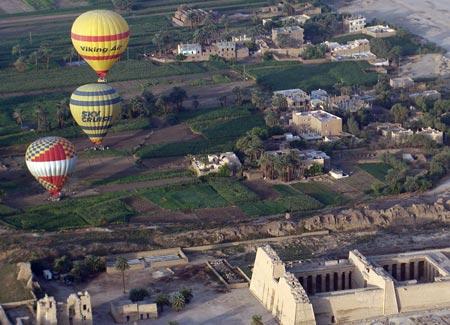 While we were asleep, our ship docked in Luxor East Bank. At our guide's suggestion, my husband, my brother and I woke up at 4 am for a hot air balloon adventure. Tourism is really well organised in this country. We were met at the ship by a representative who transferred us to a car which drove us to a ferry point. East Luxor, even in the early morning darkness, looked beautiful.
We were served tea/coffee and cakes in the ferry that took us across to the West Bank of the Nile. As we got into a waiting car, we saw the first rays of the sun. We were taken to our hot air balloon owned by Sinbad Balloons. Around 20 of us in four chambers of the basket listened with rapt attention as our Captain Mohammed (incidentally every other person was called Mohammed) explained the landing procedures to us. And then suddenly with a gush of hot flame, up we went, gently rising with the wind. We witnessed the sunrise and were mesmerised as we watched the Nile glide by below us and the ruins of the solemn West Bank.
We flew over villages that subsist mainly on agriculture -- there were fields of sugarcane, wheat, opium. We saw locals waking up to the morning, we saw kids playing around -- tiny people from up above. And we even saw a wolf running around in the fields. We eventually landed on a opium field, but their network is so strong that within five minutes we had the Sinbad balloon people running towards us to guide the balloon to a better landing place.
In the ferry ride back to our cruise we were given certificates and t-shirts as mementos -- cool customer service I must say.
Touring the East Bank...
May 28, 2009 17:18 IST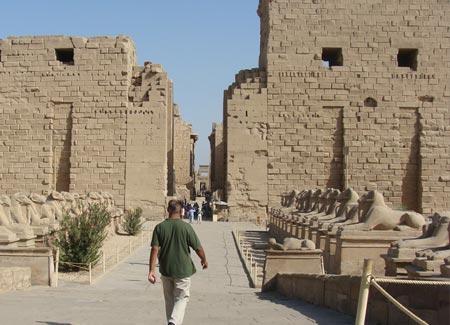 Over breakfast we narrated our experiences to our parents and after a good sleep and playing some cards and lunch, we headed for the East Bank tour.
We visited the Karnak Temple and were greeted by a row of ram-headed Sphinxes lining the entrance on either side. This temple had 134 colossal columns in its hypostyle hall and two huge obelisks. Another obelisk lies near the sacred lake of the temple.
We then headed to the Luxor Temple which also has a Sphinx avenue. This was supposedly connected to the Karnak Sphinxes at one point of time. Two huge statutes of Ramesses II (who built this temple) are seated at the entrance and there are more of his huge statues inside.
The sunset through the huge pillars looked beautiful. A pink granite obelisk still stands in the temple -- its twin was taken away to Paris. This temple was buried before it was discovered and the Islamic invaders had built a mosque on the land above it. The mosque stands today too -- a wonderful blend of ancient cultures.
...and the West Bank
May 28, 2009 17:18 IST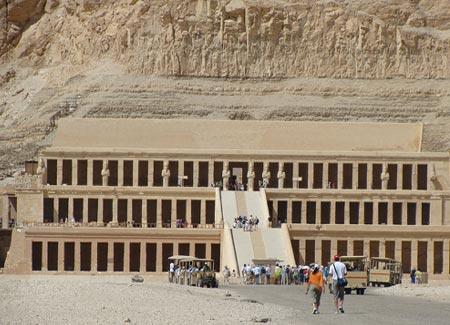 The next morning was our tour to the Luxor West Bank. This time we went by road and passed by the villages on the west. In the scorching heat we visited the Valley of the Kings where 62 tombs have been found. King Tut's tomb also happens to be here. Battery-operated open trains dropped us to the entrance of the valley, from there on it was a long walk through the heat and sand. We could enter three of the tombs, each different from the other, and each having the age-old paintings quite well-preserved on the walls.
We then went to the Temple of Queen Hatshepsut or Deir el Bahri, a three-storied temple, carved in the surrounding hills. This was one powerful woman. She not only declared herself a pharaoh (to the extent of wearing a false beard) but also initiated trade relations with Sudan (Punt). The roots of two trees that were brought as goodwill from Sudan still lie at the entrance of the temple. This expedition is depicted on the walls of her temple. You can enjoy a great view of Luxor from above.
We passed by colourful alabaster factories on the way to a photo stop at the Colossi of Memnon -- a pair of massive stone statues of Pharaoh Amenhotep III. His queen is depicted as a tiny figure at the bottom of the statues.
Our cruise guide left us at the Savoy Market in East Luxor where we shopped around for souvenirs before grabbing lunch at McDonalds. The walls of McD had colourful cartoon depictions of the Sphinx and it overlooked the Luxor Temple -- a beautiful location for McD indeed.
We ventured to take horse-cart "taxis" back to the cruise and spent a lazy evening till we were transferred to the beautiful, spotless Luxor station. Our cabins on the train were connected this time and were much bigger and neater. We had a good dinner and played cards till we fell asleep.
Mediterranean delight
May 28, 2009 17:18 IST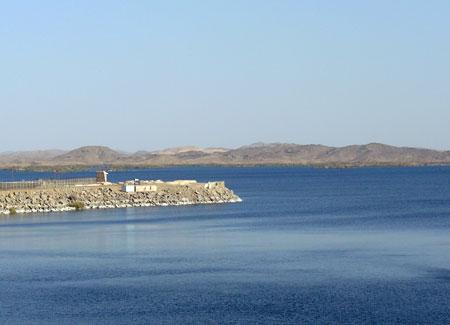 The next morning we arrived at Giza and checked into our hotel once more. After much deliberation we set out on a trip to Alexandria (founded by Alexander the Great) and thank God that we did! It is a delightful city along the Mediterranean and the drive along the sea was exotic. The drive got us really revved up -- we had spent much of our childhood trying to the spelling right and now we were actually standing on the colourful shore of the beautiful Mediterranean Sea.
There were trams plying on the streets, some even with double decks. Beautiful Victorian-style street lamps and walls decorated by art students blend the city with old-world charm and modern-day colours. We first went to the Catacombs of Kom el Shoqafa which was an amalgamation of Greeko-Roman and Egyptian influences. We went down winding steps that led into a dank well which still has water from the sea flowing in. It had various types of burials on display -- mummies, urns of ashes and usual burials. Loads of horse bones were found here as well.
Trivia: the site was discovered when a donkey accidentally fell into the shaft! Passing through the bazaars and roadside hookah joints, we went to Pompey's Pillar -- made out of a single piece of red granite flanked on either side by Sphinxes brought from some other temple sites.
After a late lunch, we went to the Montaza Palace and its beautifully manicured garden of King Farouk. One of the palaces is now a hotel while the other is, at times, used by President Hosni Mubarak. We caught the sunset as we drove along the Mediterranean to the Fort on Qait Bay. Unfortunately it was night by the time we reached.
My husband... Amitabh?
May 28, 2009 17:18 IST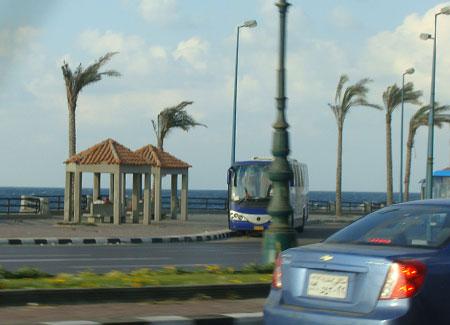 Had we known how beautiful Alexandria would be, we would definitely have added another day to our trip and stayed over in the city. But we had to return to Giza for our flight to Mumbai the next day. We returned a tired and sleepy lot, but a very happy one nonetheless, for not having missed Alexandria.
Amitabh Bachchan is well-known throughout Egypt and quite often we were greeted with enthusiastic "Indian? Namaste! Amitabh Bachchan, Zeenat Aman". Sholay seems to be the most-watched Amitabh movie and the Egyptians are up to date with even Kabhi Khushi Kabhi Gham. To the delight of my hubby, he was called 'Amitabh Bachchan' many many times all along our trip. While friendly Egyptian tourism police offered my mom tea, local Egyptians wanted to take photo with "Indians...Amitabh Bachchan!"
The Egyptian meal typically consists of lukewarm soup, cold salad, a big plate of raita, grilled chicken/ fish, a type of brown rice, grilled vegetables and for dessert a variety of fruits like guava, muskmelon, unripe dates, watermelon, big grapes etc. The only negative part was the demand for tips, where how much to pay was also laid down. So be prepared to either bargain that out (yes, you've got to bargain for tips too) or just yield to their high demands.