Airline bloopers: The most annoying high flying habits!
Last updated on: November 16, 2009 16:50 IST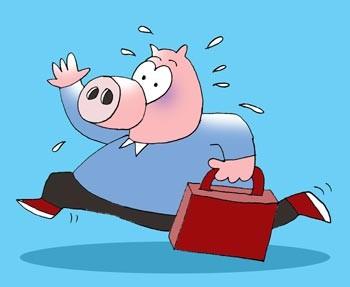 With India getting connected and the number of airlines increasing with each passing day, air travel is slowly but surely becoming a preferred mode of transport for most. We got some frequent fliers, airline crew members and first-timers to share their high-flying experiences, so sit up and pay attention -- you don't want to commit these bloopers!
Be on time
It's something that you've probably been told from your school days and have never paid attention to. But here's the thing -- would you rather walk into the aircraft looking cool as a cucumber or sweating like a pig? You never know who your partner will be!
Thirty-year-old Mumbai-based banker Rajesh Chauhan, who often flies for work points out the practical problems of running late. He says, "If you're carrying baggage that needs to be checked in, you'd rather stick to the reporting time than come huffing and puffing in at the last minute and hassle the poor airline staff."
Chauhan also adds that he's seen many instances when people simply walk up to the business class counter on the airport and demand to be checked in. He says, "If you've paid for an economy class ticket, you better queue up with the rest of us. Would you like it if a second-class passenger tried to occupy your air-conditioned berth in a train? The same logic applies here!"
Do you have an interesting, amusing or downright annoying airline experience to share with us? Send us your story at getahead@rediff.co.in (subject line: 'Annoying airline experience') and we'll publish the best ones right here on rediff.com
Don't be shy -- ask!
Last updated on: November 16, 2009 16:50 IST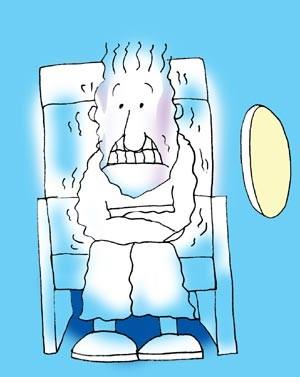 Twenty seven-year-old Eddie Billimoria*, who works as a steward with a leading international airline says that he comes across a lot of passengers who feel awkward to ask about things they don't know and others who pretend that they are seasoned fliers, when in fact, they are not.
"If there is something you need to ask -- even if it is to know where the cloak is -- you simply ask! It's better to ask and learn than pretend and create a mess," he says. "We once had a passenger aboard who froze all the way to his destination because he didn't know that the airline provides blankets and thought it would look stupid to ask for one!" Billimoria adds, "We are here to make your flight as comfortable as possible and may not be able to understand all your needs all the time. In such instances, it's best to seek guidance from one of us."
*Names changed to protect privacy.
Mind your seats... and those food trays
Last updated on: November 16, 2009 16:50 IST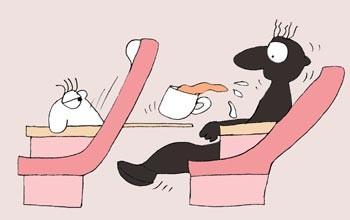 This one goes out to all the first-timers and our clumsy friends who, thanks to Murphy's Law, inevitably manage to grab the seat next to you. Frequent flier Rashmi Deshpande, 32, who lives in Mumbai, tells us of an instance where the gentleman sitting in the row ahead of her reclined his seat without checking.
"My neighbour, who was sitting directly behind this bloke and who looked like someone who savoured his coffee, had kept his mug on the food tray. Gravity did its job and the stains on my white tweed skirt never really went away," she says.
Respect other passengers' privacy and space
Last updated on: November 16, 2009 16:50 IST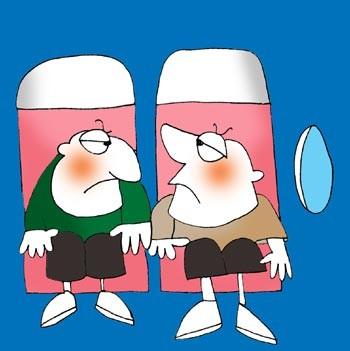 The thing about travelling economy is that you need to be considerate. You might've shelled out a small fortune just to take that first air trip and chances are that the guy sitting next to you may have done the same. So share your armrest with your neighbour.
Romesh Patel*, 25, a co-pilot with an Indian airline says that flying becomes a pleasure for everyone when you have passengers willing to adjust. He says that there are always those times when families or couples don't get to sit together. "Be considerate. You never know, you may require the same courtesy some day!"
Patel further adds, "Many of us use the seat ahead of us as a support to get up. That can be quite a problem for the people occupying it. Use the armrests instead. And if you're someone who needs to visit the loo very often, opt for an aisle seat so you don't disturb your neighbours."
Toilet etiquette
Last updated on: November 16, 2009 16:50 IST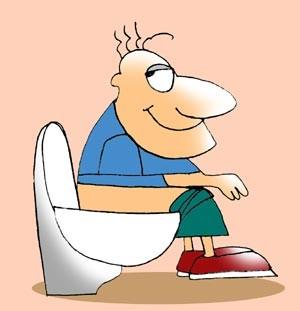 When we spoke to him, Billimoria also recalled an incident when he walked into a loo mid-air one day to find a mess right on the toilet seat! "It was disgusting to even think that someone could be so unhygienic! We even knew the passenger who did it. What was worse, she was flying first class!"
Billimoria points out that just because you're a few thousand feet high does not mean you forget your toilet manners. "It may be a public loo, but isn't that reason enough for you to take care of it, lest you might want to use it again?" he asks.
Although no one may tell you this, it is also important to time your loo breaks. On domestic flights, the rush starts a little before you're about to land. "Don't hold it in!" Billimoria chuckles, as he assures that you don't usually get stuck if you flush sitting down.
Be polite to the airline staff
Last updated on: November 16, 2009 16:50 IST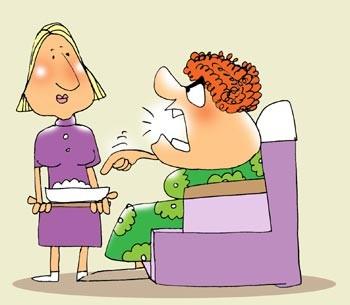 What applies to restaurant waiters also applies to your airhostesses and stewards. Mother of two from Mumbai Joeanna Rebello, 31, recollects an incident when an old lady on her flight raised a stink because she did not like the food that was served.
She says, "I was travelling Air India a couple of years ago, and a cantankerous old woman started upbraiding the airhostess when lunch was served; she was upset that it was 'the same old mashed potatoes and vegetable gravy'. She was very vocal and announced to her co-passenger that each time she travelled Air India that was what she got. Most airlines have a set menu and while Air India's rotational rate is probably the worst, you still don't make a scene if you want to make a point. There are formal channels for complaint."
There is no harm in adjusting for a few hours -- whether to food or a seat. If you aren't happy with where you've been placed, find out from the airline crew if they can accommodate you somewhere else. If they can't, don't make a fuss over it. Understand their limitations and respect them.
Travelling with infants
Last updated on: November 16, 2009 16:50 IST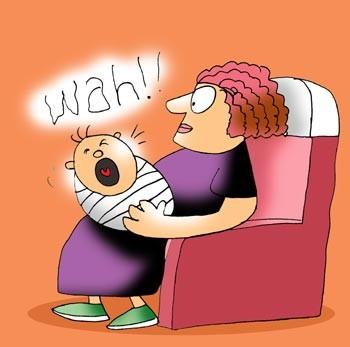 Joeanna also shares her experience travelling with her newborns. "I took my kids to Goa when they were three months old. The doctor had suggested I put pacifiers in their mouths during takeoff and landing so that the change in air pressure doesn't trouble them. Luckily my kids love travelling and they were far quieter than a four-year-old ahead of me. I also carried bottles of prepared feed, and changed them into fresh diapers only just as I was leaving for the airport. They didn't mess up until I reached Goa and they slept through most of the flight."
If a mother doesn't want to nurse her child on an aircraft, she can carry a bottle of feed only if the doctor approves. The feed can be prepared at the airport itself. "I carried a flask of hot water and a small tub of (baby food) Nan1 for convenience since I have twins. It's a bit of a circus trying to handle the baggage cart, your boarding passes, the babies and the baby bag. Bibs and washcloths are imperative. You never know when the child will bring up. Dress a baby nice and warm and if it's a slightly older child, take along a favourite toy. The Internet had loads of tips for parents travelling with babies. And you can even go to Youtube for videos," she says.
Switch off that cellphone!
Last updated on: November 16, 2009 16:50 IST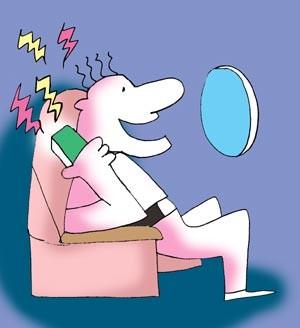 Those of you who watch Friends will know what happened when Rachel's co-passenger overheard her conversation about the dysfunctional 'left phalange'.
Unless you are a doctor actually trying to save someone's, well, phalange, mobile phone conversations in aircraft cabins can well be avoided. For one, as they tell you each time before takeoff, mobile phone signals interfere with the aircraft's navigation systems.
The other thing with talking on mobile phones is that noone wants to know about your personal life and just what exactly happened to Priya Maasi while you were on the flight.
Delhi-based media professional Aman Khanna*, 23, says he's amused whenever he sees passengers switching on their mobile phones as soon as the plane lands. "I've never really understood the desperation to tell someone at home or work that you've touched down! If you've survived for an hour (or more) without a mobile phone, you can continue doing so for the next five minutes while you're in queue to get out of the plane!"
Await your turn
Last updated on: November 16, 2009 16:50 IST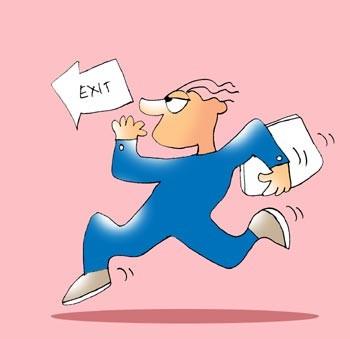 And that brings us to the final tip on the list. Aman, who has flown between Mumbai and Delhi at almost all times of the day, says that however empty the flight may be, there is always a crowd at the exits. He says, "I once took a late night flight that had just a handful of passengers. The moment it landed I was very surprised to see a long queue waiting for the doors to open! The funny thing is that we were all in the same bus that took us to the terminal. So it didn't really make much of a difference if I had alighted first or last!"
Just as many of us find cabin crew continuously moving up and down the aisle annoying, they find it difficult to handle a horde at the exit, especially after a long flight. As a blogger so amusingly put it, "Don't worry. They'll let you go. Really, they will!"
Do you have an interesting, amusing or downright annoying airline experience to share with us? Send us your story at getahead@rediff.co.in (subject line: 'Annoying airline experience') and we'll publish the best ones right here on rediff.com