Image:
Siddharth Vohra, Super prime time jockey, Radio City.
Photographs:
Careers360
Urmila Rao
It was a totally different era when radio listeners tuned in to All India Radio's (AIR) musical programmes on Vividh Bharti. Binaca Geet Mala ke doosre paidan per... Ab suniye Chitrapat Sangeet, Fauji Bhaiyo ke liye...
Presenters intoned formal scripts, talked bare minimum, never joked on air or talked about local issues.
But the year 2003 changed the radio listening habits of people. That year three private radio stations were launched in Delhi whose character was phenomenally different from AIR's austere nature.
Radio Jockeying
High on entertainment, the new FM stations were and still are chatty, informal, play latest numbers and distribute gift hampers at the drop of a hat.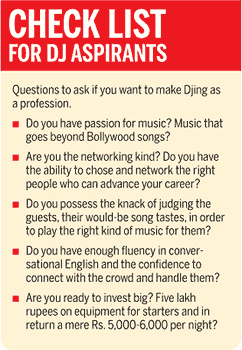 Presenters are perky. From show hosts they have graduated to a fancy label, Radio Jockeys or RJs.
"Now the entertainment quotient has gone high," says Rana Barua, National Head, Marketing and Programming, Radio City.
Mehak Ankar, a Radio Meow RJ, echoes the same sentiment. Regarding the temperament of the FM channels, she says, "AIR was simple but private stations are about glamour, showbiz and run as a business house." And she has been on the job for five years.
The new format, flavoured and funky, seduced listeners to such an extent that radio listening is back in vogue. The glamour, monetary benefits and the fame attached is so strong that quite a lot of youngsters now seek a career in this profession.
If you are one of them, then the first question on your checklist ought to be: Do I have the required aptitude, attitude, voice and the skill to be an RJ?
Careers360 is a complete careers magazine
Talent holds the key

"A good voice is a fundamental necessity," says Barua. Besides, a pleasant voice, spontaneity, wit and humour are the other essentials. But are they enough? No, knowledge of music is extremely important. One also has to be adept at voice modulation, diction as well as in handling radio consoles.
"Being yourself while you are presenting the show is a characteristic central to a good RJ," maintains Delhi-based RJ Sid aka Siddharth Vohra of Radio City. "How long can you pretend to be someone else?" he asks.
Each show slotted at a specific time carries a personality of its own because of the listeners' profile. So the content, tone and tenor of an afternoon show are different from one in the evening, which targets office-goers.
So, in order to sound natural, it is important that an RJ should host a show closest to his or her temperament. Being an RJ involves a lot of hard work, commitment and active mindset. "There is lot of money riding on RJ."
How to land the right job
To join the pack, here's what you need to do: make a demo CD, the duration of which should not exceed 3 to 5 minutes. Distribute it to the radio stations of your city. Choose a current topic for the demo CD.
"The recruiters basically want to see your presentation style," says a popular RJ. Make follow up calls. If there's an opening or you are an outstanding talent, you will be called for an audition. You will have to record a couple of links and appear for an interview.
"We check the voice quality, the body language, demeanour, spontaneity and originality of the candidates," says Barua. Once the RJ is selected, he or she has to undergo a minimum of 4 to 8 weeks of training. Sitting in the studio and striking a conversation with lakhs of listeners is a cultivated habit which requires grooming.
Before going live on air trainees record dummy shows and later graduate to pre-recording stage. Once the interns acquire enough confidence, they are, at the outset, entrusted with only graveyard shows or with small slots when the listenership is minimal.
Prime time radio stars
The star RJ of the station gets to host the super prime time show, the slots of which are 7 to 10 in the morning and 5 to 9 in the evening. The prime time or the drive time is the time-band when listenership peaks. Sid speaks of his choice of timing.
"Rather than morning, I prefer doing evening drive because then I get attentive listeners," confesses the evening jockey of Route Number 911 show.
Going up the ladder
The key ambition of a jockey is to host the super prime time show. Once the RJ has done that, he can move on to become a producer and then executive producer of the shows.
The following stop is that of a Programming Head after which the target could be that of the Regional Head. National Programming Head is the top position that an RJ can move up to. However, even in their current jobs, RJs don't let monotony set in.
They are free to take up independent assignments. It could be dubbing, lending voice for adverts and jingles or doing voice-overs, or even emceeing for a show. But such assignments need company sanction.
It pays to be garrulous
The freshers are paid anywhere between Rs 10,000 to Rs 15,000. The salary is parallel to any basic industry, says Barua. It can go as high as Rs 1,00,000 or above for the exceptionally talented. Sid remembers the exact net figure of his first salary while he was in Kolkata with another FM station. "Rs 5, 618," he smiles.
Pains and gains
Like any other work, RJing too packs in sweet and sour punches.
"I once got a 10 per cent discount on apparel shopping," recounts Sid remembering the salesman who recognised him by his voice. Getting up in the morning for super prime time show is a challenge for a lot of RJs, especially during winters.
While an envious salary is quite an attraction, the preparation for a show which lasts hours can be exacting.
The professional schools
Going to an institute for RJ training is helpful only to the extent of getting some exposure. "Some of the institutes are run by ex-programming heads or ex-RJ's so the learning is there," says an insider. But institutes can't promise placements. However, the chances of getting a job as an RJ are higher when compared with aspirants with no exposure.
Sid, a mechanical engineer by qualification, says that undergoing a 15-day course helped him get hold of the right industry people.
"It gave me confidence to speak publicly." Once in a while a promising candidate gets picked up from a professional school on recommendation.
Disc Jockeying

Image:
DJ Karan Rane, freelancer
It's mega reunion of one of the Delhi's popular schools, Air Force Bal Bharti. Guys donning casuals and women in their cocktail dresses  shake themselves to the throbbing music. Some gyrate, others flail their hands, a few twist out of sync. And amidst the whirling, swirling and head bobbing, some attempt group dancing. This is what DJ Karan's music can do to people. They just can't remain seated. Almost everybody from the crowd of more than 200 wants to be on the dance floor to the pulsating music he is playing. He switches pace seamlessly from Bollywood's latest numbers to retro Dekha na, hai re socha na, hai re, of the '70s. English music, Punjabi hip hop, rock, trance and other music forms find place in between.
Without a pause, he blends some music while playing a few others exclusively. There isn't a song demand. Now, that's a compliment to a DJ who seems to know the taste of his wide-ranging audience. "Knowledge of music should be intrinsic to a DJ," emphasises the 29-year-old Karan Rane who started in UK as a DJ way back in '96.
The underscoring qualities
The profession seems fascinating; rocking night life spiked with heady cocktails and jovial company. Not really. If you don't have the natural inclination, then the spill over on your long-term career will be disappointing. Your interest should go far beyond Bollywood music says Karan.
"That provides a DJ the cutting edge," he says. Equally important in this profession is to be technically sound. A DJ should be able to play at right decibel levels without being obscenely loud. A good verbal skill with fluency in English is yet another underscoring factor. When a DJ has to address the crowd, he should be able to speak without fumbling. Ability to judge the party crowd, play music according to their tastes and handling the not-so-sober crowd with ease are all characteristics that a DJ should be endowed with. Having played in a host of countries including the UK, US, Holland, Belgium, France, Luxembourg and Malaysia, Karan isn't shy admitting that the crowd in Delhi needs special handling skills.
Work is music
A DJ plays in a club or in a private event. Usually the club provides the stage and the required paraphernalia, in which case the only investment required from the DJ is music CDs. Amateur DJs should carry as many song numbers as possible, with as many varieties as possible. Any kind of demand may crop up anytime from the audience. "One person may want Electronica to be played, the other Punjabi music."
High end investment
In order to get started, what one needs is the start-up equipment. The starter kit required for Djing includes a sound system, two turntables, lighting equipment, a wide-ranging music library, a mixer, a microphone and headphones. The minimum investment for this basic setup runs up to three-four lakh rupees. The cost can escalate if one chooses to buy premium equipment, upgrade the kit or add more accoutrements.
Be the best
A certain image is part and parcel of this profession. A DJ's dress sense should manifest that he is stylishly different. Keep your eyes and ears open to what is happening at your competitor's den. "So, go clubbing," advises Karan. Networking is another aspect native to this profession. The concept of out of sight, out of mind works full force in the intensely competitive industry. There is really no fixed salary; therefore good social networking skills become imperative to a professional's survival. A DJ should always play in good clubs as it gives him good name and instant publicity.
Lucrative sector
At the entry level, the income is Rs 6,000 to Rs 8,000. But after three-four years of experience, the earnings can go up to Rs 20,000 to Rs 25,000. A DJ extraordinaire can charge even up to Rs 50,000 to Rs 1,00,000 or more per night. "This is just the fee, minus the equipment," apprises Karan.
DJ schooling
Sadly, no professional course may help you make a mark in this industry. The training institutes are mostly run as business entities; any one is free to enrol. There is no entrance exam or interviews to screen the right candidates. A guaranteed job is not on the offer list. The expense of a DJ course is anywhere between Rs 15,000 to Rs 50,000 for a three to  six months course.
Video Jockeying

Image:
Juhi Pande, VJ, Channel V
She was 24, model manager with Elite Model Agency, Mumbai when she was pursued relentlessly by Channel V to join them. After much persuasion and cajoling, Juhi Pande left her job to turn to be a video jockey or VJ. Five years later, 50 and more shows old, this peppy VJ is a household name, popular among youngsters and every bit as enthusiastic regarding work as she was on day one. Luck provided her entry into the coveted field but if you want to become a VJ, then read on.
Must-haves for a VJ
"It important that you have social skills, are able to talk effortlessly and comfortable with people," says Juhi, narrating the must-haves. Not a bit exhausted after completing her latest show Exhausted, she goes on to describe the other attributes. Having common knowledge about everything helps as one is able to manage an easy conversation with guests and callers, she says.
But what differentiates a good VJ from an outstanding VJ is his or her comfort level with the camera, superior verbal skills, ability to handle phone-in callers, interviewees and people in general. "Sometimes one has to be ready to put in 16 to 18 hours a day as well," Juhi tells VJ aspirers. Since there are no institutes which grooms aspirants with these attributes, the cutting edge can be drawn only with self-teaching.
The rest comes with experience. However, magic comes in to play only if one has innate abilities. The competition is cut-throat, as 'everybody wants to get recognized on the streets', says Juhi.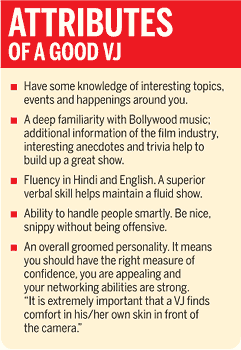 Limited shelf life?
As age and looks are two major aspects in this glamourised profession, how long can one continue? With VJs now turning into show hosts the career span of the professionals has widened, says Juhi. "The shelf life is not limited anymore", she says. With channels opting multiple show formats, work for talented VJs abound. There are shows based on reality, travel, cookery and shows for children and others. This has given a boost to VJs who double up as presenters.
Salary levels
At the entry-level the income is anywhere in the range of Rs 30,000 or more. There is no upper limit.
"If you appeal to viewers, are high on popularity chart, your performance is exceptional, then channels have the ability to pay exceptionally well," says Juhi.
Her advice to the wannabe VJ's?
Go for it only if you have the required qualities, live your dream but have patience. Most importantly have plan B ready.
As for her, "It's been a great ride so far. I am havin' a blast," chirps the VJ in her archetypal conversation lingo.