Audrey Hepburn rocks the Kolkata catwalk
Last updated on: September 10, 2009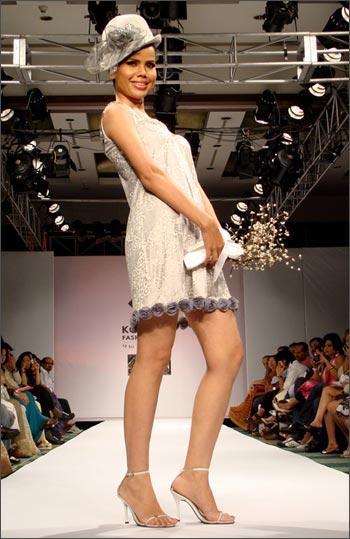 After ace designer Ritu Kumar's ethnic line, Leena Taneja stole the second show on the first day of Kolkata Fashion Week II with her Audrey Hepburn Classic Collection.
"I am hightly impressed with Hepburn's style and attitude...the perfect blend of gentle beauty and boldness. I find it hard to break out of this influence. But finally I managed to showcase my collection that has the essence of Hepburn, but is not a copy of her completely," Taneja said after the show.
The style of an icon
Last updated on: September 10, 2009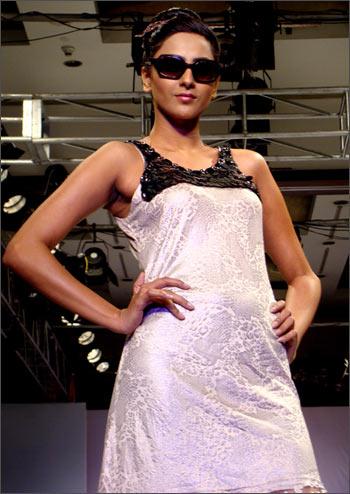 "I kept all the Hepburn accessories -- the cigar, the hat, the bag...in fact, I just hoped somebody would hand me a cat like Hepburn carried in
Breakfast at Triffany's
. But the pearls, laces and cuts are mine. I generally kept the cuts striaght-lined because flares are no longer liked by many people now-a-days."
Shimmering muses
Last updated on: September 10, 2009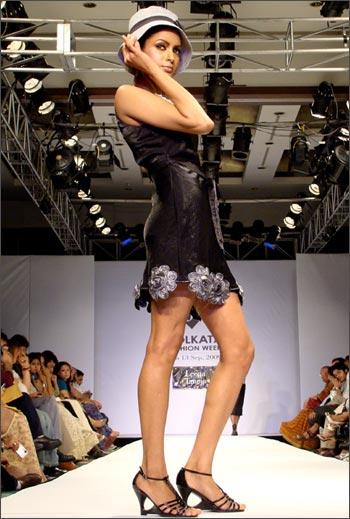 Taneja's collection comprised of mainly tunics and gowns. "I stuck to my signature metallic colour palette...be it silver or gold."
For the rebellious woman
Last updated on: September 10, 2009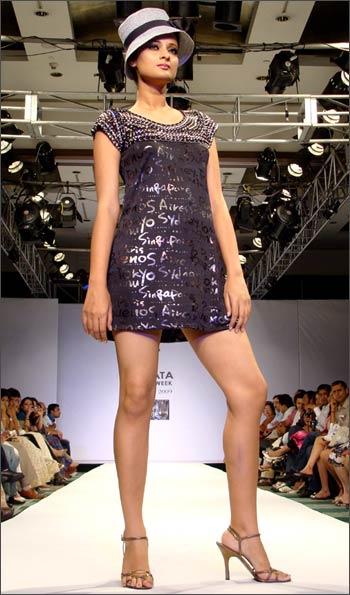 The designer used Swarovski crystals, sequins, metals, perals, zardozi and pure fabrics like cotton, silks, georgetes and chiffons in her collection.
"This is my tribute to women who always wanted to be known for their bold, beautiful and sexy desires...it's for the modern rebellious woman," Taneja said.
Starry appeal
Last updated on: September 10, 2009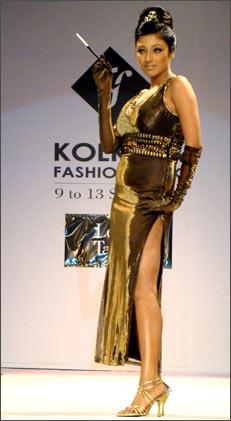 Popular Bengali film actor Paoli Dam showstopped in a shimmery bronze gown.
"This is the first time I walked the ramp and trust me, it's not a brainless job. I was really nervous. But I enjoyed my look...holding the cigar. Obviously I can't even dare to match up to Hepburn's style statement, but I kept her in mind while walking the ramp," Dam said.
Meet the maker
Last updated on: September 10, 2009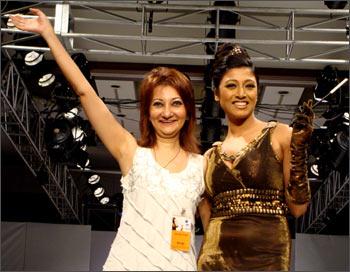 Here's a glimpse of Taneja in a proud moment on the ramp with her sexy showstopper modelled by Dam.