Pia Trivedi: In modelling, there's no place for naive girls
Last updated on: September 21, 2009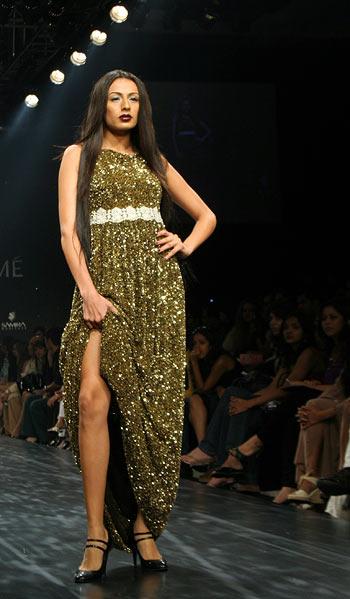 Pia Trivedi has quickly scaled the ranks to become one of India's sought after models. Given her striking features and impossibly long legs, it's no big surprise!
Rediff.com
caught up with the fierce beauty on Day Three of Lakme Fashion Week.
Personal style
I believe it's important to be comfortable in what you wear, first and foremost. I always aim for comfort, but I still like to stay with a stylish look. I always make heads turn. That's what I go for.
Exercise and diet
No diet by any normal sense of the word, because I'm a complete foodie. But if you work out and add balance in other areas, it should be fine. Me personally, I eat anything. But that doesn't work for all models.
Modeling as a profession
It's my passion, and thus I'm really lucky to be in this field. I love what I do. I'm also very passionate about acting and television. I've been in television for four years, and that's something that's taught me a lot. I've started getting Bollywood offers, so let's see what happens!
Any advice for aspiring models?
There is no place in this industry for naive girls. Be aware and be smart, always.