Best killer netbooks of 2010
Last updated on: August 3, 2010 10:05 IST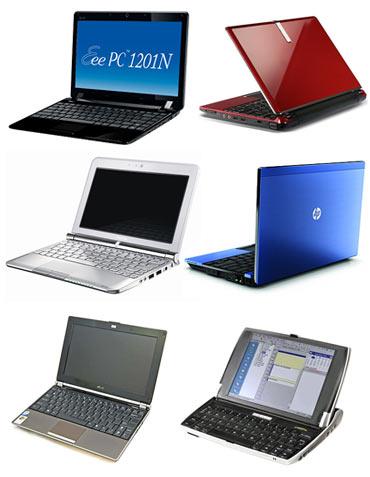 By the year 2010, netbooks are predicted to be widely used. They are growing ever more convenient, functional, and practical, and in fact, may soon become the mobile device of choice.
What are Netbooks?
Netbooks are described as mini-computers whose sizes range from 7 inches to 10 inches. The larger versions are notebooks or laptops with sizes ranging from 12 to 17 inches. Apparently with these size comparisons, you may say that portability in the netbook laptop arena goes to netbooks.
Click NEXT to read about the six killer netbooks of 2010 starting with Toshiba NB305
Reader invite
Are you a gadget/gaming wizard/afficianado? Would you like to write on gadgets, gaming, the Internet, software technologies, OSs and the works for us? Send us a sample of your writing to getahead@rediff.com with the subject as 'I'm a tech wizard/afficianado' and we will get in touch with you.
Toshiba NB305
Last updated on: August 3, 2010 10:05 IST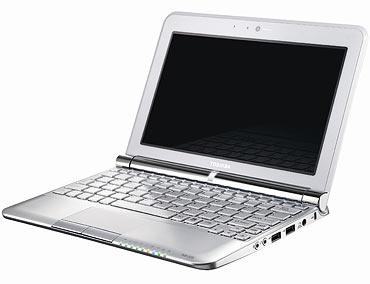 The NB305 was a favourite in 2009. The newer model uses the same stylish hardware design of its predecessor (available in blue, brown and white), but throws in the 1.66GHz Intel Atom N450 processor, a larger 250GB hard drive, and Windows 7 Starter Edition.
The new Pineview processor has enabled Toshiba to shave 100g off the NB305's weight to 1.2kg, and extend run-time with the 6-cell battery from nine hours to a remarkable 11 hours.
This works a treat with Toshiba's Sleep and Charge technology, which lets you use the netbook's battery to charge gadgets over USB even if it's hibernating or switched off.
Click NEXT to read about Lenovo ThinkPad X100e
Lenovo ThinkPad X100e
Last updated on: August 3, 2010 10:05 IST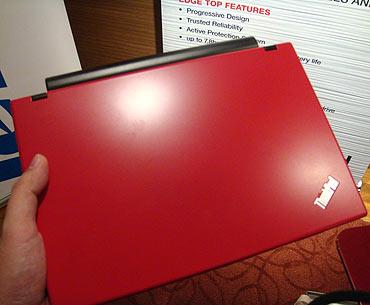 Here's the first thing that'll strike you about this ThinkPad; it's red. If you associate red with speedy sports cars, the X100e won't disappoint.
With its Athlon Neo MV-40 processor and 2GB of RAM, this ThinkPad scored a 52 on WorldBench 6, a screaming speed for netbooks.
It's faster than most netbooks, with a larger, higher-resolution screen; a spacious keyboard; and a bigger hard drive than you'll usually find in Lilliputian laptops.
Click NEXT to read about HP Mini 5102
HP Mini 5102
Last updated on: August 3, 2010 10:05 IST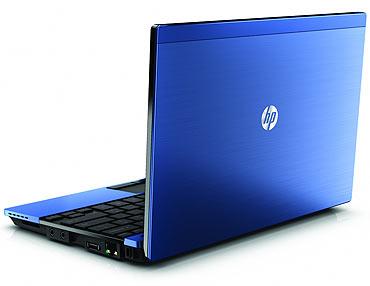 The Mini 5102 is the latest in HP's line of business-optimised netbooks, featuring a ruggedised metal chassis and design elements tailored for the office road warrior.
It does a great job of offering features that business users care about, but they come at a considerable price; the configuration: 2GB of RAM, an Atom N450 CPU, and an extended six-cell battery.
Click NEXT to read about Gateway's LT2118u
Gateway's LT2118u
Last updated on: August 3, 2010 10:05 IST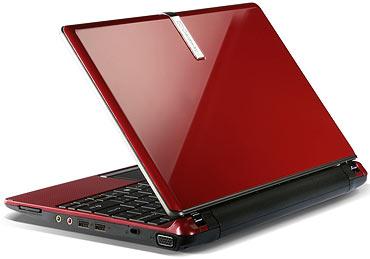 Gateway LT2118u With Intel's Atom N450 CPU and 3150 GPU at its heart, as well as 1GB of memory, a 250GB hard drive and a 10.1-inch, 1024-by-600-resolution display, Gateway's pride and joy carried on for an astounding 11 hours and 17 minutes in the battery tests.
Click NEXT to read about Asus Eee PC 1201n
Asus Eee PC 1201n
Last updated on: August 3, 2010 10:05 IST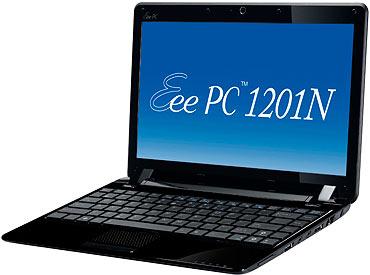 The Asus 1201 will be their very first netbook to feature Nvidia Ion graphics, giving it 1080p HD playback and much improved gaming performance. Very recently the Asus Eee PC 1201N has shown up on a store in Hong Kong, confirming its existence.
A 12.1-inch 1366 x 768 display, running an Intel Atom N330 dual core CPU, GeForce 9400M (ION Graphics), 3GB of DDR2 RAM, 320GB hard drive.
It also has 802.11n WiFi, webcam, and a high capacity 6-cell 5200mAh battery, which should last for up to 8 hours.
Click NEXT to read about MSI
MSI: Editor's choice
Last updated on: August 3, 2010 10:05 IST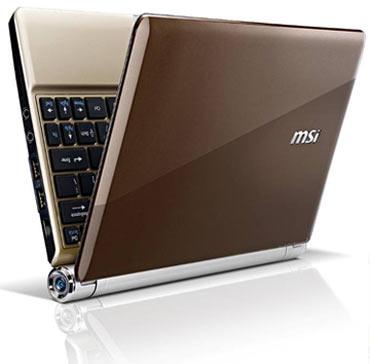 The six-cell MSI U160 netbook is not just skin deep with its super smooth sleekness.
It is compact all around with its 10-inch display and 320 GB hard drive. Adding to the convenience is a 1.4 megapixel webcam, well-spaced Chiclet keyboard that reduces typing errors and the resultant clicking noise, extra wide tactile touchpad, two-channel stereo speakers and microphone, Windows 7 Starter, and the facility for wireless LAN and Bluetooth.
Promsing a 15-hour battery life, it will accompany you on your computing missions all day long. Available in fancy gold and jet black and weighing just 1 kg, this one is truly one of the finest stylish networks on the market.
No wonder, it won a product design award at the prestigious iF 2010 design awards in Germany. Probably it could be due to its ultra-slim chassis (only 19.8 mm at the thinnest point). Or the white glow of the MSI logo on the upper lid and the blue LED power switch light on the end of the display hinge.
However it's the artificial intelligence in the netbook that wins you overfrom face detection to log into your system, to automatic log off when you are away from the system for too long.
Click NEXT to read about the pros and cons of netbooks
Netbboks: Pros and cons
Last updated on: August 3, 2010 10:05 IST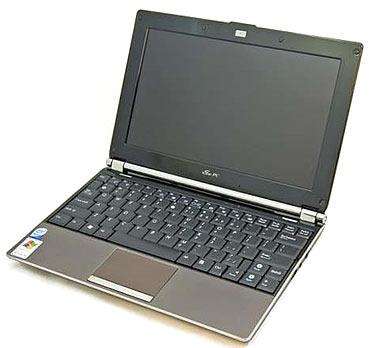 Better take a look at the list of pros and cons of these gadgets. We examine the list based on four parameters:
1. Design
Netbooks are designed for several aspects of computing needs. One may use it to connect to the Internet and to communicate with other people. Their sizes are contributory to their compactness too. When it comes to battery life, most netbooks can stay longer than notebooks making the former less dependent on charging. However, you cannot deny the fact that notebooks are multipurpose in nature allowing you to accomplish more computing tasks. Netbooks are smaller, lighter, and cheaper.
2. Applications
Running applications is also a concern for netbook and Laptop consumers. Surfing the web while one is on the go is possible with netbooks. The same is true if one wants to run basic applications like windows office.
But if one has other things to do or need to open four to five applications all at the same time, laptops are sure winners. Additionally, the larger laptop allows to edit high definition video files.
Furthermore, one may save more files in the hard disk of laptops.
3. Mobility
Both has the upper hand when it comes to mobility, but netbooks are easier to carry; a netbook typically weighs between two and three pounds. Screen sizes can range from seven inches to about 13 inches.
The keyboard is normally somewhere between 75 per cent and 85 per cent the size of a normal computer keyboard. There is a limit to how small of a netbook is practical.
A typical adult, typing on a ridiculously tiny keyboard is going to get old pretty quick. Squinting to see the text on your screen is also quite bothersome.
The future of netbooks may have us looking at lighter weight models, but it's unlikely you'll see a netbook the size of a pack of candies any time in the near future.
4. Cost
Netbooks works on the philosophy 'get as pay'. The more you pay the better specs you have. So netbooks apparently tend to be cheaper than their larger notebook counterparts.
However, there are some tasks that netbooks cannot fulfill thus more computer enthusiasts question the real price attached to the product.
Click
NEXT
to read about netbook trends
Netbook trends
Last updated on: August 3, 2010 10:05 IST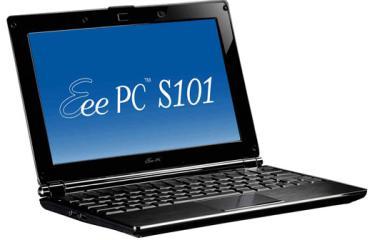 Here are four trends that netbooks are predicted to witness:
1. There will be more extremes in netbook pricing. This means that there will be a greater variety of netbooks offered at both cheaper and more expensive prices.
For example, the Asus S101 costs roughly three times that of the first Asus EeePC.
2. Hardware that comes with netbooks will be more efficient.
Netbooks will be equipped with more powerful processors as well as greater hard drive capacities (the price to hard drive space ratio will decrease). This will also lead to notebooks that use less power and therefore have longer battery lives.
3. Choices for operating systems will be expanded. Many netbooks currently run on the Windows operating systems but in the future, more netbooks will run on Ubuntu, Linux, Android, and other operating systems.
4. Integration of technology will be greatly improved. Devices will be able to more easily communicate with each other and products from the same family will be able to easily interact with each other. This integration will apply to both hardware and software products.