Raksha Bandhan special: 'How I met my rakhi sister'
Last updated on: August 10, 2010 15:36 IST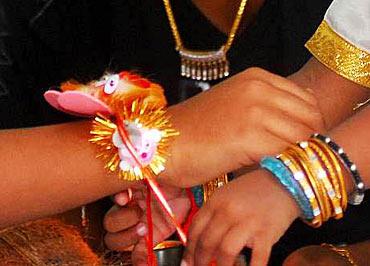 Readers share their special brother-sister moments in the run-up to Raksha Bandhan. Share yours!
To celebrate the special bond between siblings on the occasion of Raksha Bandhan, we invited readers to share special moments they've spent with their brothers/sister. Here are some of the responses we received. Share yours!
---
It happened in my MCA (post graduation) second year in Tirunelveli, Tamil Nadu in the year of 2000. My rakhi sister's name is Parkavi.
One day a group of girls from MA (mass communications) first year came to my class. At the time, there were about 12 boys and 8 girls in class. From the MA group, one girl pointed to me and requested me to come out for a while. We went to a peaceful place in our university and she told me that one of the other girls wanted to tie me a rakhi since I looked a lot like her brother who was abroad and with whom she did not talk very often. But instead of telling me who the girl was, she challenged me to find her from among the group saying that if I was able to find her only then could that girl take me as a brother wholeheartedly.
I accepted the challenge since I really felt that it was not a prank. So I went and looked at all the faces in the group, about three to four times and finally picked a calm, cool girl in whom I felt a sister's love. And I was correct. Her name is Parkavi. Since that day, we have been like a real sister and brother except there was not even a single problem or a communication problem between us even though I am in Singapore and she is in Oman right now.
And most interestingly, both of our son's names are Adith -- a pure coincidence.
That is why I wanted to share my story.
-- Thenappan Alagappan
---
Being the only child of my parents, I was quite pampered. But every years on Raksha Bandhan I always felt sad about not having a brother of my own. I had cousins but I did not get along with them, and so the love of a sibling was always missed. I would celebrate Raksha Bandhan tying rakhi to my classmates in school, but even that did not give me the satisfaction of having a loving, caring brother by my side.
When I shifted to Bhayandar from Girgaum (Mumbai) a newly-married couple moved in opposite us. My grandmother treated the newlyweds as her own children, and from that day Jagdeesh Shetty became my brother.
Jagdeesh stood by us through all our problems like a son and loving brother would do. Every year I would tie him rakhi (from 1999 to 2003). The times spent by Jagdeesh and his family with me and my grandmother are golden memories which are undescribable!
When my grandmother took ill and went into a coma Jagdeesh and his wife Deepa nursed her. Despite having our relatives around, this family became our own family. But due to my relatives' bad behaviour my relation with Jagdeesh bhaiyya gradually soured. When I had to leave Bhayandar due to financial problems, I went to meet Jagdeesh and we shared a very sad and tearful goodbye. We wished each other luck for the future and parted ways.
Till today whenever Raksha Bandhan comes around I feel very sad and think of the five years of celebrating the day with Jagdeesh bhaiyya. Those memories are very painful, as in today's world it is difficult to love and support someone who is not family. Such people are very difficult and rare to find.
Wishing Jagdeesh a happy Raksha Bandhan wherever he is.
-- Nalini J Kudalkar
---
To celebrate the special bond between brothers and sisters, on the occasion of Raksha Bandhan, we invite you to tell us the most memorable moments you have had with your sibling(s). Happy, sad, funny, sentimental or just plain crazy, we want to hear them all!
Send your favourite memories to getahead@rediff.co.in with the subject 'My special sister-brother memories' and we'll post the best right here on rediff.com! And while you're at it, send us a pic of you and your siblings too.