They travel the world -- and make money doing it!
Last updated on: February 17, 2010 17:39 IST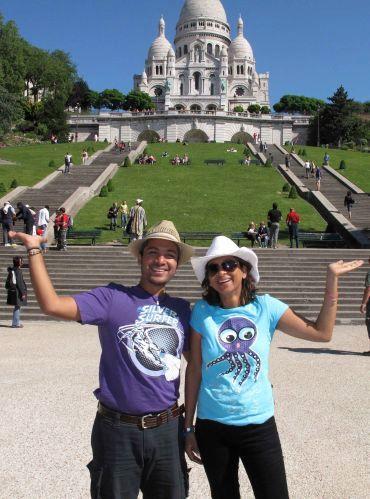 Meet Suchna and Yogesh Shah, who run The Backpacker Co, a first of its kind travel company that caters only to backpackers.
Suchna and Yogesh Shah have a job many would give an eye and tooth for -- this young entrepreneur couple travels the world and makes money doing it. Going by the moniker The Backpacker Co (thebackpackerco.com), theirs is truly a travel company with a difference.
What's different about it, you ask? The fact that the Shahs treat their clients not as tourists but as travellers -- promising them an insider's perspective of a city they've never visited before.
So if you were to vacation with The Backpacker Co, there would be no air-conditioned coach waiting to take you around the regular touristy places or any fixed meals at fixed timings. What's more, it's goodbye to the 'all-knowing' tourist guide whose only concern is to get you back to the hotel at a fixed hour.
But more on that later. Let's go back to the beginning. The idea behind starting up this travel company was pretty simple. Suchna tells us, "Yogesh and I have travelled quite a bit. I used to fly with Singapore Airlines and would travel at any given chance, as did Yogesh. Between the two of us, we've covered most of the world. Many of our friends would consult us before taking any trip. In turn, they would recommend us to their friends. The circle kept increasing till we decided to monetise our experience."
Yogesh Shah, whose family runs a logistics company, is currently juggling between two worlds before he moves away from his father's business completely.
Sitting behind a wooden desk in a bohemian Bandra apartment, he spells out his company's working. "We have two revenue models -- one where we design itineraries for individuals who want to go backpacking on their own; the other is where we design trips for people in groups. While doing the latter, we usually try and keep in mind the general group dynamics as well as the average level of group interest. Unlike most travel agents, we ensure our clients get to experience the city they are visiting the way locals would. So we make the bookings, take care of the visas, insurance etc, but rather than giving them a fixed itinerary, we give them a broad framework of the cities they should be visiting and only suggest the places they could explore. Moreover, we provide them with details of the public transport system, so they can take that rather than sit in a coach, which will take them only to fixed destinations."
'We keep spending down to a minimum -- The Backpacker Co does not advertise at all'
Last updated on: February 17, 2010 17:39 IST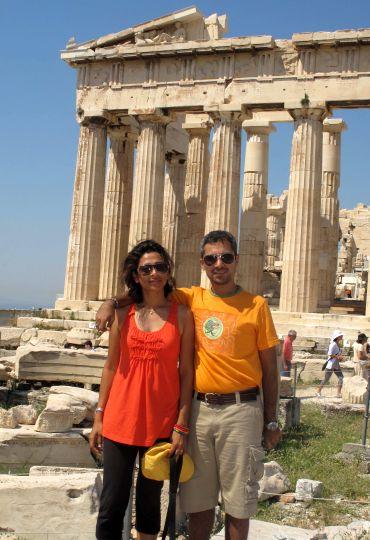 The Backpacker Co specialises in trips to Europe -- a continent that the couple has extensively travelled to and has experienced first hand.
As for the stay, Yogesh says that travellers are put up in hostels, which are inexpensive 'but clean and self-contained'. "Most of these come with a kitchen. So you could pick up groceries from the fresh market nearby and toss up a quick breakfast before heading out. For lunch, rather than hitting an expensive restaurant, you could pack a sandwich and have it sitting on a park bench. That way you spend far lesser than you usually would and also soak up the atmosphere of any city...something that cannot be experienced in a package tour."
While they've been consulting friends on a freelance basis for 'quite some time now' Yogesh says they decided that it was time to corporatise the structure about three years ago. So they started off with an office space in the industrial suburb of Andheri (East) and have never looked back.
Yogesh says they were in their 'late 20s' (Suchna, he adds, 'stopped aging after 25') when they set up their office. Within weeks they were packing off people to various parts of Europe.
When you ask him about the initial challenges they faced, Yogesh says 'There weren't many, because we already had a steady stream of clients thanks to word of mouth."
"Remember, we had been doing this even before we started the company. So people knew about us and kept coming," he points out.
The Backpacker Co does not advertise at all. Besides a stray write-up in a magazine here and a newspaper there, it has not really been visible in the media space. The reason for this, Yogesh says, is the lack of funds and quite like the trips they arrange, a conscious decision to keep spending to the minimum.
'Not many are open to the idea of travelling in this freewheeling fashion'
Last updated on: February 17, 2010 17:39 IST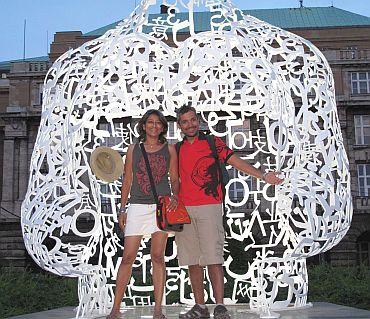 "We don't have money for advertising. Instead we spend on family trips so as to get acquainted with places where we send our clients. This way we know the pros and cons of a place and effectively the best establishments with the lowest rates. Even these trips are on low budgets," he explains.
"Our only challenge -- if you were to call it that -- has been to convince people to travel in this freewheeling fashion. Not many are open to the idea and it is usually the young and upwardly mobile who form our client base. Many of them, though, like a structured set-up. So we call for a meeting, sit with them and explain to them exactly how they could go about it, give them a broad itinerary and prepare them for what lies ahead. Once they are confident we let them go or put them with a bunch of likeminded people who don't want to travel alone."
Today, with the travel pie getting bigger and more players getting into the fray, the Shahs are aware that to stay in the same place they will have to run twice as fast. They are also very clear about their target audience. "There is a huge backpacking niche out there that is dying to explore the world. We are trying hard to address that niche," Yogesh says.
He adds that the key to succeed is also to offer newer destinations. "Earlier we would take our clients largely around Western Europe. Now Eastern Europe is opening up as a travel destination. Croatia and other countries are looking attractive as tourist destinations because they are cheaper, have not lost their rawness and throw up a lot of surprises."
Suchna says that they constantly try to innovate by organising lot of 'festival trips' across the world. "Festival of La Lomas, St Patrick's Day, Running of the Bulls," she rattles off names finishing the long list with Oktoberfest. "That is a very, very popular festival. We have a lot of people going to Germany around the time," she says.
Peak season for The Backpacker Co is between May and October. Yogesh says that they organise over a dozen or more group trips during this period. "Besides this, there are a lot of individuals looking to travel too. But standalone clients come to us throughout the year."
'Five principles to run your own start-up in such volatile times'
Last updated on: February 17, 2010 17:39 IST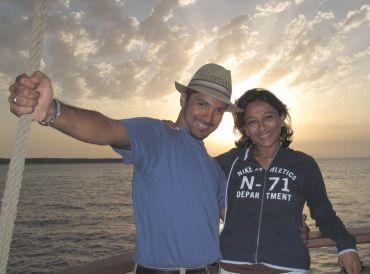 Speaking of solo travellers, Yogesh recollects an incident when he got a call from someone who wanted them to plan a trip for him for 150 days.
"At first I really didn't know what to say. I thought it was a joke. But it turned out he really wanted to go. So we planned a trip for him from Day one to Day 150!"
But clients such as these don't come by every day and Yogesh knows it best. He says their conservative spending has held them in good stead, especially during the downturn.
"We had already tightened our belts, so there was no way we could tighten them any more. Recession was somewhat difficult but we survived primarily because of our strict budgets," he says.
The Shahs now hope to expand sooner rather than later. They plan to set up offices in New Delhi, Bengaluru, Pune and Kolkata. "Most of our clients come from metropolitan cities such as these. So it makes sense for us to start setting up offices there."
In terms of destinations they plan to go full throttle with Eastern Europe and are also planning a trip to Finland.
When you ask Yogesh on what it takes to run a start-up in volatile times such as these, he spells out five principles:
First you need to be patient. If it's a start-up it won't take off immediately. Give it some time.
Two, believe in yourself.
Three, if something doesn't work, try doing it differently. You must constantly innovate to stay ahead.
Four, find a mentor in the industry who will guide you in the right direction.
And finally work hard. Cliched as it might sound, there really isn't any substitute for hard work."
And the Shahs' hard work is paying off. The young couple says they have been approached by venture capitalists keen on taking their start-up to the next level. Yogesh continues, "Funding will always be an issue, even if you are the biggest company in the country. The idea is to work around it. The lifestyle market is looking up and playing out. And we really hope to carve a niche there."