Photographs:
Rajesh Thakur/Outlook Group
If you love to look after people, bring a smile to their faces, cook them a nice dish, and give  them an experience to remember, then the hospitality industry may be the place for you. Every year, there's a need for 2.03 lakh professionals in the industry, says the Ministry of Tourism but only 18,000 hospitality graduates pass out, annually. Clearly there's a dearth of skilled professionals in this sector. With the Commonwealth Games in 2010 and several international hotel chains such as Carlson, Starwood, Accor and Marriott coming to India, both opportunity and exposure in hospitality is going to be staggering.
This sector is essentially divided into four broad functions: Food Production, where food is designed and created, Food & Beverage Service (F&B), where the guests' needs are looked after in a restaurant or in an office cafeteria, Front Office, that welcomes guests and tries to make their stay as hassle-free as possible and Housekeeping, where the staff sees that you feel at home in your room. In fact, the wellness industry that includes spa and fitness, is also becoming a popular service in hospitality.
Front Office, in demand
Food Production, where chefs work in smoky, steamy rooms was once a big attraction for many young people wanting to join the industry. But now young people prefer Front Office jobs and F&B service to Food Production. "Fifty-five percent of our students went for Front Office jobs," says DD Sharma, head of department, Institute of Hotel Management (IHM), Delhi. This tilt  towards Front Office and F&B is because of the ample opportunities that are present in the service sector.
Soft skills acquired by Front Office executives such as communication and managerial skills also double up as skills required in customer relations, business development, human resource function, sales and marketing. In fact, banks, hospitals, telecom and BPOs are recruiting hotel management graduates in large numbers, says Anita Sharma, senior faculty and placement coordinator, IHM, Catering & Nutrition, New Delhi. Over the years, hospitality has extended beyond hotels and restaurants and has become integral to the service sector.
There's also the incentive of better salaries and a less strenuous working schedule. Food Production is labour-intensive points out Mr Sharma of IHM. Sameer Sharma, a hotel management (HM) graduate, agrees. "There are heavy crates to be picked, sacks of onions and potatoes to be carted, and working hours could stretch to 12 to 16 hours a day." On the other hand, Front Office has regulated working hours and industries such as telecom and banking, pay well.
Where's the money?
Although chefs and general managers are paid in lakhs, a fresh HM graduate may have to start with a leaner package. NS Bhuie, director, Studies, National Council for Hotel Management and Catering Technology, admits that the pay is average. Fresh HM graduates, as management trainees get a stipend between Rs 7,000 to Rs 15,000, which goes up to Rs 26,000 after the completion of the training at a hotel, which is usually two years. In comparison, industries like  BPOs pay a fatter take-home to fresh graduates, says a recruiter.
"Forty per cent of students who do hotel management join other service industries," says Sudhir Andrews, dean, Ecole H teli re Lavasa, a hospitality management institute in Pune. Hotels are already feeling the pinch, he says. But a senior manager at one of the top Delhi hotels says that salaries have gone up by more than 60 per cent in the past few years.
Long working hours
Hospitality is a round-the-clock function; it's a 24x7, 365 days-a-year job. In fact, when the whole nation is off on August 15, the hospitality industry is buzzing, says Ashima Sukhani, public relation executive of ITC Hotels. And as room service and coffee shop kitchens are open 24 hours, working hours go up to 18 hours. But KS Srinivasan, vice-president, HR, Taj, Mumbai, doesn't see working long hours as a drawback at all. "Just look at the experience you get after working in this industry for two years. You get scrubbed and polished and after two years you shine!"
Manager or waiter?
While hotel management institutes prepare students for a managerial role, the industry wants to hire them as waiters. Both sides have their arguments. Jay Rathore, general manager, The Oberoi, New Delhi, says that while he picks graduates, they start at the staff level. "People expect to do managerial or supervisory jobs right away, but I ask them 'are they prepared to manage 25 people?' With no experience how can you lead 25 people, how can those 25 people look up to you for career and advice?" While the industry needs people with managerial qualities, it's only after a few years that young graduates can step into that role. "People have to walk in with the right attitude."
In this week-long series, we will look at the opportunities in the Hospitality industry -- Front Office, Food Production, Food & Beverage, Housekeeping and Wellness -- and how you should go about plotting your career.
Can do, will do!

No job is big or small. Period. You must have a positive outlook, always, says Anurag, a butler with ITC. "You have to anticipate the needs of your guests and how else can you do that if you do not love your work?" asks Srinivasan. Both faculty and recruiters rue that young people want to jump up the ladder. "You cannot fast-track in this line of work. The only way to do it is by working hard and being very good in your work; that comes with years of hard work," says Srinivasan.
The work pressure is high and there are occasions when you may be shouted at by a senior. "Either you look at it as a punishment or an opportunity to learn," says Anuj Burman, an HM student aspiring to be a chef. The same people who shout at you are the ones who reward you as well, says Prerna Kapur, first year HM student. "This is no ordinary industry. You have to be motivated, passionate and energetic and it has to come from the heart," says Rathore.
Opportunities galore
There are jobs available on land, at sea and in the air. You could work at hotels, organisations such as MindTree, Maruti Suzuki, in hospitals, the retail industry, defence establishments, banks and even the insurance sector. Within the hotel industry, there are options of joining HR or sales and marketing. In fact, hospitality is an indispensable function in every sector, points out a CEO of a large firm. "When I go for business meetings to companies like Infosys, right from transport to putting me up in their guest house to looking after my lunch and dinner is taken care off by its hospitality department."
Also, there's a demand for outsourcing managers as most corporates and hospitals outsource their support services and need a person with management skills and a good understanding of the hospitality industry to manage Food Production, F&B, Front Office and Housekeeping. "These make for support services in a hospital and it comprises 30 per cent of the total staff strength of a hospital," says Dr K Prabhakar, senior vice-President, Corporate, HR, Apollo Hospitals, Chennai. In fact, hospitality graduates are in great demand abroad, especially in the Middle East and the UK where Indian food is very popular.
Behind the glitz
Once in the industry, you could be shaking hands with Rahul Gandhi or taking pictures with Sachin Tendulkar and Katrina Kaif, but don't forget there's work to be done too, says Rathore. Many come here thinking that it's a glamorous job. But it's not always so, says Kunal Pahwa, manager, Bukhara, ITC. Yet students seem keen on hospitality.
According to the IHM faculty, every year more than 60,000 students appear for the entrance exam. And the numbers are going up. Of course, the hospitality industry has its own charms, says Rathore of Oberoi. "No other industry offers such a refined working environment and dignity. Hospitality is not a job, it's a lifestyle."
How to enter the hospitality sector

A snapshot of entrance exams and trends:
Admission info
The admission to the programme is done through the Joint Entrance Examination (JEE). Candidates can get admission in 21 central institutes of hotel management, eight state government institutes of hotel management, 12 private
institutes of hotel management affiliated with the National Council of Hotel Management and Catering Technology
and five Food Craft Institutes located in different parts of the country.
There are approximately 6,000 seats combined in all these institutes for admission to BSc Hospitality and Hotel Administration programme. In all, there are 41 institutes in the country that are affiliated with the National Council of Hotel Management and Catering Technology.

Eligibility criteria
Pass in 10+2 or equivalent examination with English as a subject. Those who are appearing for class 12 exams
in 2010 can also apply.
Also a candidate should not be more than 22 years of age (25 years for SC/ ST) as on July, 1, 2010.
Selection for PG programmes is merit based.
Tentative dates
Date of entrance examination: May 2nd week, 2010
Availability of application forms: February 3rd week, 2010
Last date for receipt of completed application forms: April 2nd week, 2010
Declaration of results: June 1st week, 2010
Please note that the dates are only tentative and are not final.
Exam pattern
The paper will be of three hours' duration consisting of multiple choice questions divided in the following sections:
Numerical ability and scientific aptitude: 30 questions
Reasoning and logical deduction: 30 questions
GK & current Affairs: 30 questions
English language: 80 questions
Aptitude for service sector: 30 questions
There will be negative marking up to half a mark for all the sections except aptitude for service sector.
Dearth of trained professionals in India
Today, hospitality education is a coveted career and the National Council receives four times more applications than its fixed intake. India has nearly 150 institutes in the approved category, both in the government and private sector. And there are 25 craft-level institutes, which impart short courses. Hospitality institutes produce 14,000 graduates, of which 4,000 are diploma and certificate holders. So, 18,000 trained professionals are produced every year, 22 perscent at the skills level and 78 per cent at graduate level. A survey by the Ministry of Tourism indicates that there is a demand for 2.03 lakh trained hospitality professionals every year of which 66 per cent is at skill level, and 34 per cent at managerial level.
The Tourism Ministry has developed a  master plan to increase intake in existing institutes. More craft and skill-level programmes have been introduced, while hospitality education has been broad-based to include hospitality vocational courses at ITIs, polytechnics, at 10+2 stage of CBSE and introduction of specific tailor-made skill testing and certification programmes.
Further, the Certified Hospitality Trainer Programme aims to provide employment to meritorious students at IHMs from within its system and honouring them with the best of wages the industry has to offer. By the end of the 11th five-year plan, the target is to have 49 Institutes of Hotel Management and 31 Food Craft Institutes, plus a tourism management centre in the south.
But there's a need to standardise the quality of hospitality education. And, students must be cautious of some of the hospitality institutions in the private sector before seeking admission in them.
Hospitality education around the world
Merril Diniz
American chef, the late Julia Child moved to Paris in 1948, a restless homemaker, looking for a purpose in life. On a whim she joined Le Cordon Bleu, a household name in the world of culinary education, and eventually went on to launch a cookery show on TV and pen a book, which made French cooking accessible to the world.
Would Ms Child's culinary talent have unraveled in any other destination in the world? We will never know. But choosing a country, which boasts quality hotels, restaurants and spas, will give you an opportunity to intern with the best places. "Singapore is an interesting choice of location, because it is focusing on tourism," observes Shivani Manchanda, a career counselor for the last 18 years and director, CareerTrack. For instance, The Tourism Academy @ Sentosa immerses the students in the resort experience through its two-year full-time diploma programme.
Education tradition
Countries like Switzerland are traditionally renowned for their topnotch hospitality programmes. With approximately 5,600 hotels and more than 35 million guests every year, it has ensured quality schools, here. The Swiss Hotel Schools Association (ASEH), a major body, ensures high standards of professionalism in the hotel schools, Shivani points out.  "The Swiss have a long tradition of innovation and skill-based training and this has resulted in the alumni reaching successful positions internationally," she adds.
Internship-model schools, is another traditions, which allows a student to work and learn, alongside. For instance, the Cornell University campus houses the The Statler Hotel & JW Willard Mariott Executive Education Center. Hence, it's like a "laboratory for students on campus which offers state-of-the-art equipment and a real-life hotel to practice their skills," says Shivani.
Glion Institute of Higher Education in Switzerland also has a very strong internship model.
The cost
On an average, a graduate programme will cost between Rs 8-15 lakh per year, including tuition and boarding. Is it worth it? "If you want to make a specialised career of it, it's worth considering for all the innovative practices and professional competency-based courses," shares Binita Kohli, owner of Paceweddings.com, Delhi. Kohli, with a Bachelor's and Master's from Switzerland, specialised in wedding planning and event management from an American institute.
"Now, if you need to mortgage your house to afford this amount, it's a good idea to do an undergraduate programme right here in India, and then work here for some time before you proceed to do a post-graduation abroad," advises Shivani.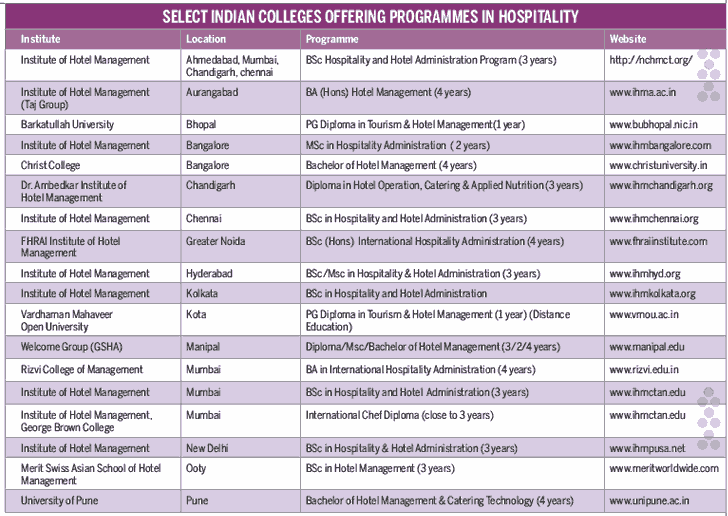 Hospitality specialist
There are several specialisation courses to be done as hospitality has diverse function areas. For instance, the School of International Hotel & Tourism Management, Switzerland offers electives such as casino management, bar management and cruise line management. "The Sierra Nevada College, USA, offers a four-year Bachelor's degree in Ski Business and Resort Management, a very niche area," says Shivani.
Chefs may aspire to become professional chocolatiers, specialise in a cuisine or master culinary areas such as patisserie. Some institutions that offer such courses include Le Cordon Bleu in France (which has campuses across the globe), Institute of Culinary Education, New York and the Texas Culinary Academy. Specialising will help you elevate your knowledge and skills in your area of interest, to a whole new level of excellence and expertise.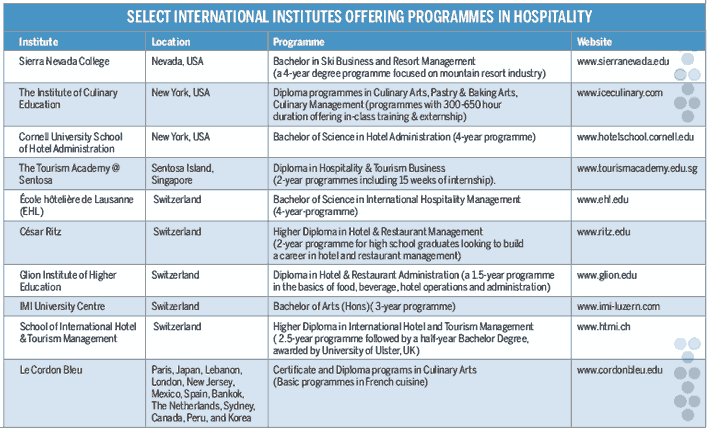 Internships, placements, extra perks
When choosing a programme, especially at the graduate level, explore if the institute offers internships. For instance, the Les Roches, International School of Hotel Management in Switzerland requires students to do three internships in the second, fourth and sixth semesters of the eight-semester programme, and students intern with world-class hotels such as the The Ritz-Carlton, Four Seasons and Shangri-La.
Some institutes offer a job-hunting module, which includes resume writing, interviewing skills and marketing yourself to the industry. For instance, EHL runs an online job platform for alumni with a searchable database of current jobs in the industry, says Shivani.
The IMI University Centre, Switzerland, besides offering an online alumni database and careers fairs, also helps with campus recruitments. Also, check for institutional visits to hotels, resorts  and learning new languages. Sniff out those perks!
A word of caution
"Many hospitality management institutions are managed by private providers and not much benchmarking exists in it yet," observes Shivani. So, it's a good idea to check with well-established professionals and alumni, and get their opinion before joining a school.