Travel: A road trip to remember
Last updated on: July 12, 2010 18:19 IST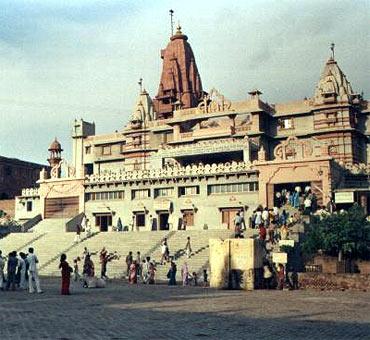 Reader Chandni Moudgil shares with us her memories of the road trip she took to Agra from Delhi.
It was sometime in January last year that we made the most of an extended weekend by planning a road trip to Agra.
I've been to the city of the Taj Mahal many times, but the city, like old wine, gets better with age.
Amongst other things, this beautiful city can safely boast its handmade footwear, lip-smacking petha (a traditional Indian sweet) and a heritage that dates back to the time of Mughals.
So we started off early one morning from Delhi making our way through the dense fog. Agra was 204 km away.
Mathura-Vrindavan
Our first stop were the twin-cities of Mathura and Vrindavan. About 47 km before Agra, these cities are known as the birthplace and home of Lord Krishna.
The ISKON temple here offers much more than spiritual enlightenment. The sweet lassi, kachori and puri bhaji are just some of the dishes that one cannot afford to miss.
Another place worth a visit while you are here is Govardhan parvat. It's believed that if you circle the temple a certain number of times barefoot, your wishes will be granted.
Tempted as we were, we decided to give it a pass and head for Agra instead.
Agra's ageless allure
Last updated on: July 12, 2010 18:19 IST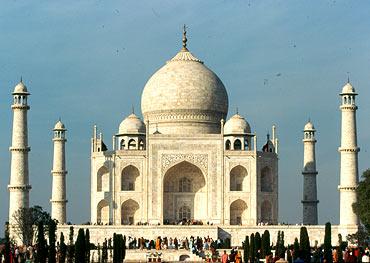 Since Agra gets its fair share of tourists, there is no dearth of places to stay. We stayed at Taj Khema essentially because it's practically walking distance from the Taj Mahal.
The rooms are created like tents hence the name khema (an urdu word that means tent). Open and spacious, Taj Khema is a great option for a comfortable January stay.
There is a Taj View Point so you can enjoy the splendour of the Taj Mahal over a cup of coffee and some warm breakfast on a foggy morning.
The Taj Mahal
A lot has been written about the monument itself, and while it wasn't my first visit, I've never really understood why it's rated as one of the most beautiful monuments of our times. I think any place becomes special only because of the way you feel when you are in it and more so if you can share it with someone special (but that's just me).
If you are on a guided tour of the place, and are closely observing the intricate patterns of the Mughal architecture, don't forget to appreciate the most amazing views of perfectly manicured lawns sprawling on one side and the quiet Yamuna waters running on another...if you could only freeze this moment forever.
Fatehpur Sikri: A masterpiece in red sandstone
Last updated on: July 12, 2010 18:19 IST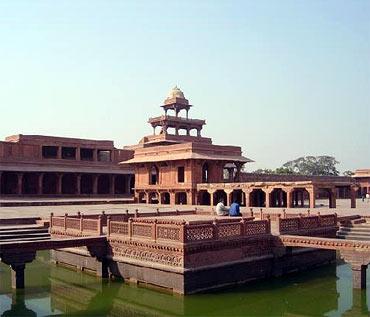 Built by Emperor Akbar, Fatehpur Sikri is a few hours away from Agra. Believers from across the world come to pay tribute to the Mazar (tomb) of Sufi saint Salim Chishti.
There is a shortcut from Agra that bypasses the main highway to Delhi and takes you to Fatehpur Sikri, which is a well-preserved town in itself.
Once a full-fledged city, it is believed that Fatehpur Sikri was abandoned some years after it was built due to shortage of water and supplies. Now a World Heritage Site, this compact township is up on a hill connected only by local transport -- one has to park one's own vehicle downhill.
The Panch Mahal and the Buland Darwaza that enclose within them the famous Mazar of Saint Chishti showcase Mughal architecture brilliantly.
If you happen to have an enthusiastic guide like ours was, chances are you will be told a lot of fascinating tales -- like that of Anarkali escaping when she was being buried alive in a wall.
The highlight of the day for us, however, was the palace of Jodhabai. We had to visit this place essentially because of the hype that the epic movie Jodha Akbar created.
After that we started off on our way back home wading through the impossible highway traffic. The Taj Mahal and Fatehpur Sikri were now behind us. And the promise of another road trip lay ahead...