Why you must not change your health insurer midway
Last updated on: July 13, 2010 08:24 IST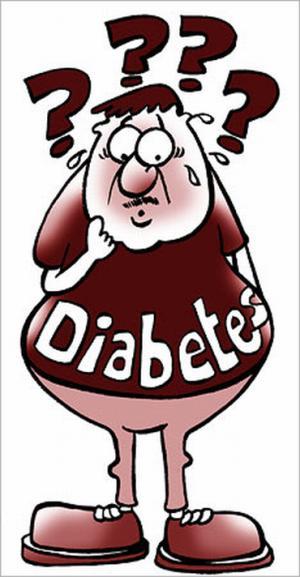 Have a query regarding health insurance or mediclaim policy? Maybe we can help.
Drop us a line and our expert, Harsh Roongta, CEO of Apnapaisa.com, will answer it.
Please write to us at getahead@rediff.co.in with the subject line as: Health insurance query.
---
Please help me to choose perfect health insurance for my family, because I don't have any idea about any health related insurances. There are lots of insurance companies in the market. I am so confused to make any selection because whenever I inquire I get incomplete information.
Here are my details
My age: 35; Wife's age: 32; Daughter's age: 4; Father's age: 65, Mother's age: 58.
My wife has high blood pressure and I need insurance mainly for her. Please guide me.
Harsh: There are a few things listed below which you should look before buying a health insurance policy:
Policy renewable up to: It is a known fact that it becomes difficult to get a fresh policy as your age increases just when your need is the highest. Hence the maximum age, up to which the policy could be renewed, is very important.
Premium increases in later years: Insurance companies have different pricing strategies and depending on your age the premium is different. So it is advisable to look at not just current premiums but also future premiums.
Permanent and temporary exclusions: Most policies exclude hospitalisation expenses temporarily or permanently for a whole lot of diseases or treatments. This is different for different companies. You should look at the policy workings to get a sense of what is permanently or temporarily excluded.
Co-pay and sub-limits: Some companies have sub-limits for different heads (say doctor's fees is limited to 25 per cent of the sum assured), which can have an impact on your claim. Some companies require you to partially meet the cost of every treatment (co-pay). Both restrict your claim amount and hence should have an impact on your decision.
Coverage of pre-existing disease: Different companies cover pre-existing disease in separate ways. Some will cover it after 2, 3, 4, or 5 years. Also, some put in an additional condition that during these 2, 3, 4, or 5 years there should have been no claim on the policy. Some others also put in a condition during these 2, 3, 4, or 5 years, no case or treatment should have been done for the pre-existing condition for it to be covered. This is relevant if you have any pre-existing disease at the time of taking the policy.
Individual policies for family members versus family floater: We strongly recommend an individual policy for the reasons mentioned in detail on the link here: http://www.apnainsurance.com/health-insurance-india/indiviual-floater.html
For yourself, your wife and your children you can choose between:
For your parents you can choose between: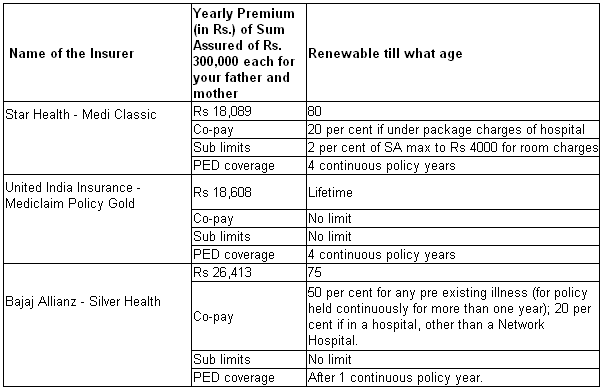 You can also consider buying health insurance policy from New India Assurance and United India Insurance for your wife. New India covers all the expenses arising out of diabetes in the third year to an extent of 50 per cent in third year, 75 per cent in fourth and year and 100 per cent form thereafter after payment of an extra premium.
In case of United India, they will not cover diabetes directly, but they will cover other complications which doesn't have a direct bearing to these illnesses on payment of extra premium.
You can visit http://www.apnainsurance.com/health-insurance-india/compare.html where you will get information about most of the health insurance products available in the market and it will help you to choose the best product for yourself and your family.
Click NEXT to read more.

Apnapaisa is a price comparison engine that allows consumers in India [ Images ] the ability to compare the EMI, interest rates and other fees for home loans, car loans, personal loans, business loans, credit cards, compare online quotes and features of life insurance, health insurance, car insurance, travel insurance and other general insurance policies in India.
Why you must not change your health insurer midway
Last updated on: July 13, 2010 08:24 IST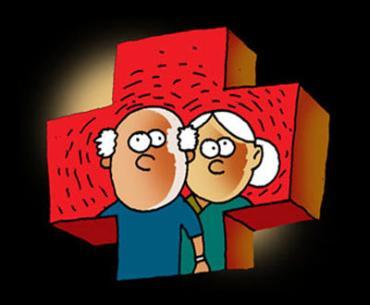 What can I do if my health insurance claim is denied? What are the major exclusions? What returns I can have at the time of retirement?
Harsh: While denying your claim, the insurance company will mention the reasons under which the claim was denied. You need to verify with the policy fine print while buying the policy in case of a new policy or at the time of renewing the policy for an old plan. If you are not satisfied by the claim denial then you can approach the insurance company by putting in a complaint on their official website. In case of no response or unsatisfactory response within four weeks, you can approach the insurance ombudsmen and they will look into the same.
Exclusions generally differ from one insurance company to other. You can get the details of the same when you buy the insurance policy. There are a whole host of exclusions but generally costs arising out of pregnancy, AIDS and related diseases, nuclear radiations, self injury, under the influence of alcohol form some major exclusions.
Most health insurance policies  (mediclaims) are pure risk cover policies where you don't get any maturity value at the end of the tenure. There are some unit linked health plans as well but they are not the expense reimbursement type of plans and hence cannot be a substitute for regular mediclaim policies.
I am interested in mediclaim health insurance. Would prefer to go for family plan having coverage of Rs 3,00,000. Please suggest best health insurance plans in the market. Please also suggest if any plan covers adenoids and tonsils operation from Day 1.
Harsh: We would advise you to go for individual plans for every family member rather than going in for a floater plan. Please not here that any plan would cover hospitalisation only if admitted for more than 24 hours (unless it is approved day care procedure) and the disease is not pre-existing in nature. If the disease is pre-existing in nature then, the insurance policy will not cover it for a certain period of time ranging from 3 to 4 years.
If companies are not doing any medical check up before issuing policy then how will they know whether any disease is pre-existing or not? When we send them claims for any hospital expense they inform us that this is pre-existing but while issuing policy they do not do any health check up. Then on what basis can they reject our claim citing pre-existing diseases? What to do in this case?
2.Whom to contact in case any insurance company rejects claim?
Harsh: At the time of the claim the insurance companies check the case history papers of hospital where the doctors from the hospital ask the patient about any existing diseases. The insurance companies also have a panel of doctors who then go through all the papers and reports to determine whether the disease is pre-existing or not and the claim is rejected on that basis.
Insurance policies are based on the concept of Utmost Good Faith, where you have to disclose to the insurance companies about any pre-existing diseases. You need to officially lodge a complaint to the insurance company at the time the claim is rejected. In case you don't get any satisfactory answer from them, you can approach the insurance ombudsman. Please note that diseases arising from a pre-existing disease (say kidney failure where pre-existing disease was high blood pressure) are also treated as a pre-existing disease.

Why you must not change your health insurer midway
Last updated on: July 13, 2010 08:24 IST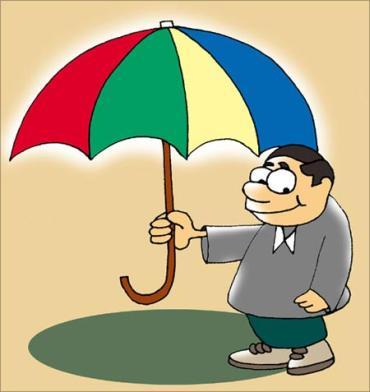 I have purchased Realiance HealthWise from Reliance General Insurance Co.Ltd., 570, Naigaum Cross Road, Next to Royal Industrial Estate, Wadala(W), Mumbai, Maharashtra, Pin-400031.
 
This is for wife, my daughter and me. I have taken a cover of Rs 3 lakh by paying annual premium of Rs 2,860 up to the age of 35. Have I chosen a correct policy? Also, is it possible for an health insurance provider to increase the premium on year on year basis?
Harsh: Reliance HealthWise is a good policy where there is no sub-limit and no co-payment. Pre-existing diseases are also covered after 2 continuous policy years. It is renewable up to your reaching the age of 75.
Health insurance unlike a life insurance policy is yearly renewable policy, where you have to renew the policy every year. The insurance companies can increase the premium at the time of renewal of the policy as per the details given at the time of the policy was issued.
Typically most companies provide for an increase in premium when you reach a certain age say 35 years, 45 years, 55 years, 60 years etc. Additionally some companies have a clause in the policy that allows them to load (increase) the premium if you claim on the policy are at a certain level in a particular year.
I have a family mediclaim policy since last four years from ICICI Lombard. I am 42, my wife is 36 and son is 11. The premium for two years is approx Rs 13,000. I have taken claim in the first year for Rs 30,000 approx for my wife's hospitalisation. Can I change the insurer? If yes what are the losses or benefits? Is Rs 13,000 for two years too high or okay?
Harsh: You can certainly change your insurer but it may not be advisable as certain things you need to keep in mind before changing the policy. Once you take a new policy then all the pre-existing diseases will not be covered under the same for 3 to 4 years depending on policy to policy. In case of ICICI Lombard, you have already spent two years with the company (assuming), then all your pre-existing diseases will be covered after two more years in any case your wife's illness occurred after you took the policy is covered already.
Also, the mediclaim policy offered by ICICI Lombard is quite a good plan with no sub limit and no co-pay. It is renewable up to the age of 75 years. Thus, buying a new policy would not be great move. Since history is very important in a mediclaim policy.
I have a mediclaim policy from ICICI lombard. In case of an emergency if I am not able to get admission in the company's network hospitals and get admitted to other hospitals in the city then will the expenses there be reimbursable if I produce the bills?
Harsh: You can file for reimbursement of your entire hospital bill after discharge from hospital along with the original bills from the hospital. ICICI Lombard will reimburse you the bill amount if the claim is made as soon as possible. You can also submit the claim quickly after discharge. Make sure that you (or your relatives) intimate the insurer about the impending claim as soon as practicable after you are admitted. This will ensure that your claim process is handled more smoothly.