The dating series: Hazards of wooing a model!
Last updated on: July 21, 2010 18:49 IST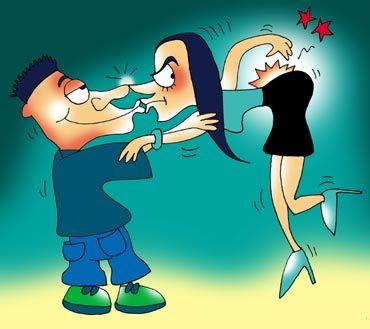 As part of a light-hearted series, we bring you the lowdown on love in a truly unique fashion.
So, you're back are you?
For the uninitiated, this is where we bring you the dos and don'ts of the love game broken up into different career choices each week (want to know the hazards of dating a journalist, namely us? Click here!).
For the initiated -- if you've got any complaints, lighten up! Where's your sense of humour?
And hey, like we mentioned before, keeping in mind just how your partner's occupation can bite you in the butt may serve you well. So this week, we bring you: The Hazards of Dating a Model.
Why? Because we want to.
See, in our line of work, you get to observe the beautiful people upclose and firsthand. Then you wish you were one of them. Or even better, you wish you were with one of them. But while it may work in theory, you need to keep a few things in mind when it comes to dating a catwalk queen:
1. That difference in height? It matters a wee bit
Oh, we've had our share of coming face-to-knee with leggy lasses in our time. It's practically tradition to blow air-kisses at them from somewhere so far below their line of sight that there's a noted difference in temperature ('Oh, is this from Rocky's fall-winter line? But dahling, it's positively sweltering today! No? Not up there?').
So we're exaggerating just a wee bit, but then how many times have you cracked a smile at the vertically-challenged millionaire and his 6'1", positively stunning fiance? When she bends over to kiss him, it's all she can do to plant those luscious lips on his bald spot. And when she's walking beside him, that's all she can see of his head, really!
'You're just jealous,' you scoff.
Of course! But this scenario is as real as can be. And if Girlfriend Gangly happens to run into a few of her galpals from the fashion world, well, you can expect to just about drown in the jungle of tall limbs that will crowd you.
If, in spite of all of this, you're deeply in love and determined to make things legal, we have just one last bit of advice. Have someone bring a stool to your wedding so you can manage to kiss her over the wedding cake without falling into it.
2. It'll be celery for lunch and soup for dinner!
Last updated on: July 21, 2010 18:49 IST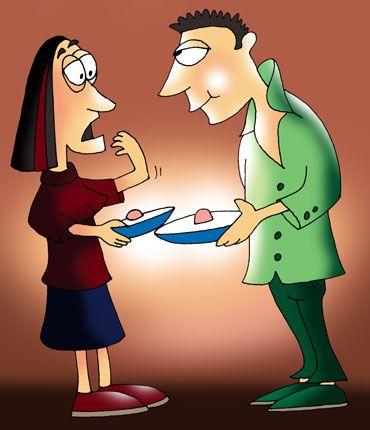 You know all that talk about 'high metabolism' and 'I can eat anything I want'?
Turns out, not so much.
Sure, it holds true for a few models, but not all of them. Size zero comes from eating roughly about the same amount!
And what kind of girlfriend will you look like if you're stuffing your face with steak while your lean, mean, fighting machine of a boyfriend shows off his disciplined eating habits by digging into a bowl of alfalfa sprouts?
Sigh. It's a fate worse than death -- healthy eating for the rest of your life. Some of us can cope with that kind of devastating pressure, some of us can't. And if you're dreaming at night of a juicy hamburger, you may accidentally sink your teeth into...hmmm? Let's not go there!
On the bright side, he'll be crying tears of joy when you present him with that super sub sandwich on his birthday. And maybe you don't need that stool for the wedding cake -- 'cause you know you won't have one!
3. You better make your peace with a dare-to-bare attitude
Last updated on: July 21, 2010 18:49 IST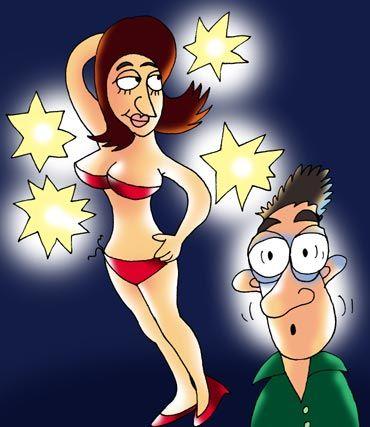 Ever had the dream where you're at a party wearing nothing but your underwear while everyone around is impeccably dressed and staring at you?
Let's tweak it a wee bit -- you're impeccably dressed too, but your girlfriend is in nothing but lingerie and the flashbulbs are going off like nobody's business. And oh yeah, it's not a dream -- it's really happening. She's walking the ramp in a two-piece.
It goes with the territory in this business. Your body is on display, after all and if you're a professional, you'll jolly well put on any outfit you're told to -- or someone else will!
So all you insecure, that-skirt-is-too-short types had better forget about dating a model. You can't cover up every lecherous old man's eyes in the audience at a fashion show -- all you can hope for is that the sight of sultry young women in bikinis will give him enough palpitations to get up and leave midway!
4. You gotta party hard!
Last updated on: July 21, 2010 18:49 IST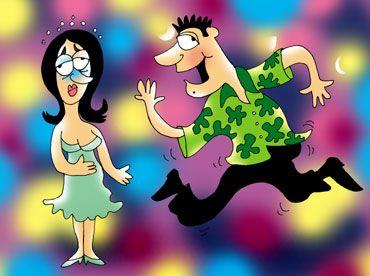 The fashion fraternity loves a great party. After just about every showing.
Besides the fact that parties are fun, they're also a great way of networking and getting to know other people in the business. So if your hunky boyfriend wants to get noticed by the chief editor of a leading glossy, he just may want to boogey down all night until he catches the ol' bat's eye.
You, in the meantime, will be wishing for your teddy bear PJs by 10 pm, because those reports are due on your boss' desk at 8 am tomorrow morning. Hunky Boyfriend, on the other hand, can sleep till noon and when you wake up all groggy and hung-over from last night and see that he's still far away in La-la-land, you'll have a good mind to give him a swift kick in the -- er -- unmentionables.
And the next night will be a repeat of the same thing all over again. So while your partner is all fresh-faced and rested in spite of the hectic schedule, you'll start looking as wilted as yesterday's salad plate. Which may go down well with him, though, because that's all he probably eats.
5. They're just too darn good-looking
Last updated on: July 21, 2010 18:49 IST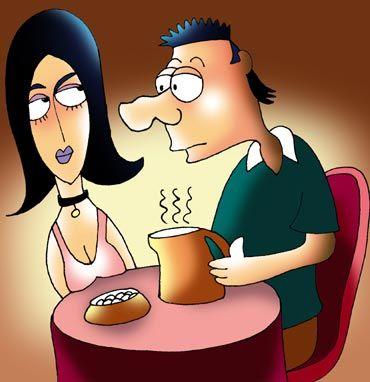 This may sound petty, but stop to think about it -- you're still looking like yesterday's salad plate and in comparison, your gorgeous girlfriend is as fresh-faced as a flower and eliciting admiring and envious looks at the mall.
You know what they're thinking -- 'How'd she wind up with him?'
'He must be loaded.'
'Maybe he's her cousin.'
Argh! Enough already! Before running all the way to the cosmetic surgeon, though, take a deep breath and stop to consider. There must be something, right, (besides the bald patch) that she sees in you? She's taking your hand, smiling, pulling you towards one of the stores -- and slowly, the critical looks, the fact that you're a full foot shorter, the single-sided sandwich lunch, the lack of sleep, the bald patch -- all of it fades into oblivion. Well, maybe not the bald patch so much, but you go with the flow.
To hell with the world, you think -- I'M DATING A MODEL AND YOU'RE NOT!