How mediclaim helps protect your family
| | | |
| --- | --- | --- |
| | | |
Have a query regarding health insurance or mediclaim policy? Maybe we can help.
Drop us a line and our expert, Harsh Roongta, CEO of Apnapaisa.com, will answer it.
Please write to us at getahead@rediff.co.in with the subject line as: Health insurance query.
---
I have two mediclaim cashless policies from ICICI Lombard (one for myself & other for my wife along with one son) and both policies have completed four no-claim years. Each policy allows a claim of Rs 3,45,000 per year as the policy is for two years' term with a premium of approx Rs 7,000 for 2 years and also covers almost all diseases what they say. So, my question is that 'Is it advisable to continue with the same policy for 5th + 6th year or not?'
Now my age is 39, wife's 32 & son's 5. And secondly I want to buy a mediclaim policy for my parents whose ages are 70 & 65. So, which policies will be suitable for my parents and what should be the premium & procedures! And yes, my father is a diabetic patient. Kindly suggest for both of my queries.
Harsh: We would suggest you to continue your mediclaim policy with your current insurer for the below mentioned reasons:
Pre-existing disease coverage: All your declared pre-existing disease will be covered under this policy as you have completed four policy years. If you change your insurer, then your pre-existing may not be covered for the same year. History of no claim is very important. Do not lose it by shifting insurers.
For your parents, we would suggest you to go for special policies, which are meant specially for senior citizens.
Since your father is a diabetic, getting a policy for him at this age would be very difficult. You may still try the following plans for him.
For your mother, you can opt for the following policies:

Apnapaisa is a price comparison engine that allows consumers in India the ability to compare the EMI, interest rates and other fees for home loans, car loans, personal loans, business loans, credit cards, compare online quotes and features of life insurance, health insurance, car insurance, travel insurance and other general insurance policies in India.
Photographs:
Rediff Archives
How do pre-existing diseases affect my claim?
I
am
an IFFCO-Tokio Medishield policy holder. I am 56 years old. The policy says that such claims are excluded where a pre-existing disease for which any medication being taken. I have just above normal cholesterol and triglycerides. As a precaution I am taking medicine (very low dosage) for the last 5 years.
In case of any hospitalisation happens which may be related to cholesterol and triglycerides, will the claim be rejected by IFFCO-Tokio? Do you suggest any other policy from any other agency?
Harsh: In case of the health insurance policy of IFFCO-Tokio, your pre-existing diseases won't be covered as you have been under medication for the said disease before buying the policy. IFFCO-Tokio doesn't cover pre-existing diseases for which medication is taken. We would thus recommend you to shift your insurance policy, where you can get these diseases covered after some point of time. If you declared it and the normal policy has been issued, then any diseases caused by your high cholesterol / triglycerides.
You can choose from the following policies: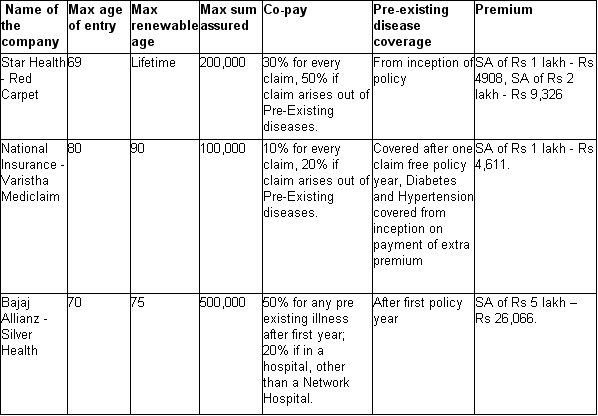 At 43, what is the best policy for me?
I live inb Bahrain. Kindly guide me on the best mediclaim policy for myself & family. My age is 43. My wife is 33, daughter is 11 years old, son is 3 years old.
Harsh: Any mediclaim policy available in India can only reimburse you for treatment in India. So in case you buy a mediclaim policy when you are located outside India, then for any treatment you will have to come to India. So we would suggest you to buy a health insurance policy in Bahrain.
You should consider buying a policy in India when you return to India.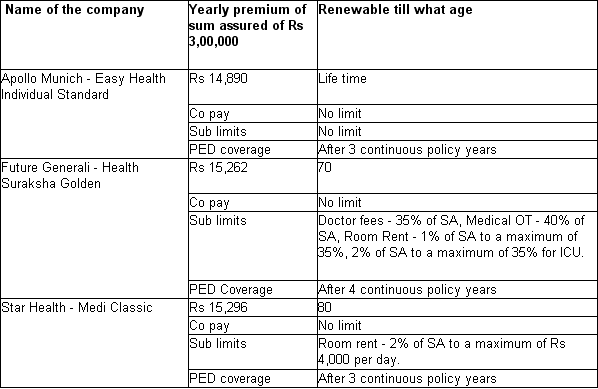 How do we decide on the insured amount?
I have 2 questions with respect to selecting health insurance policies:
I am 34 years old and my wife is 33 years old. We have health policies from our respective companies.
1) What is the difference between PSU health insurance providers and private health insurance providers? I ask this from perspective of stability of the insurance providers and how badly it can affect policyholders and ease while claiming? In case the premium is same or mildly different for a particular policy, does it make sense to go for a PSU rather than a private insurance provider? Deviating a bit from health insurance, does the same logic stands for life insurance also?
2) On what basis should we decide the assured amount of insurance which should suffice our need?
Harsh: Firstly, we would recommend you to buy individual policies for yourself and your wife. The policy, which is being offered by your companies, ceases to exist once you leave your job or on your retirement. At that point of time, it may happen that getting a health insurance would be difficult as health conditions may not remain stable.
Unlike life insurance, no objective data is available regarding claims accepted and rejected or partially accepted by various health insurance companies. Similarly it is not possible to provide any objective criteria for service standards of an insurance company.
The sum assured can be decided based on the number of family members you need to cover under the policy and their age. You also need to estimate the cost you expect on the treatment in case of any hospitalisation and the amount of premium you are willing to pay. While calculating the cost of hospitalisation would, you should keep in my mind the city you are staying, the hospital you would like the treatment to happen and various other factors while hospitalisation.
Given the rise in hospitalisation costs it is essential to have a cover of at least Rs 3 lakh each for every member in the family. Visit this link to understand why you should preferably go in for an individual cover for each family member and not a family floater. http://www.apnainsurance.com/health-insurance-india/indiviual-floater.html
Below are a few policies which you may choose for yourself and your wife: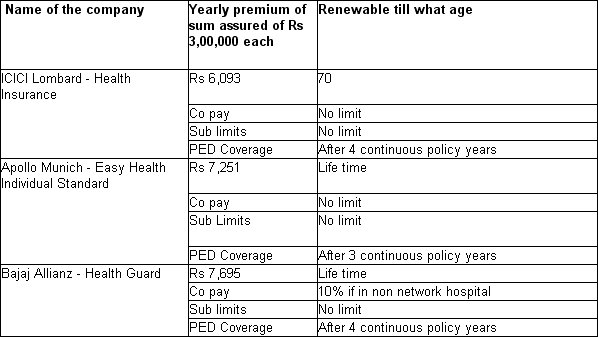 Till what age is my policy renewable?
My friend recommends Bajaj Allianz General Insurance Company's Individual Health Guard Policy for me, my wife and daughter.
1) Is it a good policy?
2) It is renewable up to what age?
3) I am told that I've to bear 10% of the cost if I get treated in a non-network hospital.
4) Are they costlier than other insurers (i.e. higher premiums)?
5) My friend tells me that their claims settlement is quick and the staff is very helpful. Is it so?
I sincerely thank you for your valuable inputs and help.
Harsh: Bajaj Allianz Health Guard will offer you renewability till 70 years of age. It doesn't have any sub limit. There is a co-pay of 10% in case you get admitted to a non-network hospital.
You can compare this plan along with some other plans here
We have assumed your age to be 35, your spouse 33 and your daughter to be 6.
As far as claim settlement is concerned, no objective date is available regarding speed of claim settlement from any statutory source.