Apple's latest: iMac, Mac Pro, LCD Cinema Display and more
Last updated on: July 30, 2010 14:47 IST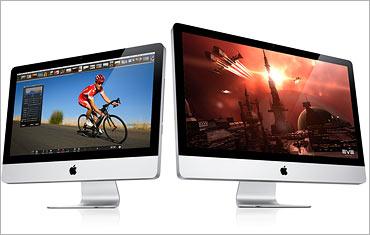 Apple has launched its all new Mac Pro, iMac, and LED Cinema Display products, thereby completing its lineup refresh of 2010.
What is perhaps the most interesting new feature of this new lot is the choice of AMD ATI discrete graphics for the Mac Pro and iMac.
iMac
Upgraded with 'faster graphics and a new processor architecture', the new iMac is available in two models: 21.5-inch and 27-inch, each with its own processor (sticking with Intel), graphics (now with AMD ATI), and storage configuration options.
Bundled accessories include:
Apple Wireless Keyboard
Magic Mouse
Cleaning cloth
Power lead and
Install/restore DVDs
Prices start at $1199.
Find detailed specifications below: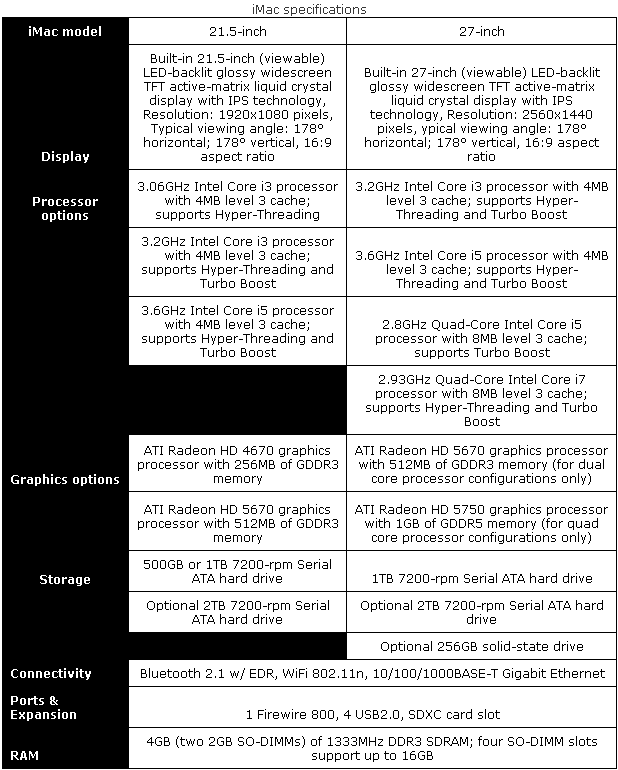 The 27-inch iMac can also be wall-mounted, with the VESA Mount Adapter Kit.
Reader invite
Are you a gadget/gaming wizard? Would you like to review gadgets, games, the Internet, software technologies and the works for us? Mail us a sample of your writing. Write to gadgetsandgaming@rediffmail.com with the subject 'My Gadget/Gaming Review' and we will get in touch with you.
Click NEXT to read about Mac Pro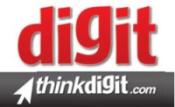 Mac Pro
Last updated on: July 30, 2010 14:47 IST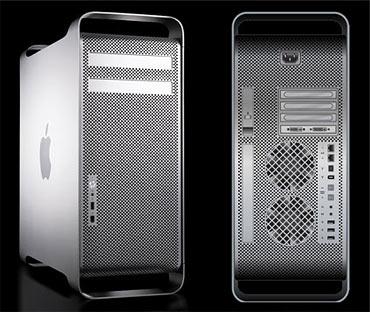 Looking to give users truly powerful machines, Apple has refreshed the Mac Pro lineup with all new processors (Intel's new Nehalem-derived Westmere 32-nm processors, with up to 12 cores and 1.5x Turbo Boost) and graphics (going with AMD ATI), as well as a variety of storage and expansion options.
Bundled accessories include:
Power lead
Apple keyboard with numeric keypad
Magic Mouse
USB keyboard extension cable and install/restore DVDs.
Prices have not yet been released, and the product will launch by August
Find detailed specifications below: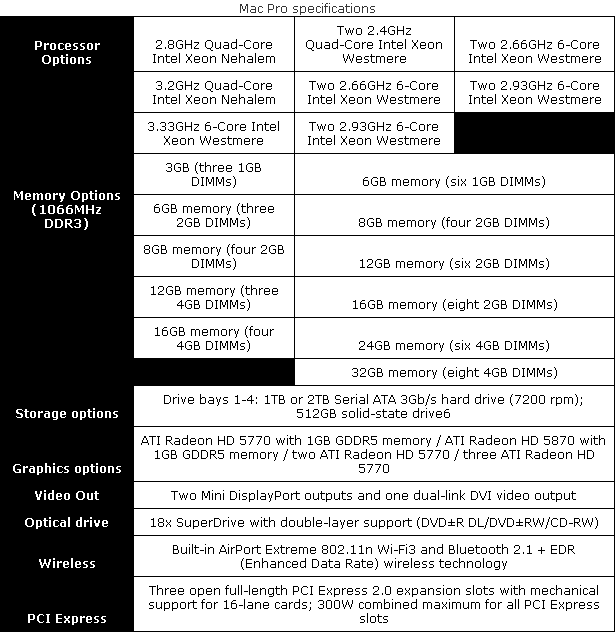 Click NEXT to read about LCD Cinema Display
LCD Cinema Display
Last updated on: July 30, 2010 14:47 IST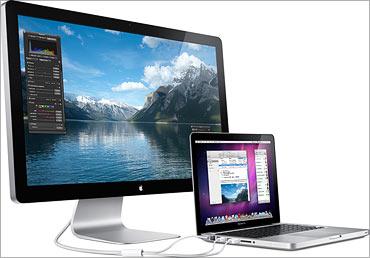 Apple's new LED Cinema Display is a 27-inch backlit LED screen with IPS, 16:9 aspect ratio, 2560x1440, and wide viewing angle of 178" horizontal and 178" vertical.
It comes with a built-in 49-watt speaker system that includes an integrated subwoofer.
The LED Cinema Display also has built-in iSight (Apple's webcam) and microphone, as well as an ambient light sensor for intelligent auto-image adjustment. You can also connect the LED Cinema Display to any of the current line-up of Mac notebooks and desktop computers, using the ultra-compact Mini DisplayPort connector.
Apart from all this, the LED Cinema Display has a MagSafe connector to safely and conveniently charge your MacBook, MacBook Pro or MacBook Air, apart from its three self-powered USB 2.0 ports.
Click NEXT to read about Apple Magic Trackpad
Magic Trackpad
Last updated on: July 30, 2010 14:47 IST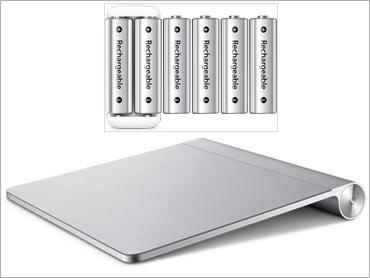 Apple gives its desktop users another multi-touch option, the Apple Magic Trackpad
Apple, has released its Magic Trackpad, a device that gives users of Apple desktops PCs the perfect multi-touch experience, all wirelessly via Bluetooth, on a larger surface area than the Magic Mouse.
Considered to be no more than an exceptionally large (80 per cent larger) MacBook Pro touchpad, the Magic Trackpad will give Mac Pro and iMac users (devices which have just received their 2010 refresh) the benefit of gesture controls -- everything from pinch to zoom to swipes to rotation -- and a way to no longer be ridiculed by MacBook users.
The Magic Trackpad is available at the Apple Store now, for $69.
The wireless Magic Trackpad is apparently all button, so it can also act like a mouse replacement, and has a stunning Bluetooth range of 33 feet.
The Magic Trackpad is AA battery-powered, and Apple has also decided to sell its own battery charger for $29, which comes with six batteries that are rated for high efficiency, designed to be charged hundreds of times.
The Apple Battery Charger is also special for its power consumption, which is considered to be '10 times better than the industry average'.