Why you need financial planning: Case study
Sheetal Jhaveri
Meet Shyam Sundaram, 27, an IT professional in Chennai. Like all youngsters he splurges on designer clothes, expensive restaurants, and parties.
He also has a dream to own a house someday, a big car, have a huge savings bank account when he retires and go on a world tour. But, at the same time, he is also aware of his responsibilities and wants to save a sizeable amount for his sister's wedding.
The only hurdle to achieving all this is that he does not know where to start.
In fact, after analysing his financials, it showd that he was not even taking full advantage of section 80C of Income Tax Act and hence paying huge tax!
Let me introduce you to yet another case: Anand Bhatt, 32, media professional, married, with an 18-month-old daughter. His wife, a homemaker.
Adequate earnings but all investments in ULIPs, traditional insurance plans, and also many new fund offers he invested in after reading financial portals and newspapers.
Soon Anand realised that a substantial amount of his investments were not reaping enough benefits despite the fact he was shelling out Rs 1.5 lakh as premium amount per annum. In return his life cover was not more than Rs 25 lakh.
Analysis
Here we have two case studies.
The first being of an individual who has no investment or financial knowledge whatsoever because of which he is not able to make optimum use of his finances and ends up incurring more expenses than he would normally have to.
The second case is that of an individual who made huge investments in a variety of financial products with no rationale behind them.
Now let us prepare financial plans for both these gentlemen so that they can extract the maximum from their resources and attain their goals.
Click NEXT to read about Shyam's and Anand's financials.
The author is a certified financial planner. She can be reached at dhanplanner@rediffmail.com.
Photographs:
Rediff Archives
Financial plans to achieve your goals
A look at their current financials.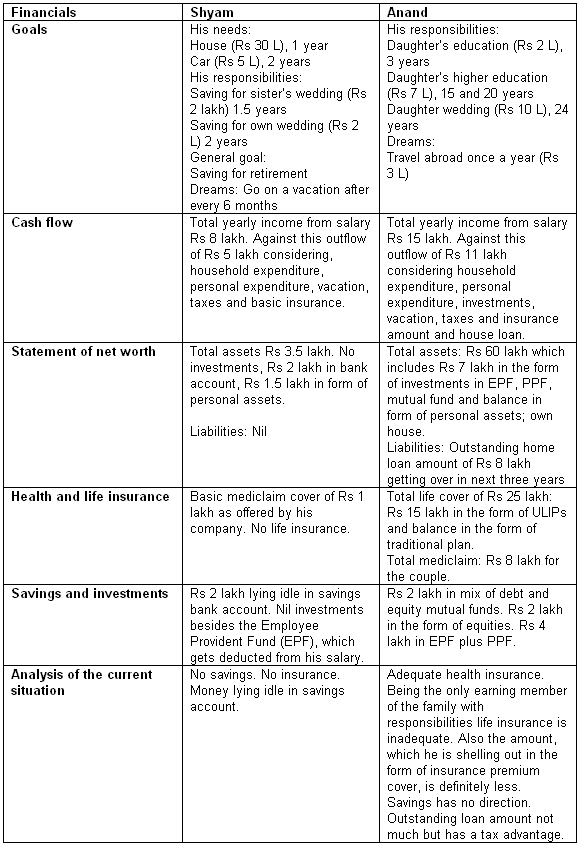 Click NEXT to check out Shyam's and Anand's financial plans
Financial plans to achieve your goals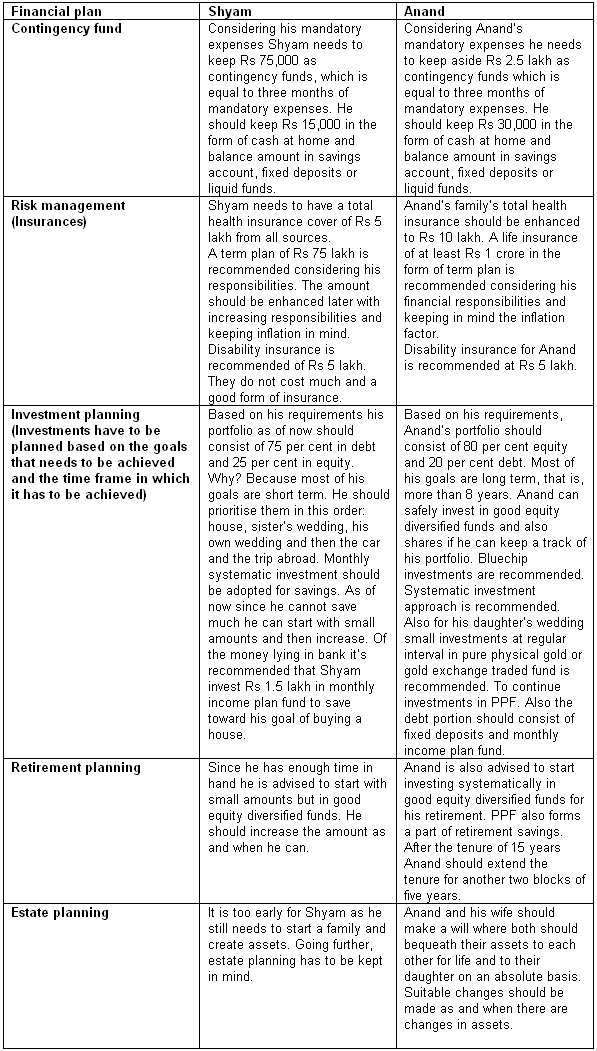 Note: Given below is the gist of the plan.
Do note that a regular review of the plan is a must as no one knows what the future holds. All an individual can do is be prepared for any eventuality.
Remember financial literacy is a very important aspect of each and every individual's life and if that is not in place, at least one should not hesitate to consult a good professional in the field. After all, it is your hard earned money that is on the line, don't be reckless with it.