'Modelling is a very short-lived profession'
Last updated on: June 28, 2010 19:00 IST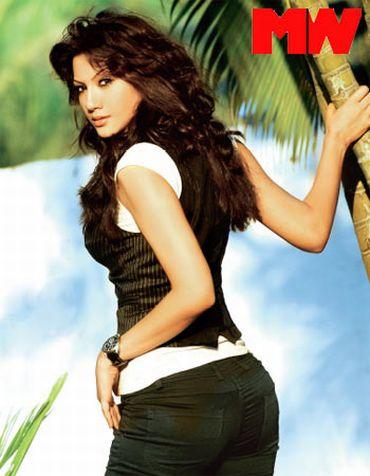 The suicide of Viveka Babajee on June 25 has left the Indian fashion industry reeling.
The supermodel, 37, a former Miss Mauritius and one of the best-known faces on the desi modelling circuit, was found hanging from the ceiling fan of her home in Bandra, Mumbai.
Unfortunately, this is not the first time a beautiful young woman in the glamour profession has ended her life due to pressures on the personal front.
In 2004, former Miss India and MTV veejay Nafisa Joseph, 26, committed suicide in the same manner for a similar reason -- the end of her engagement to her businessman boyfriend is believed to have been behind this extreme step (it is more than a little ironic that both women's beaus share the same first name, Gautam).
A year and a half after Nafisa's death, her friend and fellow model Kuljeet Randhawa also committed suicide, stating in a note left behind that she could not cope with the pressures of life.
We spoke to a few fashion industry insiders to gain their perspective of life and relationships in the fast lane, how lonely it can get at the top and why the pressure is too much for some to handle.
Gauhar Khan, model
Pressures exist in all walks of life so I find it unfair when people blame the fashion industry. I knew Viveka and I knew her to be an intelligent girl. I am certain she had her personal reasons why she took this extreme step.
I don't think models are lonely people. In fact I feel we are the friendliest of the lot! When someone commits suicide people tend to generalise the modelling industry as an evil place. It isn't true. Suicidal tendencies exist in people, not in industries.
The key here is to remain grounded. If you're living alone it is important to find a support system and do the things you like doing. I find a lot of support in my parents and my siblings -- my brother is my best friend. Today, for instance, when I have a day off I have stepped out and am visiting a mall, sipping coffee and generally unwinding.
You also must make friends. Again, it is a myth that you cannot make genuine friends in the industry. I count, among others, Candice Pinto and Deepti Gujaral as my friends.
Finally, I believe a lot in God and feel that you cannot take away something He has given you.
'It's urban city life that can make you lonely'
Last updated on: June 28, 2010 19:00 IST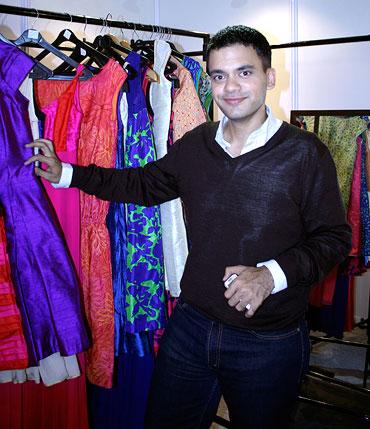 Nachiket Barve, designer
I met Viveka socially a few times and she came across as a very warm, extremely sweet person. It's very tragic, what has happened. But to blame it on the profession doesn't really make sense. It's not just fashion, it's any profession that can drive you to loneliness.
In fact, it's urban city life that can make you lonely -- you're away from your home, your family. It's vital that you stay grounded and connected to family and friends. Loneliness is a modern urban phenomenon.
Coming back to the fashion industry -- as a designer, you create products, but as a model you are the product, or an actor who showcases them. It's a tricky world and modelling is a short career, you have to think of life beyond it.
Fakeness is a general trend throughout society today, but yes, it does tend to exist more strongly in the fashion industry. And you cannot rely on acquaintances you bump into at parties as a support system, you need real friends. If you can manage to make them, it's very fulfilling.
Keep it real and you'll meet real, like-minded people. Please note that in no way am I commenting on what happened to Viveka at all, in this context -- we don't know what was going on in her life and you can't just step into her shoes to know what it was like for her, nobody can.
While the press has been obsessed with the story of her untimely death, I read in a newspaper this morning that a couple locked themselves into a room with their infant and committed suicide by hanging. A tragedy is just that, a tragedy, no matter who it happens to -- a farmer, a student or a model.
As for romantic relationships, this is a high pressure job, so you need to distance yourself from it after working hours. There has to be a distinction between who you are and what you do. You have to be clear about your identity -- I'm a designer and I make clothes for a living, simply put. Keep your feet planted firmly on the ground about it. They say that any high pressure job, like an actor's, means no happy life on the personal front. But if you manage to separate your career from your life, you'll find happiness and love.
'The industry is such that they see only the outside of a person'
Last updated on: June 28, 2010 19:00 IST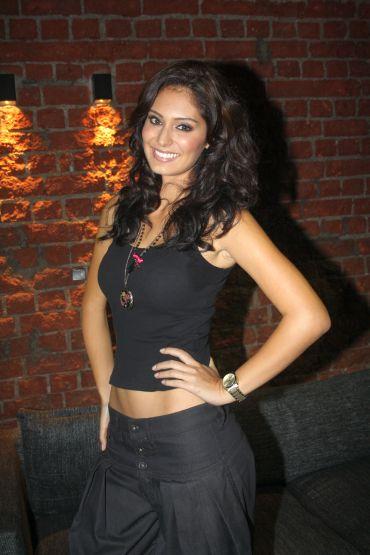 Bruna Abdullah, model
I get goose flesh thinking about it. It is very unfortunate that this happened to Viveka. It is a cruel world outside and all you live is a lie. The industry is such that they see only the outside of a person. It can be very deceptive. You can't trust anyone. I am very glad that I have my parents to go to at any point in time. It is very difficult to make genuine friends and a very rare possibility.
For me, my mother has lived with me for a year in Mumbai and both my parents intend to move in with me in sometime. It is very important that you have your parents to turn to.
I always want to tell young girls planning to get into modelling -- it's not an easy world out there and you shouldn't do anything that you don't want to. If you are not comfortable drinking, then don't. Don't drink just because you have to look cool amidst your peers. There is no point doing something for someone else and then suffering. Be very smart and know at all times what you are doing.
Be grounded at all times. For me, my parents are always there to give me a reality check. I can go back home whenever I want if Bollywood doesn't work for me.
But you can't generalise your judgement of the modelling world because of a few incidents. One shouldn't take it up if one doesn't feel equipped to handle it.
'Pressure often builds up from inside to live up to the expectations of people'
Last updated on: June 28, 2010 19:00 IST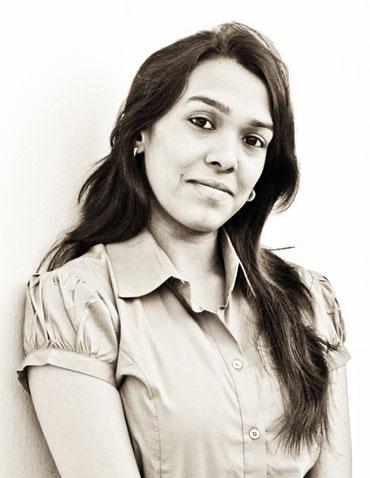 Rimi Nayak, designer
This industry is extremely competitive and there is always a sense of being judged at all times. Hence, the pressure often builds up from inside to live up to the expectations of people and the craving to be appreciated by them all the time.
The path that leads to success is often considered to be a lonely one. It's a personal choice that we make while undertaking that journey. We often go against the wishes of people close to us, to reach our goals in life. While walking the path of success we often become so intoxicated with ourselves and our achievements that we tend to forget the existence and importance of other people in our lives. And slowly we begin to lose these people. For this reason, it is really important for us to strike up a balance in our professional and personal lives and remain grounded to the simple realities of life.
Although many people consider this industry to be fake and artificial, I would beg to differ as I have been lucky enough to find some genuine people in this industry that I can count on and consider as true friends.
As human beings, it is natural to go through ups and downs in life. There are times when we actually can't see a solution to an imminent problem and feel extremely helpless. For me, it is the support of my friends that keeps me going through such phases in life.
'There are egos and there are personal demons to be fought'
Last updated on: June 28, 2010 19:00 IST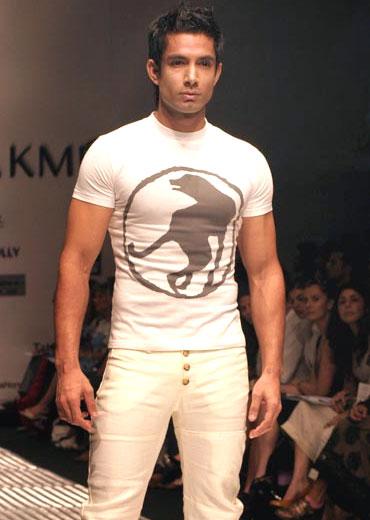 Sahil Shroff, model
The fashion industry can be only as lonely as you want it to be. Personally I find it a great place to be in.
Like in every industry and like everyone else, there are ups and downs. You don't get an assignment you were hoping to bag. Or at times you are rejected at an audition. I have tried to treat my ups and downs equally. There have been many occasions when I am totally down and out. But I look at these times as opportunities.
I was told once that I wasn't a good compere, so I tried working on my skills as a public speaker. At the end of the day, it is important to take things in the right spirit.
Having been part of the corporate world too, I have seen that things aren't very different. There are egos and there are personal demons to be fought. The difference between the fashion industry and any other is that here you are your own product. That changes a lot of things, because you're always under the media gaze.
I wouldn't say it is difficult to sustain relationships in this industry. Finally, it boils down to who you choose as your friends. If you are surrounded by the right kind of people you will never be lonely.
I've never felt lonely. A part of the reason might be because there are times when I have a family to go back to -- they're in town right now, for instance. But more importantly, I keep my mind and body busy. I practice Taekwondo, work out in the gym, practice yoga and meditation and generally look after myself.
'The industry isn't such a great place to build interpersonal relationships'
Last updated on: June 28, 2010 19:00 IST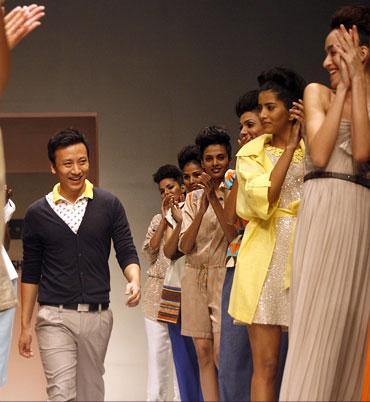 Atsu Sekhose, designer
Designers, models, actors and generally people from the glamour industry can tend to be introverts. There is a lot of pressure on us to perform. An actor, for instance, is worried about his film's reviews. After each show even designers are concerned about what the press will say about their collection.
There is pressure in all fields today but it increases manifold in fashion because it is an industry which is in the limelight at all times. The stakes are definitely higher here.
As far as modelling is concerned, it is a very short-lived profession. After their heydays, models are known to go into a depression.
Also, given its nature, the industry isn't such a great place to build interpersonal relationships. People here have access to everything. There are parties, booze, girls -- sustaining a meaningful relationship can be difficult at times.
Being grounded is important. Although I live alone I have a set of friends who are not from the industry, with whom I hang out. These are the people who I know I can fall back on. Besides, I keep myself occupied. When I am not working, I am watching movies, following sports or gymming. Most of all, the moment I leave office I don't think about work at all.