India's best students: Dr Manmohan Singh
Last updated on: March 12, 2010 19:31 IST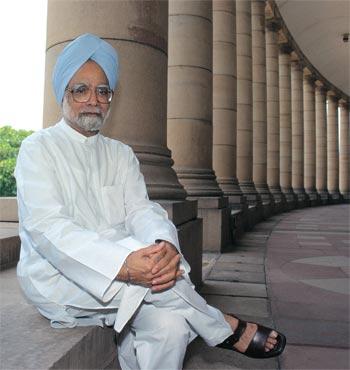 Stories of extreme hardship, braving impossible odds and innumerable sacrifices, abound in the lives of nearly 90 per cent of the students in the country. But among them, some perform exceptionally well. Their academic laurels are so brilliant, that at times their CV looks intimidating. And each one acknowledges that it's the right education that made  them what they are today. Careers360 identified 40-odd brilliant students of this country. Most of them came from very dire conditions.
Some, like our Prime Minister, had to walk miles to reach an unlit school, while some, like Dr Mashelkar, were forced to go to the nearby railway platform to study, the only well-lit place in the vicinity, in the dead of the night when rail traffic slowed down. Some others, like Dr Homi J Bhabha, were not challenged by penury, but faced tremendous intellectual isolation, and at times, prejudices. Invariably each story is one of constant struggle; against poverty, against social order, against the system and at times even against indifference, with only their powerful intellect and tremendous capacity for hard work as allies.
Today, in the first part of the series we feature Dr Manmohan Singh, prime minister of India.
Whenever he was asked for the secret of his professional success Prime Minister Manmohan Singh would say only one thing, "I am what I am because of my education." He has often thanked his family for ensuring that he went right up to college and then had opportunities to win many scholarships that finally helped him get a PhD from Oxford University.
Manmohan Singh was born into a family of modest means in the village of Gah in Pakistan. For the first 12 years of his life he lived there, a village which had no electricity, no school, no hospital, no piped drinking water. He walked for miles every day to school and studied at night in the dim light of a kerosene lamp. When asked once why he had poor eyesight he confessed that it was because he had spent hours reading books in that dim light.
On the next slide: His journey from Cambridge to the UN to the Indian government.
'Sometimes it's wise to be foolish'
Last updated on: March 12, 2010 19:31 IST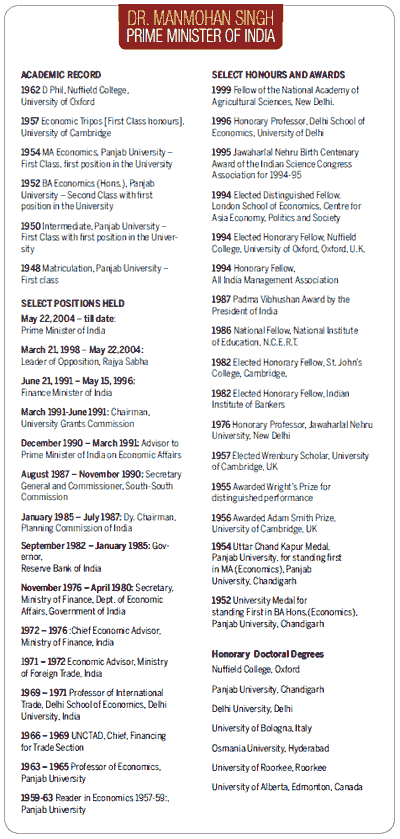 It was his hard work that enabled him to finish his schooling and attend college in Amritsar, where he lived after the Partition. He then won a scholarship to go to Cambridge University in England to do his Master's in Economics. Another scholarship helped him complete his PhD. He won the coveted Adam Smith Prize in Economics for his outstanding academic record. He always stood first and was a brilliant student.
For all his brilliance, he was a very shy boy. He once told Mark Tully, the famous BBC correspondent in India, that throughout his stay in Cambridge he used to bathe with cold water because the moment hot water was available in the hostel all the other students would come in to bathe and he felt shy to show them his long hair. As the only Sikh student in the hostel he felt inhibited to remove his turban in front of others. It is this shy boy who became the darling of his teachers because he was such a good student. He returned to India to teach at his college in Amritsar. One day, his neighbour, renowned writer Mulk Raj Anand, took him to meet Prime Minister Jawaharlal Nehru and Panditji  asked him to join the government. But he had a commitment to teach at the college and so he could not accept that offer.
Later, when he was working at the United Nations under the famous economist Raul Prebisch, he got an offer to join Delhi School of Economics as a lecturer. He immediately accepted that invitation and decided to return to India. Dr Prebisch was shocked. So many brilliant economists would be delighted to get a UN job and this young man was giving it up to teach in India? "You are being foolish," Prebisch told Manmohan Singh, adding, "But, sometimes in life it is wise to be foolish!"
Manmohan Singh returned home first to teach and then to work in the Government. He has held every important job in the field of economic policy making in India -- Chief Economic Advisor to Government of India, Finance Secretary, Governor, Reserve Bank of India, Deputy Chairman, Planning Commission, Union Finance Minister and now Prime Minister!
In 2005 when he visited Kaula Lumpur for the India-ASEAN Summit he was introduced at the ASEAN Business Forum meeting as "the world's most qualified Head of Government"! That is what makes us all proud. No country in the world has a more qualified head of government and India has never had such a highly qualified Prime Minister.
Manmohan Singh's life is a record of excellence and of merit being rewarded. His life will always be an inspiration to young people who want to work hard and achieve something based on their learning. No rich parents, no influential uncles, no wealth, no inheritance, no one to pull strings and 'put in a word' -- it was always his merit, his hard work, his honesty, his intelligence and, above all, his deep love for India that energised him.
Every young Indian should feel inspired by the life of Manmohan Singh!
On the next slide: Prof Upinder Singh on the experience of growing up as the daughter of Dr Manmohan Singh.
'Money, power and position, not important to us'
Last updated on: March 12, 2010 19:31 IST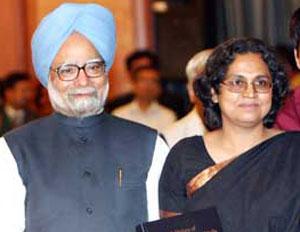 Prof Upinder Singh teaches Ancient Indian History at the Faculty of Social Sciences, University of Delhi. In a chat with Bharti M Borah, she shares her experience of growing up as the daughter of Dr Manmohan Singh.
Was academics an important part of growing up?
Definitely, we grew up in a house filled with books. A good education, extensive reading and academics was a large part of growing up for all of us. Doing well in academics was emphasised, along with being independent thinkers and decision makers.
How did your family react to your career decision?
Ancient Indian History has always fascinated me, it was a very instinctive decision for me. We were always given advice by our parents, but making a decision was in our hands. We were given the independence to make decisions, but not without taking full responsibility for our decisions in life.
What do you admire most about your father?
He is very meticulous, works very, very, hard. That has rubbed off on all of us; whatever we pursued throughout our lives was done very meticulously.
What is one work habit you would like your father to avoid?
I wish he would relax a bit more. He is so committed to his work and says it works as a relaxation. But I wish he would take time off, take a break and just relax. But I guess that is difficult to do because of his responsibilities as a public servant.
Among his four roles as a teacher, a researcher, a policy maker and now a law giver, which one do you think he is best suited for?
He combines all facets of the four roles he has played in his career into the work he is currently doing. But he does say, "I've lost touch with academics. I am an accidental politician." His intellectual orientation does seep into whichever role he is in terms of work. But, especially in the field of economics, he has a tremendous grasp of the subject due to his academic orientation, something that helps him in the ability to adjust to all the different roles he has played in his career.
What is a life lesson that you have learned from your father?
You really have to stand on your own feet, whatever you make of yourself should be yours. None of us took any privilege of his official capacity. The office car was not available to drop us to the bus stop, he was very strict about it. Personal and official matters were never merged. My father had his share of difficulties while growing up and none of his children ever developed the taste for a luxurious life. Both, my mother and father, always emphasised being responsible for our own needs from childhood. Money, power and position, have never been important to any of us. We all learned to do things ourselves and not rely on help from others.
What about your father's love for Urdu poetry? One of his classmates said his favourite at that time was Abhi Toh Main Jawan Hu.
Really, I never knew that was a number he liked. He does love Urdu poetry, he especially likes the poetry of Bahadur Shah Zafar, classical music and ghazals. He does take time out and listen to music in the mornings. He's an early riser, a quality that I have also imbibed.