This MBA grad left her job to paint
Last updated on: March 22, 2010 21:38 IST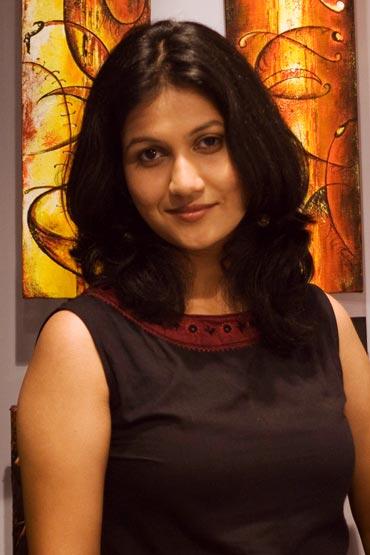 Prashalee Gaikwad could have well been just another marketing and branding executive in a private corporation. But a strange twist of fate made her consider an alternative, if somewhat uncertain career. The 27-year-old media and management graduate is now following her heart and painting canvases in myriad colours.
Gaikwad, whose father works in the army, found herself taking the beaten path. She finished her schooling and graduate in mass media, did her post-graduation in ancient Indian culture and then a got herself degree in marketing -- all to satisfy her parents' desire for a 'stable and secure career'.
About eight months into her first job though, she found her true calling. A random painting exhibition at her workplace got her noticed and won her an unexpected patron who continues to encourage her.
Gaikwad tells Abhishek Mande her story:
As a child I always wanted to be a painter. It was never a viable career option for my parents, who always believed that a nine to five job is very important. They supported me through my education but never really encouraged me to take up any art course. I finished my graduation in mass media, went on to do my masters in ancient Indian culture. By then an MBA had become a must-have degree so I studied marketing and communication. Somewhere in between all of this I did manage to squeeze in a diploma from an art school but that was where my art education started and finished.
Soon after, I landed a job with the Aditya Birla Group. Everything was going the way it should have been. Yet something was missing --still wanted to paint.
On March 8 last year, things began to change. Someone discovered on my CV that painting was my hobby. So I was told to put up some of my work as part of an HR-organised Women's Day celebrations at my former workplace -- the Aditya Birla Group. It was here that my boss Pranav Barua noticed me.
He insisted I show him some of my work and ordered a few paintings. He was my first client, my mentor and someone who encouraged me a lot.
Sure, it wasn't easy to leave a job when the only thing you had was a few commissioned paintings. But I had just over three months to finish the task and had to dedicate myself full time to it.
'At the end of the nine-day festival, I had sold 102 paintings'
Last updated on: March 22, 2010 21:38 IST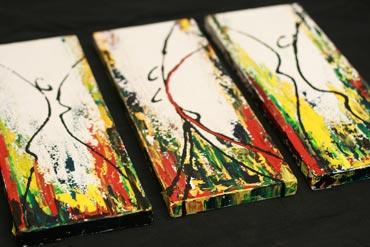 At one point I had little or no money. Buying a tube of paint worth Rs 200 was a challenge. Thankfully, my parents stood by me during this time. My father soon came to terms with the fact that I would end up being a painter after all. Mom, however, was still struggling with the idea. I'd tell her that I had taken three months off just to finish Mr Barua's order.
It wasn't long before I realised that I was living the dream I always wanted to and there was no point in going back to work. But then again, there weren't any other orders coming in either.
That was when some of my friends from the art school called. They'd learnt that I had quit my job to paint and suggested we put together a group show. We called up the organisers of Kala Ghoda, who usually hold a mini festival in October. This is on a much smaller scale than the one held in February. They liked our work and the three of us exhibited there. I sold a considerable amount of paintings here and got some more money.
Then came the big offer -- I was invited to be part of the annual Kala Ghoda Festival in February. It was the chance I was waiting for! But a lot needed to be done. I needed to pay them rent, get brochures and cards printed, organise a stall. And of course, paint a new series of paintings. All this needed money.
I did have some money saved up. But it obviously wasn't enough. I borrowed from my parents, requested Mr Barua to pay me for some of the work he had bought and finally was able to raise a couple of lakh rupees to fulfill my lifelong dream.
The big break
By the time I had set up the stall on the first day, I had sold some 11 paintings. It took me by surprise. By evening I had sold 25; by the third day, 70 and then on Day Four I sold 85 paintings. This was much more than I expected. I had run out of paintings!
So I went back to the drawing board and each night after returning from the festival, I would paint furiously. At the end of the nine-day festival, I had sold 102 paintings! The offers kept pouring in even after the festival and today I have sold out everything that I had painted for Kala Ghoda.
The festival also opened a lot of doors. I met CEOs and VPs of various private companies who are now my clients. I am working on paintings for their personal offices and also the firms they work for.
All my paintings have a lot of colour in them. So when a banker came by and told me that in the midst of all the financial crunching, a dash of blues, yellows and reds relieves his stress, I was glad to know I was on the right track.
Today I do a lot of personalised paintings. This means that I have to visit people's houses and offices and understand what they need before spreading colour on the canvas. It can be tricky sometimes because there I am standing before a blank wall and I am asked 'What do you think will look good here?' I don't always have an answer to that question. So I work on a theme, make a few sketches and seriously consider what might or might not work.
'Truth is that I am not a trained artist'
Last updated on: March 22, 2010 21:38 IST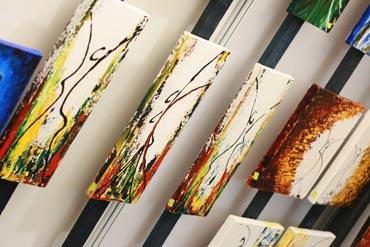 Even though I give my clients customised paintings, I do not give them the liberty to dictate what they want. The final call rests with me. I don't play to the gallery but at the same time I try and understand just what they may like.
I have been painting full-time for less than a year but I understand that I will have to continuously reinvent myself lest I stagnate and my work becomes ordinary and everyday.
The key to staying ahead of the curve is to constantly learn and evolve. Truth is that I am not a trained artist. So I have someone I look to for guidance. He has shown his work all over the world and has an understanding of the medium and the market. Every time I paint something I run it by him. Almost always he has suggestions to make. He does not instruct me but lets me find my own colours, so to say.
Besides, I try and educate myself by reading, visiting websites and galleries. The last two have been of great help to the way I grow as a painter.
Battling insecurities
Pompous as it may sound, the truth is that I have never wondered where my next meal will come from. I have been confident about my work and believe that good work will always find a buyer.
What does get me insecure is when things are not in place. I guess this comes because of my army background and my management degree. I like things to be organised. You will find me planning months in advance before a show. Painting is not an issue as long as the other things that go in putting a show together are in order. For instance I have to put together my brochure, my cards, get a carpenter to raise a stall if it is an outdoor show or organise security to guard it at nights. Even if I have to visit an office I need to have the person who designed the office with me to better understand the space. Organising these little things can take a lot out of you. But when they are in place churning out work is a breeze.
'The first thing that any young entrepreneur must have is an aim'
Last updated on: March 22, 2010 21:38 IST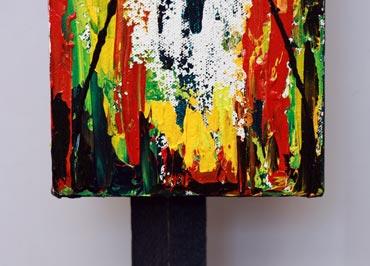 I have just started off so there is a long way for me to go. But for now, I plan to create a brand under which I will sell my paintings. It will also help me get some sort of system in place so I can sell my work abroad. Forming a company, registering a name etc are all part of this process. Then of course there is the Internet, where I don't yet have a presence. Buying a domain name is the first thing on my agenda.
I do not have any specific marketing strategy in place. But word of mouth has worked well for me so far. Some of my clients include the CEO of IDBI, Marsh India Ltd and a former director of one of the Birla companies. These people have helped spread the word.
The idea is to keep doing good work. I do not repeat my themes and restrict the number of paintings in each theme. Not many artists have explored the children's market. I was surprised to see how many paintings at Kala Ghoda were sold because the kids like them. So that is another area I will focus on by exploring themes involving children.
Eventually I hope to divide my work into two broad segments -- one, which will be affordable art, something that common people can buy and the other will be super-exclusive, painted only for the high-end customers. This way I will be able to reach out to both markets.
Tips for young entrepreneurs
It is easy to get discouraged but the key is to hang in there. Do not expect results immediately. You will have times when you want to throw your hands and give it all up. That is the time when you have to stick your ground and stay put.
The first thing that any young entrepreneur must have is an aim, without which you cannot achieve anything. Secondly you ought to dream -- what's the fun without it? Thirdly, be disciplined, dedicated and committed. Do not get distracted by other things. Fourth, support yourself and be independent; avoid situations where you have to turn to other people for help. And finally you have to enjoy doing what you choose. Else there is no point doing it.