'Entrepreneurship is not very easy in India'
Last updated on: March 30, 2010 09:16 IST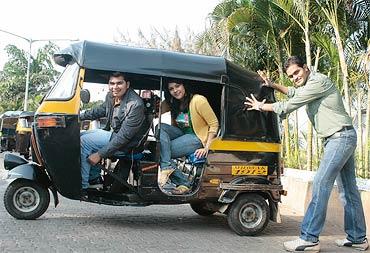 Call them irreverent, maverick or just plain foolish. But they know for sure what they are doing. It does not matter if  they are not following the norms and conventions that start-ups or entrepreneurs, or those who aspire to be successful, follow.
So what if they don't have a 65-page power point presentation for venture capitalists or a detailed business plan to boast about that has become some sort of a must for start-ups and would-be entrepreneurs. They know they have a unique, innovative product and they are going to take it places. Literally.
Their brainchild is a monthly magazine called Meter Down that is available to a select few suburban Mumbaikars who travel by auto rickshaws.
The team
Meet Simi Sailopal, who thought she was a miscast working with a public relations company; Ishan Mehta, who works as a senior content writer and Mulchand Dedhia, who does freelance photography and organises workshops when he is not admiring Sir Richard Branson. They are college friends, mass media professionals, less than 24 years old, with just Rs 25,000 as seed money and stars in their eyes.
"We did our mass media together. So we had lot of opportunities to work together in projects and realised that we work very well as a team," says Simi about the bonding the trio share.
Even as they worked at different places they would often meet at Prithvi Cafe -- a popular meeting place for youngsters in Juhu, Mumbai -- and pour their hearts out about how they were all miscasts in their respective jobs and needed to do something creative and innovative. It was during one such meeting they decided to do something on their own.
"Each one of us took about a week's time to come up with ideas," says Mulchand as if reliving the excitement.
"After a week we all met and had a huge brainstorming session for three hours. After discussing the workability or otherwise of more than 10 different ideas we short listed three out of which we thought we could convert Meter Down into reality."
As all three wanted to do something in the field of branding, outdoors and publishing it ultimately boiled down to Meter Down, a monthly magazine that will be positioned neatly inside an auto rickshaw behind the driver's back rest to gain easy visibility.
The fact that all three of them are "avid risk-takers" helped them to rush headlong into it. "We had everything to gain out of it and very little to lose," says Ishan. The fact that they could go back to their earlier professions if Meter Down had failed encouraged them as much.
Business plan: What's that? Is it necessary?
Last updated on: March 30, 2010 09:16 IST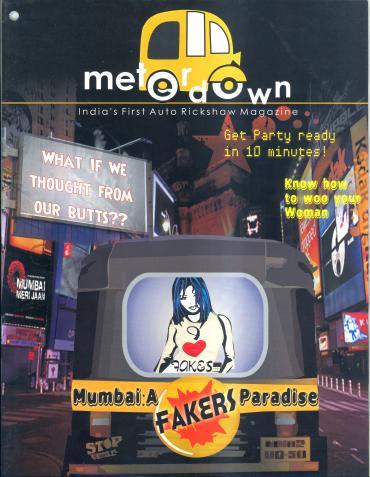 The first thing that their mentors -- and there were many -- told them was to make a 65-page business plan. And they were very bad with that. They did spend a lot of time doing it but soon realised that even after two months they were still on paper.
"So we decided to take the plunge," says Simi. They knew it was a bad thing to do, but their risk-taking ability made them go for it.
When they all had cushy jobs and everything going well for them they quit their jobs without having even a business plan. But it was not a cul-de-sac.
"We have done our research. We know a lot of youngsters travel by autos and spend an average of 10 to 15 minutes. More if they travel during peak time in rush-hour traffic. While they may spend some of this time listening to music on their cell phones, yapping with their friends or some other activity after a while they are bound to pick up Meter Down and browse through it," says Simi.
And how on earth are they going to earn their spurs?
To put it simply this is how the numbers work for Meter Down. Every auto rickshaw in a normal day makes 90 trips (that is what their research says) with at least two passengers on every such trip. Let's discount the number of such trips to 40 assuming that 50 such trips are made after the sunset when there is not enough sunlight to read. That makes it 500 (currently Meter Down is avaiable in 500 auto rickshaws) multiplied by 40 multiplied by 2 equals to 40,000 eyeballs per day.
Multiply that number by 30 days of a month and advertisers can have 1.2 million eyeballs every month reading the magazine and the advertisements placed in Meter Down.
"We have succeeded in convincing a few advertisers about the power of outdoor marketing and building a strong visibility for their brands through Meter Down," says Mulchand Dedhia.
After all, they are banking on a very young, upwardly mobile profile, who spend a good deal of time and money while travelling, to read through their magazine and see the advertisements in them so that advertisers trust their money with Meter Down.
The magazine
Last updated on: March 30, 2010 09:16 IST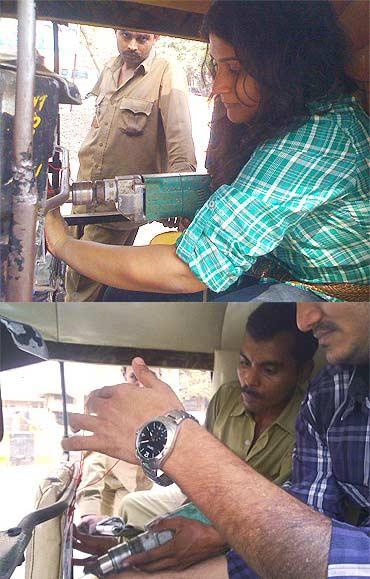 The magazine will have editorial content to advertising ratio of 60:40 that is the norm these days and the content will be such as to engage the attention of whoever picks up the issue," says Ishan.
Here is what every issue of Meter Down will showcase: a young entrepreneur's story, fashion tips, music corner, a fun section titled below the belt, party tips, travel and gadgets.
"All of us being from the media background we knew what basics we require to make the magazine readable and engaging," says Mulchand. These three entrepreneurs also understand that making a great product is not enough. It also needs to be positioned in a manner that attracts readers.
"We also know how important visibility and positioning is for such a product," says Ishan. Hence instead of outsourcing the task of fitting the magazine racks behind the backrest of auto drivers to some third party they rolled up their sleeves with screwdrivers and drill machines in hand and spent "some quality time" in doing the job "aesthetically".
The result: They have won the faith of all the auto drivers who have agreed to take care of the magazines albeit for a mutually agreed upon commission.
What's entrepreneurship without challenges and problems?
Last updated on: March 30, 2010 09:16 IST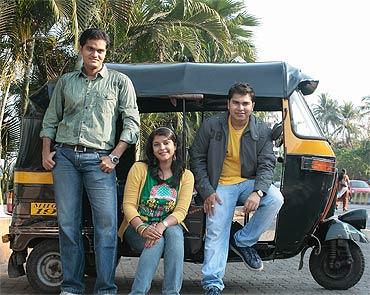 It's only when you try out something do you know the hiccups you face," says Simi. "Entrepreneurship is not very easy in India," she says. "We thought it will be like bed of roses but it is not."
What else can one say when you need to wait for almost 45 days to get your RNI (Registrar of Newspapers of India) number required to publish a magazine in India from a government office and another 45 days to get the title of the magazine cleared from Delhi.
Add to that the power brokers who approach you to get the job done quickly, albeit for a fees. "That adds to frustration. But it helped in that we re-invented the wheel and learnt the ropes in a different order," says Ishan.
"Anyways entrepreneurship is just not only about business plans. What business plans do farmers who do well have? What business plans do small entrepreneurs in small towns who come up with innovative products and turn successful have?" asks Mulchand showing his maverick attitude aka Sir Branson.
"We think entrepreneurship is basically about the idea that you have and how well you execute it," adds Mulchand. He believes that every country has a different entrepreneurship culture and India has its own peculiarities.
"Today we are seeing a new breed of Indian entrepreneurs who are not afraid to risk their necks out, swim against the tide and succeed in their endeavours," says Simi.